Gadgets: A snappy Christmas


Malachy Browne on the best mid-range digital cameras to buy this year
Since 2001, David Pogue of the New York Times has guided millions of Yuletide consumers by asking the same annual question of camera manufacturers: What camera does $300 fetch? Year on year, the number of cameras meeting the $300 threshold increases and, in 2006, 11 manufacturers responded with various models of digital cameras ranging from between $200 to $300 (around €150 to €230).
Pogue put the 'contenders' to the test: the Canon A630, the Casio Exilim Zoom EX-Z700, the Fuji FinePix F30, the Hewlett-Packard Photosmart R827, the Kodak EasyShare C875, the Nikon Coolpix S7c, the Olympus Stylus 740, the Panasonic Lumix DMC-FX3, the Pentax Optio A20, the Samsung Digimax NV3 and the Sony Cyber-Shot DSC-W100.
All models came up trumps on image resolution – the only model outside the six-to-eight mega-pixel range is the Pentax, which offers 10 mega-pixel resolution. As Pogue notes, "Anything over five [mega-pixels] is plenty for making even poster-size prints."
Similarly, compactness and style are equally satisfactory – all cameras are pocket-sized and all but two use a telescopically-protruding zoom lens; Samsung's NV3 and Nikon's S7c use an internal prism to magnify light.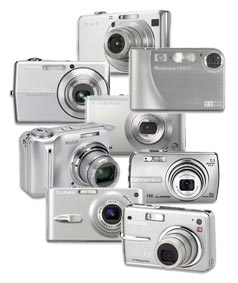 A shortcoming in most of the reviewed cameras is the frustrating half-second shutter-lag required to automatically focus before a shot is taken. Cameras outside Pogue's price range generally have better circuitry and therefore a reduced shutter-lag, but in the $300 range users must semi-depress the trigger before shooting to be assured a responsive shutter.
Most cameras have improved image stabilisation, though only two of the manufacturers reviewed, Pentax and Panasonic, use a mechanical device to prevent image blur.  Others simply apply software to clean up the captured image.  
Extra features:
Photos taken using Nikon's S7c can be emailed directly from the camera once within range of a Wi-Fi hotspot and Samsung's NV3 allows music playback and two hours of movie playback per charge – though movies have to be resaved to a format compatible with the camera. All models can film movies that fill a TV screen, but only Olympus and HP models do so at a TV quality of 30 frames per second.
BEST CAMERA
In Pogue's estimation, the Canon Powershot provided the best and sharpest picture quality and more photographic features than any other camera. As an owner of a similar model in the Canon Powershot range, I have to agree. The camera is one of the few mid-range digital cameras that still feature an optical viewfinder, and this is complemented by a flip-out, rotating screen that allows pictures to be accurately captured from awkward angles. The camera offers the best return for battery life and, because the Powershot uses A4 batteries, it can be conveniently recharged.  
More: thtp://www.nytimes.com/2006/12/07/technology/7pogue.html