Gadgets: Christmas novelties

Some must-have Christmas goodies for the office. By Malachy Browne and Grace Flanagan
What makes the perfect Christmas present? Diamonds or a Ferrari? What about an mp3 player that looks like it shops where Mr Claus gets his santa suits? With its shiny red case and snowy white earphones, it's like carrying Christmas around in your pocket.
Apple are officially the kings of capturing the Christmas market. This festive season, the must-have gadget is the Bono-endorsed, limited edition iPod nano (PRODUCT) Red. With a 1.5-inch colour display screen and durable aluminium casing, it is basically the same as the current nano range. The only difference is that a portion of each sale of this particular nano will go directly to the Global Fund to fight HIV and Aids in Africa.
The iPod nano (PRODUCT) Red is available in two sizes – 4GB (€209) and 8GB (€259). It can hold up to 2,000 songs or 25,000 photos. The iPod nano (PRODUCT) Red is the same price as the original nanos.
More: Not widely stocked in shops. Available online at www.apple.com or on www.eBay.com
Lighting up the office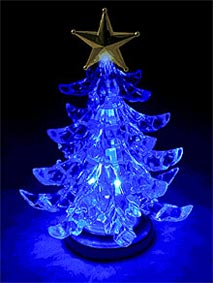 Add some Christmas cheer to the office this year with a USB-powered mini Christmas tree. An ideal Kris Kindle gift, the tree's blue LEDs light up when plugged into a computer's USB port. The package comes with both a Christmas star and Star of David, so the gizmo can be transformed from a Christmas tree to a Hanukkah bush should office politics turn to religious debate after several mulled wines.
More Compatible with with USB 1.0, 1.1, 2.0 ports. Dimensions: 3.2" in diameter by 4.5" in height. USB power cord length: 40". $9.99 at www.thinkgeek.com
Handy napkin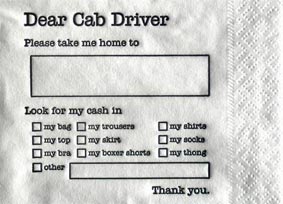 Another essential novelty for the Christmas season, particularly if large quantities of cocktails are consumed, is the Cabbie Napkin. Scribble your address on the space provided, safely tuck it away and, should the evening's merriment overwhelm your oromotor control, simply present the Cabbie Napkin to your friendly taxi driver, hang your head out the passenger window and wait to be uncermoniously dumped at your front door. And remember to conceal your ticket home from mischievous friends who might replace the Cabbie Napkin with a misdirected replica.
More One pack of 12 Cabbie Napkins retail for £2.50 at  eww.gizmoandwidget.com