Fraudsters target AIB online customers in "phishing" scam
Customers of AIB's internet banking facility are today being targeted by fraudsters who send emails purporting to have originated from AIB. The emails claim that 'a card associated with [a customer's] account has been reported lost or stolen' before prompting AIB customers to enter personal and security details relating to the account.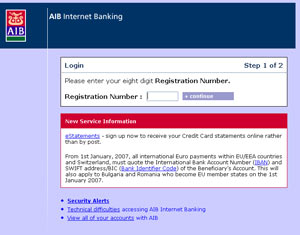 The fraudulent emails have the subject line 'Warning notification from AIB' and appear to be sent from servicecenter@aib.ie. Some emails bear the bank's logo as a header. The email contains a link to a prefect duplicate of AIB's Internet Banking logon screen where a customer is asked to enter registration details.
A spokesperson for AIB told Village that the bank 'never asks [customers] for personal details via email' and that customers should not respond to any communication requesting sensitive personal information.  Customers may visit www.aib.ie/securitycentre/ to read more about the type of fraud that may be attempted and the measures the bank is taking to combat fraud.  
The spokesperson also said that customers should be reassured by the two tier security system that AIB banking operates under. In addition to the security questions that must be answered, the dual factor authorisation requires customers to use a unique code card to confirm any transactions.
AIB customers are asked to not click on any links, open attachements or enter details. Customers should report any such instances of banking fraud to alert@aib.ie.  
The practice of using spoof e-mails and fraudulent websites to extract account and security details from banking customers is known as "phishing". This is not the first time that AIB customers have been targeted by such a campaign. In 2004, a similar email was circulated asking customers to divulge credit card details and PIN numbers.
**********************************************************************************************
Full text of the fraudulent email below:
**********************************************************************************************
We have been notified that a card associated with your account has been reported lost or stolen. Therefore, as a prevention measure, we have temporarely limited access to sensitive AIB Internet Banking account features.
To ensure that your account is not compromised please take a review on your recent account history for any unauthorized withdrawals or deposits, and check your account profile to make sure no changes have been made. If any unauthorized activity has taken place on your account, report this to AIB Security Center immediately.
To get started, please click the link below: *removed*
This e-mail contains information directly related to your account with us and/or any application you may have submitted. AIB Internet Banking and its service providers are committed to protecting your privacy and ask you not to send sensitive account information through e-mail.
You can view our privacy policy and contact information at *removed* 
Please understand that this is a security measure intended to help protect you and your account. We apologize for any inconvenience.If you choose to ignore our request, you leave us no choice but to temporary suspend your account.
Thank you for using AIB Internet Banking!
Please do not reply to this email. This mailbox is not monitored and you will not receive a response. For assistance, log in to your AIB Internet Banking account and choose the Help link located in the top right corner of any AIB Internet Banking page. To receive email notifications in plain text instead of HTML, update your preferences here.
**********************************************************************************************