Fold-up Bikes, the Swisscard and Rock-a-Buggies

Malachy Browne on the must-have accessories for the urban sophisticate.
On your bike!
Fold-up bicycles are becoming popular among urban commuters who wish to cut down on travel time or who prefer to remove the motorcar from their daily journey to and from work. An obvious choice for the environmentally-friendly or health-conscious commuter, these lightwieght bikes can be carried with ease and neatly stowed on trains, buses and taxis, providing urban commuters greater options on their daily run. Most bikes can be folded and unfolded in 10 to 20 seconds.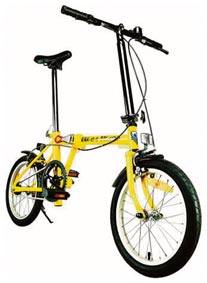 The Brompton range of bikes weigh from nine kilograms to 13kg and offer the most robust product, with a sturdy full-sized frame and large wheels. A range of extra features mean that the bike can be tailored to particular needs.
Weighing in at only five kilograms, the A-bike provides a lighter alternative to the Brompton models, but its tiny wheels mean the A-bike does not handle uneven terrain as well as other bikes. Given Ireland's constricted pedal space, good handling is a fundamental consideration.
Bike-in-a-Bag offers a similar build to the Brompton products, though the aesthetics and colour scheme – canary yellow – while safe, is not the most appealing.
StridaBike looks like a futuristic pedal bike and is the easiest bike to assemble and tidy away. The company also offers a free 60-day trial.
?More Custom-made Brompton bikes are available from ?600 from Cycle Ways (185-186 Parnell Street, Dublin 1; 01 873 4748) or www.bromptonbicycle.co.uk. Bike-in-a-Bag: from £160 at www.bike-in-a-bag.com.
A-Bike: £200 at ukonline.co.uk. StridaBike: £239 at Strida.co.uk
Cutting the mustard
SwissCard is a nifty product created by Victorinox, the makers of the Swiss Army Knife. The card incorporates some traditional features of the traditional knife into a sleek, wallet-sized design, no bulkier than three bank cards.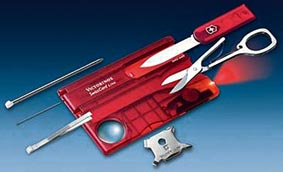 Victorinox offer several versions of the SwissCard, each with a different design or combination of features. Most versions contain a small scissors, a blade, a ballpoint pen, a ruler, tweezers, a screwdriver and a toothpick. SwissCard Original also contains a protractor and a nail file. Jelly SwissCard is identical to the original except that it comes in a range of cool translucent colours. Jelly SwissCard Lite is the snazziest design, with a red LED light, a magnifying glass and a quadruple screwdriver.
Any person with a fondness for the Swiss Army Knife is sure to love this gadget – just watch how they plead with airport security as the beloved SwissCard is callously removed from their wallet.
?More SwissCards are available from £13.50 to £17.50stg at www.swissknifeshop.co.uk
Babies rock!
Touted as 'the next must-have baby accessory', the Dream Mover is an electronic device that lulls a baby to sleep by gently rocking the pram, buggy or carry-cot placed atop its platform.
According to New Scientist magazine, the rate at which the device reciprocates, 66 rocks per minute, is "roughly in time with a resting heartbeat and the speed at which people instinctively rock their child". The product's manufacturers say that these conditions effectively replicate the womb, providing a "reassured and secure" environment for the baby that "dramatically reduces crying" and "helps babies to settle into a sleep routine". The website is laden with testimonials from babycare publications that support the product's claims.
?More Available for £80 at www.dream-mover.com