Flickr.com: Not your

One of the best public photo and image websites, Flickr (www.flickr.com), describes itself as an online photo management and sharing application. Now in its "Gamma" version, Flickr is a cross between an online photo album and a blog, and features the best of both applications. Anyone can create a free or a paid "pro" account to start uploading, storing and sharing their digital images. Ludicorp, a company based in Vancouver, Canada, developed and launched Flickr in February 2004. In March 2005, Yahoo! acquired Ludicorp, so new users need to create Yahoo! accounts in order to use the site. Luckily, Yahoo! kept the integrity and ingenuity of the site.
What makes Flickr different to other photo-hosting sites is that it is a community website. Even if you are just a "lurker", you can browse and subscribe to other people's photos and add comments, highlights and search-tags to individual photos. Photos can be made public, private, or viewed only by friends and family. There are also public and private groups that you can create, subscribe to, add to, or browse through. You could make a set of images for your family or a group of people with similar interests, subjects or styles of photography. There is a built-in messaging tool, which allows Flickr users to contact one another, and it informs users of any activity in their photos.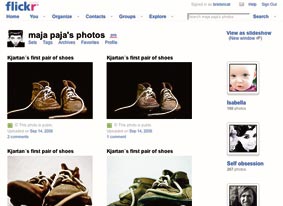 Flickr is a handy, inexpensive tool for backing-up and storing large amounts of digital images that would quickly fill up your hard-drive. Better still, the website does most of the hard work for you. When uploading your photos, Flickr saves them in various sizes and resolutions, so you have more options on how you share your photos. For those in the US, you can even order prints. There's also the usual ability to create albums and slideshows.
Flickr offers users several uploading options. You can use Flickr's online uploading tool; Flickr software, which is available for Windows and Mac users; or you can send your photos to your Flickr account using email or from your mobile phone using MMS. With the free Flickr account, you can upload up to 20MB of photos per month. A paid "pro" account, meanwhile, gives you a massive 2GB upload space a month. An interesting aspect of their upload policy is that only the monthly transfer rate is limited; there is no limit to the total size and amount of photos that you can keep on an account. A paid account costs around $30 a year.
Some great Flickr accounts to check out:
› Joe Cashin: www.flickr.com/photos/joecashin/
An Irish photographer who contributes almost daily with beautiful photography of local colour
› Mazen Kerbaj: www.flickr.com/photos/kerbaj/
A Lebanese cartoonist whose drawings are beautiful, fun and pointed
› Maja Paja: www.flickr.com/photos/majapaja/
An Icelandic photographer who posts beautiful portraits of her friends and family as well as gorgeous images of her surroundings, experimenting with colour and texture
JESSIE WARD