Financial crisis in Irish fishing

Many Irish fishermen are in serious debt and some are engaging in illegal fishing to repay bank loans that run to millions of euro. By Max McGuinness
Several Irish fishermen are facing financial crisis and Irish banks have exposed themselves to enormous risk by providing millions in loans to these fishermen.
It appears some of these loans are being repaid through the proceeds of illegal fishing. Accounts filed by Irish commercial fishermen in the Donegal-based pelagic sector – who are being squeezed by declining EU-administered quotas – reveal a pattern of negative equity and unserviceable debts.
This comes amid an ongoing Garda investigation into alleged illegal fishing by Irish fishermen and a move last month by the Department of Communications, Marine and Natural Resources to dock the quotas of fishermen involved in illegal landings of fish at Peterhead, Scotland.
Given the scale of the debt burden across the industry, it is impossible that many operators are meeting their repayments without income from illegal fishing. Otherwise, their balance sheets and quotas suggest they would be defaulting en masse, which has not been the case. Indeed, Art Kavanagh of AIB Killybegs said in a Dáil committee meeting in October last year: "Repayment experience with regard to the industry is superb and extremely positive."
Relatively few fishermen operate as limited companies and file accounts with the CRO. Of these, one trawler owner faces bank payments of over €1.1m this year when its vessel should be entitled to catch a legal maximum of around €2.5m worth of fish and should face costs of at least €2m based on industry trends.
Another trawler owner is already deep in negative equity, with liabilities exceeding assets by nearly €1.4m. The company is faced with bank payments of over €1.5m this year. Its maximum legal turnover for this year should be in the region of €2.5m on the basis of its quotas.
A third trawler owner is faced with debts of over €16m and imminent negative equity due to depreciation, yet the company's legal turnover this year should be a maximum of approximately €2.5m. From that, the trawler owner must meet at least €1.5m in bank payments.
A fourth faces debts of over €13m yet manages to meet its obligations when its legal turnover should also be a maximum of approximately €2.5m.
The fishing industry as a whole owed €421m to Irish banks as of June this year; AIB and IIB Bank are prominent lenders in the pelagic sector. In a Dáil committee meeting on 12 October last year, Eamon Ryan of the Green Party accused AIB of taking a "massive" and "amazing risk" in lending heavily to pelagic-sector fishermen. Ryan said he did not want the taxpayer to pay for the risk AIB had taken. He also remarked that the Irish fleet "could catch the quota in a week or a few days".
In an interview with Village, Eamon Ryan said Irish banks have "lent even when it was clear there would be a severe reduction in quotas", that "the average householder does not get this treatment" and that "it's very hard to see how they [boat owners] could pay off their loans while obeying the quota". Ryan said existing evidence suggested the level of over-fishing by Irish vessels was equivalent to a "multiple of the fishing quota". Eamon Ryan blames European Common Fisheries Policy (CFP) regulations, which he called "systematically corrupt".
Under the CFP, a vessel does not have to report a catch until it is landed. According to Ryan, "If a fisherman can land a catch without having to report it, he will." He added, "If there is no naval vessel on the horizon, there is no incentive for the skipper to fill in his logbook." Eamon Ryan says urgent reform of the CFP is needed and proposes that a system of realtime electronic reporting would eliminate the potential for fraud.
Kevin Howley, chairman of the Killybegs Fishermen's Organisation and owner of the Atlantic Challenge trawler told Village the fishing industry is going "through a difficult time", which he attributes to the pattern of falling quotas. Howley also said: "We do not support illegal fishing."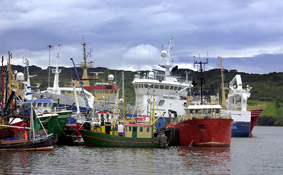 On 3 October, the Department of Communications, Marine and Natural Resources announced that individual fishermen will be penalised by a reduction in this year's mackerel quota of 6,578 tonnes. In the press release, Minister John Browne said he was "satisfied, following full consideration of representations made to him by [fishing industry representatives]... [that some vessel owners] have breached community regulations and landed undeclared mackerel". The Department has not yet released the names of the fishermen who been penalised for illegal fishing.
Scottish fishing authorities allege that Irish vessels landed over 40,000 tonnes of mackerel illegally at Peterhead between 2002 and 2005. The balance of the 40,000 tonnes is expected to be subtracted from future quotas. Gardaí are conducting investigation into separate allegations of illegal fishing.
Reductions in the mackerel quota are likely to continue in the long-term for environmental reasons. The Stock Book, the Marine Institute's annual report on fish stocks, declared this year that mackerel stock "is being harvested unsustainably".
AIB bank, IIB bank, the Killybegs Fishermen's Organisation and the Garda Press Office were contacted by Village for comment. None responded.
The Department of the Marine, Communications and Natural Resources issued the following statement: "There is an ongoing Garda investigation into allegations of illegal fishing activity by Irish-registered sea fishing vessels and any information relevant to that investigation should be forwarded to An Garda Síochána or to the Department of Communications, Marine and Natural Resources for appropriate attention and follow up."