Fergus O'Rourke, Independent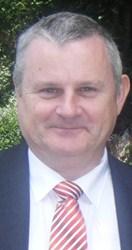 Fergus O'Rourke, Independent
Constituency: Cork North-Central
Personal Details
Address: Callas Hill Berrings, County Cork
Year of Birth: 1952
Email address: jfor@irish-lawyer.com
Phone Number: 0872583485
Twitter account: @ubfid
Facebook Page: Fergus O'Rourke
Occupation: Lawyer
Previous Occupation: Financial services
Financial interests: None
Income (aside from income derived from political office): Minimal
Approximate net worth of capital assets (aside from family residence): Minimal
Political Details
Are you an outgoing politician? Not a politician
Information on political career to date: Was a Labour Party activist in the 1980s. Have drifted from them since then, and have campaigned against the Nice and Lisbon treaties
How much money do you expect to spend in the election campaign? Less than 50c for every vote, if I reach the Quota
What will be the sources of this finance? Friends and family
Record and Manifesto
Personal election manifesto: http://www.irish-lawyer.com/election-platform/
What in your record distinguishes you above the other candidates in your constituency? I am not associated with the "group-think" that has brought us to our present sorry pass.
What do you consider to be the main election issues in your constituency, and where do you stand on these issues? I am standing on the national issues of insiting on debt burden-sharing, a shake-up of prosecution arrangements, political reform and the like
What do you believe are the national priorities, and what do you propose in this regard? See above
Specific Policy Questions
Do you support political reform, and why? What measures would you introduce to reform local and national politics? Yes. Among the measures I favour are allowing voter "write-in", recall of TDs
Should Church involvement in provision of education and teacher training continue? If no, what measures do you propose? The question is unsatisfactory. In general, I do not favour exclusion.
Do you support Freedom of Information reform, and why? What measures do you support in this regard? Not one of my areas of emphasis.
What do you believe the smart economy to be, and what measures do you propose to foster this? Not a useful question for me
What steps do you propose to create sustainable and integrated communities in urban and rural Ireland? I don't.
What infrastructural projects do you believe are urgently required? How would you support their development? As an independent candidate, I do not have the capacity to develop a position for all issues facing government.
Do you believe there is a need for pension reform? What measures do you propose to safeguard a dignified and secure old age for Ireland's citizens? Yes.
Where do you stand on the EU/IMF bailout? It is unsatisfactory, but there is no such thing as unilateral negotiation.
Would you support holding a referendum decide the question of making any further payments from the citizens to bank creditors? I would need considerable futher persuasion before supporting this proposal. I do not presently see it as useful.
Do you support the Fine Gael policy for Health Reform? If Labour and Fine Gael agree on health reform, I will offer constructive opposition to the inevitable.
What job creation initiatives do you propose? Politicians cannot create jobs. I will support measures that remove disincentives to employers to recruit labour e.g. employer PRSI.
Questions from Politico Readers
Will you ensure that natural resources remain under state ownership? (Chris Maher) As an independent, how would I do that ?
If in Government what would be the first change you would seek in the Constitution and why? (Kevin Cooney) Not a priority for me, but possibly necessary to curtail property rights
Would you support capping TD & Minister salaries at twice the average industrial wage, with €10,000 per annum expenses? (John Murphy) No
What proposals do you have on debt reform? (Tara O\'Grady) I don't understand the question
Will you support root and branch reform of all levels of the public service? Starting with the top earners, including politicians. (Terri O\'Brien) Probably
What experts would you try and get into the Dáil through the Seanad to help in the recovery? (Grainne Fallon) Into *government* through the senate , I assume. Excellent question. Needs more thought.