In the eye of the 'illegals' storm

Niall O'Dowd, editor of the New York-based Irish Voice, is regarded as straight-talking, credible, tenacious and pragmatic. Since January he's been leading the Irish Lobby for Immigration Reform. Profile by Marion McKeone.
In February this year, a prominent Republican and long-time acquaintance of Niall O'Dowd, New York-based publisher and lobbyist for Irish affairs, was discussing O'Dowd's newly-formed Irish Lobby for Immigration Reform (ILIR) and his chances of harnessing the support of Republican or Democratic Congressional heavyweights. The refrain was a familiar one: everything has changed since 9/11. O'Dowd, he concluded, was a formidable operator but he was punching above his weight on this one. No Washington politician, he predicted, was going to stick his neck out for a fledgling organisation that represented a lost cause for a few thousand people.
Fast forward six weeks and thousands of Irish Americans are lining up outside St Barnabas High School on the Bronx's McLean Avenue. They are mostly in their twenties and thirties and all are wearing white T-shirts with 'Legalise The Irish' logos.
The event runs like clockwork. Fresh-faced young volunteers profer old-style church baskets on sticks along the crowded rows. They're not looking for money, they're dispensing campaign style badges declaring their support for McCain's immigration bill.
There are posters, streamers and chants of "Olé,Olé". On stage are several Republican state and congressional representatives. Suddenly a deafening roar erupts as Senator John McCain, flanked by O'Dowd, enters the gymnasium which is decked out in Irish and American flags.
Clearly delighted by the response, McCain all but launches his 2008 presidential campaign. He promises the thousands of cheering Irish that soon they will live and work legally in the United States.
McCain loves telling people he feels like Bono when he turns up at Irish events. But the seemingly spontaneous enthusiasm comes from a mixture of carefully orchestrated cheerleading and meticulous planning, and Niall O'Dowd, seated alongside McCain, has good reason to look pleased with himself.
If there is ever a patron saint of lobbyists for lost causes, Niall O'Dowd, the Tipperary-born former school teacher, would emerge as an odds-on favourite for the title.
The Irish Lobby for Immigration Reform's inaugural meeting on a wretched January night at Rory Dolan's Bronx bar has already become part of New York's Irish community folklore. "It's a bit like the 1916 Rising," quips Ciaran Staunton, O'Dowd's brother-in-law and vice-chairman of the ILIR. "There were 300,000 in the GPO that day too."
That night, O'Dowd proposed a campaign to secure visas for the 25,000 to 50,000 illegal Irish workers in the US, someone pointed out that Washington was in no humour to hand out visas to illegal workers, O'Dowd shot back immediately that the undocumented Irish in the Bronx were in plenty of humour to receive them. The ILIR was up and running.
The political apparatus that was used to secure the Donnelly and Morrison visas of the eighties was dusted off, oiled and put to work. Within weeks it resembled a very small, very efficient presidential campaign. In March, 2,400 Irish illegals took buses to a rally in Washington, where they were greeted by 2008 presidential contenders Senator Hillary Rodham Clinton and Senator John McCain. Senators Ted Kennedy and Chuck Schumer were amongst the high-profile senators who pledged their support to the 2,400 illegal Irish who demanded the right to "earned legalisation". A dozen Congressional lawmakers, Republican and Democrat, fell over each other in the rush to declare their support for the Irish illegals. "It would never have happened without Niall," Staunton says. "He doesn't care whose name is on the green card. The Donnelly visas were signed by Ronald Reagan, the Morrison's by Bush Sr and the Adams visa by Bill Clinton. He'll work with whoever can deliver."
For the coalition of immigration groups that represent the 11 million Latin American illegal immigrants, the Irish rally was a source of inspiration and frustration. A week earlier, when 40,000 Hispanic immigrants held a rally in Washington, not a single politician was available to attend. O'Dowd points out that a law providing for "earned legalisation will benefit Mexicans, Asians and Irish equally. We're not trying to jump the queue. We just want to take our place in it," he says. However, the New York Times also quoted him as saying that if the legalisation initiatives fail, the Irish will seek a deal for themselves.
Staunton first met O'Dowd back in 1982 when he set up the first group to lobby for green cards for Irish illegals. O'Dowd, a former school teacher and UCD graduate, emigrated to San Francisco in 1979, writing for the now defunct Irish Press. He moved to New York, where he joined forces with Staunton, and the wheels were set in motion for the Donnelly and Morrison visas. "No one thought it could be done," Staunton says. "But Niall ignored them. He's determined, but very easy to work with. He knows what he's going to say before he goes into a room, whether it's at a meeting in the Bronx or the White House, and it doesn't change. He tells people what they need to hear, not what they want to hear." Ten years ago Staunton married O'Dowd's sister.
Meanwhile O'Dowd built up an impressive network of Irish American politicians, political sympathisers and business tycoons. In 1985 he set up Irish America magazine and two years later the weekly newspaper the Irish Voice. It was a curious mix of soft-focus features on Irish-American celebrities and cultural icons, tabloid-style stories about Irish citizens who fell foul of luck or the law, while adopting an unapologetic pro-nationalist line on Northern Ireland. In 1992 he founded the Irish-American Peace Delegation, tapping into his network of Irish-American political and corporate heavyweights.
Trina Vargo, president and founder of the US-Ireland Alliance recalls meeting O'Dowd at an Irish Embassy dinner in honour of President Mary Robinson. Back then Vargo was Ted Kennedy's foreign-policy adviser and several months later O'Dowd contacted her. He wanted to garner support to secure a visa for Gerry Adams. The Clinton White House was new to the game and it would take the support of a player of Ted Kennedy's calibre to get it off the ground. "Right from the beginning Niall was extremely straight and very pragmatic," she says. "He earned credibility pretty quickly because he never promised what he couldn't deliver. If he said he could do something, he would do it."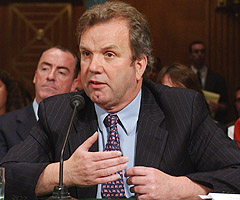 It was one thing to obtain visas for hard-working Irish immigrants who had been short changed by the 1965 immigration act and the economic crisis in Ireland and the Troubles in Northern Ireland. It was quite another to obtain a visa for a man who had been vilified by most of the US mainstream media and was regarded as a political untouchable. But O'Dowd persisted, Adams got his visa amid British protests and the foundations for the Peace Process were laid.
O'Dowd was one of a large number of people involved in the build-up to the Good Friday Agreement. Several sources say he was regarded as someone who knew which way the wind was blowing in the Republican movement's corridors of power. Others dismissed the Irish Voice, which featured a column from Gerry Adams, as little more than an echo chamber for Sinn Féin propaganda. "He had a lot of credibility and he was always very quick to give the credit to other people," Vargo recalls. "His agenda is not about self-promotion. We spoke dozens of times a day and I'd regard him as a friend. He was incredibly tenacious but he's pretty low-key."
Tim Pat Coogan noted in 1997 that Adams and O'Dowd shared many traits, self-effacement and tenacity amongst them. As the peace process gathered momentum O'Dowd became the go-to guy for the cable news and the networks, regularly appearing on CNN and major US media outlets. Although he is not a great orator, he was in constant demand as a guest speaker at Irish-American political and social events. He became a regular visitor to the Clinton White House. Even at the peak of her 2000 Senate run, Hillary Clinton found time to hand out prizes at small-time Irish Voice events.
With the Good Friday Agreement and the dawn of the Bush White House, Ireland slipped down the Bush agenda. O'Dowd used his Republican connections to ensure lawmakers like Peter King stepped up the pressure. Bush's appointment of Richard Haass as special envoy to Northern Ireland was widely praised but, in the aftermath of the 9/11 attacks, America turned its attention elsewhere and the newly-founded Department of Homeland Security started putting the sqeeze on illegal immigrants.
It was a lot tougher being illegal post 9/11 than it had been pre-Morrison and Donnolly. Undocumented Irish could no longer obtain driving licences or even open bank accounts. Their retreat underground gave O'Dowd a new axe to grind, a new clause to pursue and another opportunity to spend some of the political capital he had accrued during the Clinton years. Initially there appeared to be precious little sympathy for young Irish who were fleeing an American-brokered peace process and the biggest economic boom in history. But undaunted, for the third time, O'Dowd has pushed the immigration issue to the top of the agenda. The Irish Voice had another David and Goliath battle to fight and O'Dowd was catapulted back onto the front page of the New York Times and the primetime slots on major networks. One colleague at the Irish Voice noted drily that O'Dowd's embracing of the post-9/11 immigration cause hasn't exactly been bad for business. Cameras from ABC, NBC and CNN have taken up semi permanent residence in its offices and there has been a spike in its circulation.
Right now, the immigration debate is the single most polarising domestic-policy issue in the United States. In states like New York where there are large illegal immigrant populations, the side that politicians choose will decide their political fates in the 2006 mid term elections. Once again, O'Dowd, a prescient political weathervane, finds himself in the eye of a high-profile political storm. p