The Evolution of Sebastian Chabal
A profile of Chabal 'The Mountain Man', talisman of the French rugby team
The Evolution of Chabal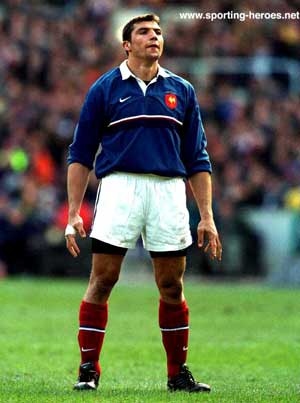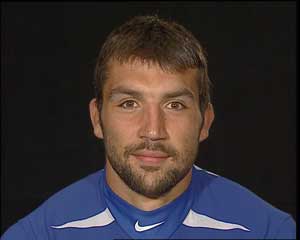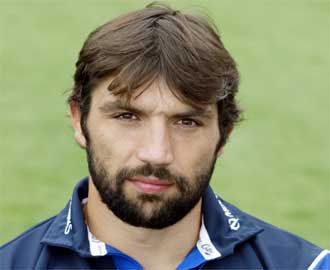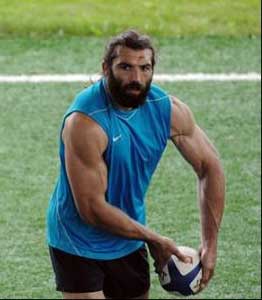 Profile from Wikipedia.org
Chabal was born in Valence, raised in Beauvallon. He was included in France's squad for the 2003 Rugby World Cup in Australia. He played in games against the USA, Japan and New Zealand. He has played in a number of Six Nations Championships, including the 2007 French victory.
Chabal joined Sale from French club Bourgoin-Jallieu, making his debut against the Leicester Tigers in 2004. He is renowned for his hard-hitting and aggressive style of play, but a short temper has led to disciplinary problems, most recently on 26 February 2006, when he received a red card for stamping on Wasps player Lawrence Dallaglio. Chabal has acquired cult status at Sale, enjoying the nickname "Seabass". Sale won the Guinness Premiership in 2005-06.
He is known for his beard and his long hair, leading to French rugby fans nicknaming him "l'Homme des Cavernes" - the Caveman.
He is also famous for a number of eccentric moments in his rugby career. These include missing a tackle on an opponent and tackling the linesman instead; lurching towards the referee when blown up trying to tackle a player; and whilst attempting a small kick just behind the back line, he miscued it completely and subsequently attempted to kick the ball over the posts whilst it was still on the ground.
He is a favourite amongst both Sale and French rugby fans, and has developed a strong online following, who call themselves "Chabalists."
Fans can be heard to chant "Mmmm Chabal!" a parody of a French 100% pure beef advert where the tag line is "Mmmm Charal"
Although Chabal is primarily a back-row player, France coach Bernard Laporte has long sought to use him as a lock. In a 2007 interview, Chabal said that Laporte called him just before the France squad was announced for the 2007 Rugby World Cup and told him, "I really want to pick you but to play second row." Chabal accepted Laporte's offer.