'Every sort of lethal weapon is available in Finglas'


Fears of retaliatory attacks after the recent double murder in Finglas mount as local activist describes the flood of firearms into the area. By Frank Connolly
A well-known drug dealer in the Finglas area of Dublin has been distributing machine pistols and hand guns to associates, according to a well-informed local source, in what gardaí and community activists believe is an escalating feud between rival drug gangs.
The killing on 12 December of alleged drug dealer Martin "Marlo" Hyland, 39, and an uninvolved bystander, Anthony Campbell, 20, has raised fears of a spate of retaliatory attacks across north and west Dublin.
Although Hyland has been described as one of the city's leading dealers of heroin, cocaine and cannabis in recent years, an informed local activist claims he was not so significant a figure. He may have been killed as a result of a series of Garda arrests and drug seizures involving some of his wider circle of associates over  recent months, the source says.
Another drug dealer, the main supplier of drugs and weapons in Finglas, was well-known in the area and was the victim of three attempts on his life over the past six months, according to the local source. "One man has been supplying a lot of weapons around the area. There have been three attempts on his life which have not been publicised," the activist told Village.
"Every sort of lethal weapon is now available. There were grenades used in an attack on a house in Finglas a year ago. This man who is well-known has been distributing hand guns and machine pistols. All of the gangs are now fairly well tooled-up," he said.
Almost every major shipment of illicit drugs into Ireland now includes an amount of lethal firearms, according to the Garda.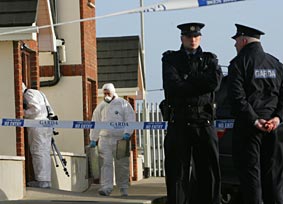 Anthony Campbell, the uninvolved plumber who was shot dead during the attack on Marlo Hyland, was working in a downstairs room when the attackers entered the house after 9am on 12 December. A handgun with a silencer attached was used to shoot him and Hyland in the head. His employer had left the house a short time earlier to buy some food and refreshments in a local shop.
"It was only a matter of time before another innocent person was shot dead in these attacks," said Finglas Sinn Féin councillor Dessie Ellis, who knows the family of Anthony Campbell.
"His family and his employer are shattered. He was a popular young man and he and his employer had no idea there was a well-known criminal in the room upstairs in the house where he was working. These groups are fighting between themselves and it is getting out of control," Ellis said.
"Marlo" Hyland was staying in his niece's house in Scribblestown Park as a security measure following threats against his life by other Dublin criminals. His niece had also left the house with her small children shortly before the attack.
Hyland had no convictions for drug dealing or arms offences but had been convicted for a series of motoring and other minor offences. It has been widely reported that in recent months Hyland was visited by Dutchy Holland, a suspect in the murder of journalist Veronica Guerin. Dessie O'Hare, who was convicted in connection with the kidnapping of dentist John O'Grady in the 1980s, is also believed to have been in contact with him.
More armed gardaí have been deployed in the Finglas area following the attack. "There has been an increase in the number of armed gardaí in the aftermath of this attack. The investigation is ongoing," said a spokeswoman in the Garda press office.    
Gardaí are also seeking a gang who killed a 37-year-old man in Co Louth and badly injured two other men on 12 December.
The double murder in Finglas brings to 23 the number of people shot dead his year.