Employment Regulation Orders and protecting the vulnerable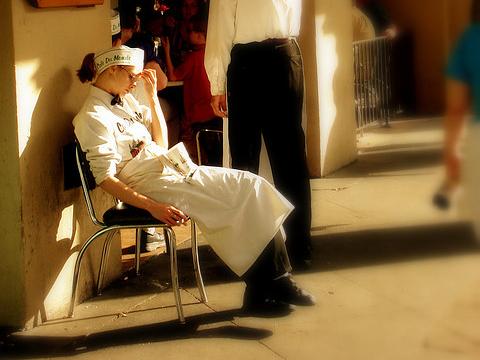 Back in March, the Quick Service Food Alliance took a case challenging the constitutionality of the Joint Labour Committee system that sets wages and conditions in their industry. Food service is one of the least unionised and lowest paid industries in the country, and yet employers complain that wage costs are crippling their businesses. As Helen Lowry writes, wages have at best a minimal effect on the cost of food to the consumer, so the desire to abolish the few standards on pay and conditions (and subsequently lower them, no doubt) will have no effect on demand. What their abolition will do, however, is make it even easier to exploit workers in a sector already notorious for flouting employment law.
Listening to sound bites from employer groups and the restaurant industry you could be convinced that a reduction in wages for workers is a necessary evil in order to keep restaurants open in recession Ireland. It is a pervasive and persuasive argument which deflects from the serious issues of exploitation and non-compliance in the industry.
Restaurant workers, along with thousands of other workers (including security workers and contract cleaners) have their pay and conditions set by individual Employment Regulation Orders (EROs) established by a Joint Labour Committee (JLC). The JLC system (in operation in various formats since the formation of the state) facilitates collective agreements between workers and employers for employment sectors characterised by low pay and by an absence of or limited existence of collective bargaining.
The government is currently undertaking a 'review' of all EROs, a review many workers fear could result in a severe cut in pay or a decision to do away with EROs altogether. Employers and their representative bodies are pushing for their abolition, saying the existence of the national minimum wage is sufficient protection and arguing that ERO rates of pay and conditions threaten the industry. Chambers Ireland used the review to call for 'the abolition of Employment Regulation Orders .... that no longer service [sic] a rational purpose since the introduction of the National Minimum Wage (NMW) more than a decade ago.' The Restaurant Association of Ireland (RAI), meanwhile, has been quick to advocate not only the retention of the minimum wage at its new, lower rate of €7.65 per hour but also for the abolishment of the JLC system. The Quick Service Food Alliance (QSFA) an employer alliance representing over 180 members including fast food giants such as Supermacs, Eddie Rockets and Burger King, has been very vocal on the need for the Catering ERO to go. Their legal case challenging the constitutionality of the JLC system was heard in the high court in March, during which case they too argued that there is no need for employment regulation orders. The outcome of this legal case and the government's independent review could dramatically alter the wage agreement mechanisms set in place for thousands of low-paid workers in this state.
There are a number of arguments workers have put forward in defence of their employment regulation orders. Firstly, the important role the joint labour committee system plays in granting thousands of workers a collective voice on their working conditions; a role that is particularly important in light of the fact that there is no legislative basis for collective bargaining in Ireland. JLCs were established to protect workers vulnerable to exploitation due to the nature of the work they do; and as a corrective to both poor regulation and low levels of trade union density in certain sectors. For example trade union membership currently stands at 34% in the workforce but only 6% in the hotel and restaurant sector, the lowest of any sector of employment (1). Wages set under the Catering ERO are set only slightly above the national minimum wage and set out very basic provisions for workers' rights.
Secondly, worker groups argue abolishing JLC rates of pay does not make economic sense. One contention is that the minimum wage and JLC rates of pay are amongst the highest in the EU and simply 'have to come down'. However recent analysis has indicated that Irish labour costs in the hospitality sector, far from being at a premium in Europe, are 6% below the EU-15 average (2). And nor will wage reductions see expected price reductions for consumers. TASC's A Square Meal found that abolishing JLC rates of pay to the NMW rate (a cut of 7%) would mean a reduction of 61 cents per customer for a meal costing €60 for two, facilitating a price reduction so tiny that's it's very doubtful it would lead to increased customer demand. The cost of food, rent and other fixed costs and rates are possibly more urgent constraints on the industry at present.
Despite pre-tax profits of €2.6 million for Supermacs in 2010 and the 40% increase in profits for upmarket Dublin hotels in the last year, restaurant and hotel workers are still the lowest paid of any sector. Many are already struggling with reduced working hours and additional taxes. The latest CSO data show that the average weekly pay in this sector was €351, half of the national average, or 67% of the income required for a basic standard of living (Tasc A Square Deal). Any further cuts in wages and conditions will increase the number of 'working poor' and make it harder for people to escape poverty through securing decent work.
The serious issue of non-compliance with employment law within the sector needs particular attention. The hospitality sector in general suffers from one of the highest breaches of employment law in the state. In 2008, for example, the National Employment Rights Authority (NERA) found breaches of employment law in 73% of catering businesses. In 2009 compliance rates remained problematic; only 21% of catering businesses and 27% of hotels were found to be compliant, amongst the lowest in any sector. It is our experience in the Migrant Rights Centre (MRCI) that workplace rights violations and exploitation of migrant works employed in restaurant work is commonplace. Findings published in 2008 in MRCI's report Exploitation in Ireland's Restaurant Industry found that many were not receiving proper overtime or holiday pay. Over 80% did not have a contract of employment and over half received less than the minimum hourly rate. A successful restaurant industry is important for Ireland but that success cannot be built on the back of exploited workers. If this is the reality for workers with a Catering ERO in place, there are real concerns about the impact a removal of the ERO could have on compliance and enforcement. This reality goes some way perhaps to answering why in addition to a national minimum wage in Ireland we also have the existence of EROs.
Proponents of wage reductions argue that the economy is weak and that the industry is hurting. What they don't want us to remember is that for them the time is never right to protect the wage levels of the lowest paid workers in the country. When the minimum wage was reduced by €1 (try living in dignity on €7.65 an hour) the industry welcomed this development and called for its retention. Now the independent review and the employer alliance's legal challenge offer platforms to spin the arguments that wage reduction is the most urgent and viable way to get restaurants and the economy out of trouble. The right thing to do for workers and their families is to protect minimum wages at a level where people can do more than 'just survive'. Maintaining the minimum wage has the potential to move us towards a more stable and sustainable Irish economy. Worker voices, collective actions and alternative analysis all play important roles in this fight.
Helen Lowry is coordinator of the Restaurant Workers Action Group in the Migrant Rights Centre Ireland.
Image top via moroccanmary on Flickr.
(1) CSO Quarterly National Household Survey, Union Membership, Q2 2009, 25 March 2010
(2) Unite Memo Re Labour Costs in the Hospitality and Distribution Sectors March 2011