Denis O'Brien and Michael O'Leary: Valets at war


Denis O'Brien and Michael O'Leary were both personal assistants to Tony Ryan, founder of Ryanair. Now they are locked in battle for the control of Aer Lingus. By Justine McCarthy and Emma Browne Plus: Tony Ryan and Aer Lingus AND Denis O'Brien and the Carribbean
Denis O'Brien, the Portuguese-turned-Maltese tax resident whose phone company in the Caribbean is worth an estimated ?2.5bn, was cruising at 35,000 feet in the African night sky at just around the time, in a manner of speaking, that Michael O'Leary roared, and Ireland shook.
The mobile-phone multimillionaire had boarded a plane at Dublin Airport on Tuesday night (17 October), within the shadows of Ryanair's head office, heading for Sudan with a party of fellow businessmen on a project-selection mission for their charitable donations. Had the slightly younger and brasher O'Leary, whose personal fortune is reckoned to be ?466m, looked out his office window, he might have detected a smile of anticipatory schadenfreude on the departing ?904m tycoon's face. For, by the time O'Brien's party was disembarking in Khartoum on Wednesday morning, O'Leary's ambition to take control of Aer Lingus was experiencing turbulence back home.
The official explanation for Denis O'Brien's ?32m-?43m (depending on which newspaper you believe) purchase of 2.1 per cent of Aer Lingus – thereby frustrating and potentially terminating Ryanair's tilt at control – is that the 48-year-old subject of the Moriarty tribunal is motivated by an ideological philanthropy to protect the old state airline on behalf of the workers and the nation.
His status as the pin-up of the new generation of bullish Irish capitalism, ever since he sold Esat Digifone to British Telecom – making a personal profit of ?317m – and moved to Portugal as a tax resident, is discordant with this Marxist leap to the defence of the oppressed proletariat. It was he who wanted to build a 26-storey tower of offices and apartments in the middle of Donnybrook village, to the dismay of the denizens of Dublin 4, where he owns half-a-dozen houses with a total value exceeding ?60m. Besides, by certain standards, the expenditure of ?43m is a mere bagatelle when compared to his other splurges, such as the ?35m he paid for a private dwelling on Shrewsbury Road in Dublin last year, making it the second-dearest house in Ireland.
It appears that his sweetly-timed intervention in Aer Lingus has won most plaudits from his admirers in Ireland's boardrooms. By 10am on Wednesday morning, his office was, by various accounts, awash with phone messages and emails of congratulations. The (unidentified) chief executive of a public company was moved to bucolic prose. He emailed that "Michael O'Leary looked at Aer Lingus as an orchard for years, complaining about the trees and the quality and the price of the apples and being very disapproving of the gardener. Many people believed he wanted to buy the trees and the orchard and sack the gardener in order to sell his own apples," adjudged this company boss.
Beguiled market spectators have concluded that there is more to the two goliaths' tussle for the flying shamrock than meets the eye. "If you believe Denis is doing this for the benefit of Aer Lingus employees, you believe the earth's flat. There's more to this than he's letting on," believes someone who considers himself a friend of O'Brien.
Another of his friends pointedly emphasises that "Denis has huge regard and respect for Tony Ryan" (the founder of Ryanair) but manages to leave Michael O'Leary's name hanging unmentioned. Bizarrely, it was the patriarchal Ryan's radio interview with Marian Finucane on Saturday 14 October, when he agreed that Ryanair's plan to take over Aer Lingus would amount to a monopoly, that is being identified as the catalyst for O'Brien's swoop. "A Freudian slip if ever there was one," tut-tuts an aviation insider.
The history between Denis O'Brien and Michael O'Leary hinges on their relationship with Tony Ryan. Both of the younger men learned much of what they know working as his personal assistant; O'Brien, the cherub-cheeked Ballsbridge-bred businessman's son and the elder by three years, making way for the fledgling iconoclast, O'Leary in 1988. Ryanair had been founded three years earlier, with 51 employees and two aircraft. Its first chief executive, Eugene O'Neill, happened to be Denis O'Brien's brother-in-law. In a further sequence of destiny, it was Michael O'Leary who replaced him at the helm. (Eugene O'Neill was later to settle a High Court action against Ryanair, following his dismissal as chief executive.)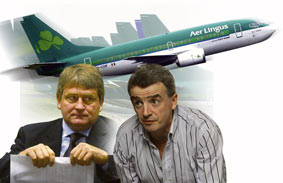 Today, O'Brien is ranked as the eighth-richest person in Ireland (though his residential address is a flat in Valetta) and O'Leary, who likes to breed horses and cattle at his home, Gigginstown House outside Mullingar, comes 20th in the Rich List. One of the most remarkable characteristics they have in common, according to a source, is that "they're two guys who love a good scrap".
Ex-Clongowes Wood schoolboy Michael O'Leary has left a trail of victims in the path of his eccentric Ryanair advertising campaigns, including the Taoiseach, Bertie Ahern, and the former Minister for Enterprise, Mary O'Rourke. He added Denis O'Brien to his gallery of scalps this year when, exploiting media reports of the latter's controversial move to Malta, Ryanair ads offered free flights to the sunshine island. Under a photograph of O'Brien, the ad promised: "All you pay is taxes." (It has long been an open secret that the chief executive himself designs Ryanair's ads and the reference to the "taxes" was a barbed reference to O'Brien's avoidance of capital gains tax on the massive profit he made from Esat by the move to Portugal – O'Leary is one of the few "fat cats" still officially resident in Ireland).
O'Brien, too, has proved an intrepid foe. Having failed to wrest Eircom from Tony O'Reilly's clutches in the 2001 battle for control, his relationship with the more powerful media proprietor grew increasingly fractious, on O'Brien's side at any rate. When O'Reilly penned a letter of congratulations to him in 2003 after his successful chairmanship of the Special Olympics, O'Brien replied with a litany of perceived injustices against him in O'Reilly's Independent News & Media publications (IN&M). Then, in the post-Christmas doldrums of last January, Denis O'Brien made his move, snapping up three per cent of IN&M at a cost of nearly ?56.5m.
"It was two fingers to O'Reilly, no doubt about it," says one of O'Brien's friends. Another source, however, promulgates the theory that the investment in IN&M was strictly, coldly and calculatedly business. "Denis is convinced it's only a matter of time before Independent Newspapers starts selling off the unprofitable parts of the company and then he'll get his return because the break-up value will be greater than the sum of its parts."
Denis O'Brien has been careless on a Wildean scale in a number of friendships. He is no longer friendly with his former associate, Barry Maloney, who told the Moriarty tribunal that, while jogging together in the Dublin mountains, O'Brien told him about two payments of ?100,000, one of them to Michael Lowry, the former minister. According to Moloney's testimony, O'Brien later said: "Thank God I didn't do it. It never went through."
Another associate, Paul Connolly, who was instrumental in raising funds for Esat Digifone and Esat Telecom, withdrew earlier this year from the board of Digicel, O'Brien's Caribbean phone company due to float on the New York stock exchange next year, after it was rumoured that the two men had fallen out. Denis O'Brien is also the invisible presence in the High Court battle between TV3 and Newstalk 106 – which his Communicorp controls – over Claire Byrne's move to the latter. It is believed that "O'Brien is steering that confrontation over a relatively minor matter", while leading the challenge on the TV3 side is his former righthand man in 98FM, Andrew Hanlon.
He has recently stepped down from the "court" of the Bank of Ireland, where his deputy-governship had been regarded as a stepping stone to the top position on the board. He also resigned from the Smurfit Business School at UCD. These moves attracted speculation that he is preparing for the Moriarty tribunal's report on his relations with Michael Lowry.
Meanwhile, Michael O'Leary too continues to thrive and needle in equal measure. His unique marketing strategies have drawn attention to Ryanair. He once dressed up as a cardinal to announce the launch of a route from Dublin to Rome. He has also appeared as St Patrick, a French chambermaid and a Roman centurion. But some of his publicity stunts have back-fired. When Ryanair reneged on a promise to give the millionth customer free flights for life, O'Leary apparently told her to "fuck off" and the dispute ended up in court.
As well as disgruntled passengers, there have been many disgruntled staff. Ryanair crew pay for their own training, uniforms and meals and pay for their own Christmas party. Reportedly, staff at the company's office have to use their own pens, but post-its and highlighters are not allowed and they may not use the company's electricity to charge their mobile phones.
The airline's cost-cutting model came under pressure this summer with the British terror alerts on aeroplanes. The long security checks made it impossible for Ryanair to maintain its turnaround times of 25 minutes. O'Leary had a tantrum, gave out about BAA not handling the situation adequately and threatened to sue the government.
He is not one to mince his words. He is known for his assertive style with the media and politicians. He regularly appears in the media giving out about somebody in language laden with expletives. He has called the European Commission "morons" and the "evil empire"; BAA "overcharging rapists"; travel agents "fuckers", RTÉ "Radio SIPTU".
He has singled out the Taoiseach as well, running full-page adverts in daily national newspapers criticising the government's failure to build a second national terminal.
O'Leary lives in Gigginstown House near Mullingar. He married Anita Farrell in 2004 and their first child, Matthew, was born in September 2005. He breeds horses at his Gigginstown Stud in Co Westmeath and, in 2006, his horse War of Attrition won the Cheltenham Gold Cup and the Punchestown Gold Cup. In 2003 he acquired a taxi licence so his chauffeur could drive in taxi lanes.
Since his marriage he has seemed keen to slow down, saying marriage made him a better person and that he would likely exit Ryanair in the next couple of years. However he has said this before – back in 1998 he said he would only stay at Ryanair for another year. But now that he is engaged in a battle with Denis O'Brien for Aer Lingus it is unlikely he would bow out as soon as 2008.
Tony Ryan and Aer Lingus
Denis O Brien's brother-in-law, Eugene O Neill, in an affidavit to the High Court in connection with his case against Ryanair for the suppression of his minority interest in the company, made several charges against the Ryanair founder Tony Ryan, which now seems ironic.
He alleged that Tony Ryan's long-term ambition was to get control of Aer Lingus. He was opposed to the "imposition" by Tony Ryan of Michael O'Leary as financial director of Ryanair in 1989 when he was chief executive – Tony Ryan was not a director of the company at the time, not even a shareholder, although his sons held most of the shares.
But most interestingly, Eugene O'Neill alleged that at a time when, clearly (as he saw it), Aer Lingus was abusing its dominant position in the airline market in Ireland (Ryanair had offered flights to Manchester for £58, a fraction of the then Aer Lingus fare, and Aer Lingus had responded by undercutting them in what was clearly a below-cost venture), Tony Ryan vetoed a complaint Eugene O'Neill. The complaint was that Aer Lingus was in breach of EU competition law.
In the affidavit, Eugene O'Neill said he had been informed by the staff of the then competition commissioner, Peter Sutherland, that a "dawn raid" would be sprung on Aer Lingus immediately after the complaint was lodged officially, to discover documents that might show Aer Lingus was acting illegally, even criminally.
Eugene O'Neill said Tony Ryan vetoed the lodging of this complaint because of a conflict-of-interest situation that arose from his involvement with the aircraft leasing company, GPA at the time – Aer Lingus had a large shareholding in GPA.
Eugene O'Neill also stated in the affidavit that Tony Ryan had been engaged in private discussions with the then head of Aer Lingus, David Kennedy, about the division of routes between the two airlines.
Vincent Browne
Denis O'Brien in the Caribbean
The Moriarty tribunal is not expected to issue its findings on Denis O'Brien's dealings with former Minister for Communications Michael Lowry until well into next year. The inquiry involving Denis O'Brien started when the tribunal examining payments to the former Fine Gael minister, Michael Lowry, and to former Taoiseach Charles Haughey decided to look into the state's award of the second mobile-phone licence in 1995.
After winning the lucrative licence ahead of some major international players, including Motorola, Denis O'Brien's company, Esat Digifone, won a large share of the national mobile-phone market before he sold the company to British Telecom in 2000 making a personal profit of ?317m.
The first suggestion of alleged improper dealings between Denis O'Brien and Michael Lowry emerged when a former Esat Digifone chief executive, Barry Maloney, claimed that Denis O'Brien told him he had made a payment, or tried to make a payment, of £100,000 to Michael Lowry in relation to Digifone.
Denis O'Brien claimed to the tribunal when it investigated this allegation that there was no basis to it and that he had made the comments to Barry Maloney in order to "free up some payments" that had to be made by the company.
The tribunal has found that a number of payments were made from accounts controlled by Denis O'Brien to Michael Lowry in 1996, a year after the then minister announced the lucrative mobile-phone award. The money had travelled from an account controlled by Denis O'Brien in Dublin to the Isle of Man and from there to Jersey and back again to an account controlled by Michael Lowry in the Isle of Man.
The Jersey account belonged to the late David Austin, a senior executive in the Smurfit corporation and a friend of both Denis O'Brien and Michael Lowry. Denis O'Brien told the tribunal that the money transfer was in connection with his purchase of a house in Spain from David Austin. Michael Lowry told the inquiry that the money he received in the Isle of Man was a loan from David Austin.
The tribunal has also investigated the alleged involvement of Denis O'Brien and Michael Lowry in a property deal involving the sale of Doncaster Rovers football club in England. Despite repeated visits to the High Court and Supreme Court, Denis O'Brien has failed to halt the tribunal's investigations into these matters. At one point in 2001 when tribunal lawyers in Dublin Castle set out the details of its inquiries into Denis O'Brien's dealings with the former minister, the businessman complained that his reputation had "gone out the window".
However, his appearance at the tribunal has not slowed his progress as an internatinal business mogul with properties in Dublin, Kilkenny, Portugal, New York, Bermuda and most recently Malta, and a Gulf Stream jet which he uses to travel between these locations.
After the sale of Digifone, Denis O'Brien launched his company Digicell on the Caribbean market and once again outbid bigger multinationals, including Cable & Wireless, in the region. Digicell, which he hopes to float on the New York stock exchange in 2007, has more than 2.6 million subscribers in over a dozen countries including Jamaica, Trinidad and Tobago and Bermuda, a tax haven where the company is registered.
Denis O'Brien developed good contacts with ministers and governments in a number of these countries.
In September last, Denis O'Brien resigned as deputy governor of the Court of the Bank of Ireland, on which he has sat as a director since 2000. He cited his wish to concentrate on the flotation of Digicell and its planned expansion into the US market as the reason for his unexpected resignation.
Frank Connolly