Demand for Adult Learning doubled in recession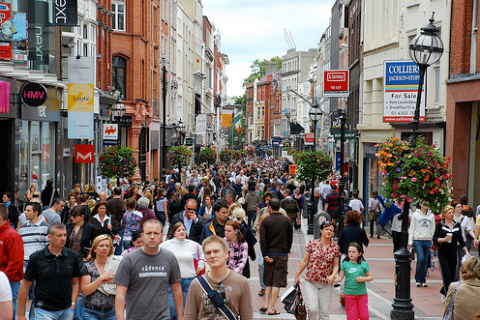 Since the onset of the economic downturn, the Adult Learning organisation AONTAS has witnessed an unprecedented increase in the demand for learning support and  services. The number of adults contacting us for information increased from 3,845 in 2007 to almost double at 6,548 in 2009. By Niamh Farren of AONTAS.
We have seen the numbers of mature student applications in third level rise with approximately 15,000 adults entering third level over the past three years. Local VECs are reporting an average of three applicants for every course place. The 'Webactivate' programme run at the Digital Hub in Dublin and funded by last year's Labour Market Activation Measures reported 800 applicants for a total of 200 places. Since the closing date for Web Activate a further 250 have registered their interest in applying should the programme run again. 
The challenge is further complicated by the diverse learning needs of those taking up adult education – while there has been an increasing number of highly skilled people losing their jobs, in May 2010 a review of the National Skills Strategy indicated that 21% of the workforce had their Junior Certificate or less. Some 81% of those contacting AONTAS have been out of formal education for over ten years. The rapid decline of employment opportunities in sectors such as construction, manufacturing and retail now leaves many adults vulnerable to a future of long term unemployment.
Apart from the obvious role that adult education can play in our economic recovery, international and national research has also linked adult learning with positive social outcomes such as better health and greater levels of civic participation in activities such as voting and volunteering. Furthermore adult education has a powerful role to play in counteracting the cycle of educational disadvantage.
Over the past year AONTAS has consulted widely with 600 member organisations and individuals around the country to develop its three year strategic plan. The General Election provides the opportunity to communicate the issues emerging to candidates and parties in a radically altered economic context.
Two Big Issues
Providers
Two key issues emerged from that consultation. From the providers perspective there is a consensus that the adult and community education services are stretched to meet the current demand for adult learning. This is due to the effects of a blanket recruitment embargo which affects the public sector. In the case of VEC adult education services, out of 49 adult education officers around the country, nine have not been replaced due to the embargo. The definition of 'frontline' currently only applies to tutors – whereas other staff roles are not replaced despite the fact that their work – recruiting and supporting adult learners, supporting volunteers within the services, is in fact very much frontline.
Learners
From the perspective of adult learners, education needs to be affordable. Tuition fees, transport and childcare costs are the number one barriers to adults' participation in education. Following a recent drop in the number of mature student applications Jill Barrett, a career adviser was quoted in the Irish Independent as saying "When even middle-income householders are being forced to make a choice between food and heat, education is much further down the shopping list."
In a pre-election campaign called 'Raise your voice for adult learning', AONTAS has called on the political parties to commit to the following:
Review the Public Sector Recruitment Embargo, and the definition of 'frontline' to recognise the frontline nature of the work of all staff in the adult education services.
Strengthen the role of adult guidance in supporting activation policies and engaging people who are unemployed in education and training
Retain a Minister for Lifelong Learning to provide a voice for adult learning within the Department of Education and Skills, and whose role would be to work across three key departments
Ensure that education is affordable for adults, through the implementation of a funding model which treats all students equally
Provide education opportunities that are flexible, meaningful and which lead to progression, either onto further education or employment.
What's in the Manifestos?
Fine Gael emphasises an activation led approach to social protection – i.e. the linking of social welfare payments to interventions which support people to remain close to the labour market. AONTAS agrees that access to training and education opportunities is crucial for people who are unemployed, and that this intervention should happen as quickly and efficiently as possible.
In that intervention three key things are important – firstly education and training must be flexible to take account of adult's family commitments. Secondly, it must be meaningful – short courses which lead to dead ends are frustrating and ultimately demotivating for adults. Thirdly, it must lead to progression – either onto further education or employment. Adult guidance has been shown to increase course completion rates. While Fine Gael's proposal of training vouchers may be ideal for someone who knows exactly what course they want to take, Adult Guidance is crucial in supporting people to make choices about education and training that is right for them. Adult Guidance has also been proven to improve course retention levels, ultimately saving valuable resources.
Ultimately AONTAS knows that the demand for adult learning is there, and the challenge is to ensure that adults are fasttracked into education and training that suits their needs as quickly as possible. With the introduction of new measures and changes to entitlements comes the need to provide accurate, up to date information.   As information is currently provided by a range of actors, organisations and agencies across a number of sectors, there are reports of delays, confusion and frustration from those seeking to access the services.
The Fianna Fáil Manifesto commits to continuing existing levels of provision of adult, further education and training as outlined in Budget 2011 and the National Recovery Plan. These include a new Higher Education Fund, and n Internship programme. While Fianna Fáil has committed additional education and training places, the embargo remains a major barrier to meeting these commitments. Following the publication of the long awaited Hunt Report which finally proposed a level playing field for part time adult learners, there is no mention of how this recommendation will be pursued.
The Labour party promises 60,000 new education and training opportunities for people who are unemployed. Labour is also committed to setting up an Adult Career Guidance portal. The Adult Education Guidance Initiative which has now been in operation for the past ten years provides an ideal infrastructure where that could be further developed using technology. The Labour party also promises shorter qualifying periods and greater access to postgraduate courses for the Back to Education Allowance for the period of the downturn. This will be welcome news to adults contemplating a return to third level.
The Green Party commits to targeted investment in adult education with an emphasis on accreditation, as well as greater recognition of the further education sector. The party also proposes to lift the cap on PLC places which are currently oversubscribed. Finally, the Sinn Fein Manifesto recognises the role of education in reducing poverty but provides little detail on how this might be achieved.
Some common themes emerge – while the parties commit to additional education and training places is welcome they must outline how these will be delivered and resource the delivery accordingly. The role of the VEC adult education services as a key provider must be recognised and supported so that they can recruit, retain and support adult learners. Changes to existing programmes, entitlements and new opportunities must be communicated so people are aware of their options. A Junior Minister for Lifelong Learning within the Department of Education and Skills is vital to making a case within a Department where adult education receives less than 5% of the overall education budget. Adult education is value for money and can play a significant role in economic recovery, developing communities and political reform.
The fifth AONTAS Adult Learner's Festival takes place from 21 - 25 February.
Click here to read about the AONTAS campaign Raise your Voice for Adult Learning.