Considering the death of a man aged about 25 years
Dr. Teeling was in a hurry. He had a surgery at 4pm and he'd like to be called to give evidence first, if that would be alright? No, it wasn't, said the Coroner, Dr. Bofin. Finbar Lynagh was already being sworn in to give testimony in the inquest on the death of his brother. There were six jurors present and five lawyers - representing Finbar's family, the gardai, the Prisoners' Rights Organisation, the Irish Council for Civil Liberties and the Department of Justice. They were here, said Dr. Bofin, to consider the death of a man aged about 27 years, named Michael Lynagh.
Michael's mother was here in the Coroner's Court in Store Street, and his uncle and two sisters and brother Finbar. They all had the muted air of people unused to dealing with official proceedings. Finbar was sworn in and sat in the witness box as his Deposition was read aloud by the court clerk. Michael Andrew Lynagh, from Monaghan, was a welder.
He was not in good health when he was arrested on Monday September 6 and put in Mountjoy. His GP was Dr. Hoban, he had also attended a psychiatrist Dr. George Mullet in Dublin and Dr. John Owen of St. Davnet's psychiatric hospital in Monaghan. Michael had been suffering from anxiety and depression from around the end of 1979 and had spent a period in St. Davnet's in June 1980, on his own initiative. He had confined himself in St. Davnet's on three occasions up to January 1982. Dr. Owen had recommended that Michael go to Dublin.
Michael had been depressed and drinking heavily. Earlier this year two of his other brothers had been given lengthy prison sentences. (Jim Lynagh, aged 25, was a prominent member of the Provisional IRA in Monaghan and had spent five years in Long Kesh during the 1970s. He is currently in prison having been convicted of possession of ammunition. Colm Lynagh, aged 17, was sentenced to life in prison for involvement in the shooting and death of a Monaghan dancehall bouncer following a row in which it is alleged that Jim was beaten up. Apart from Jim, none of the Lynagh family has been involved in any illegal organisation.)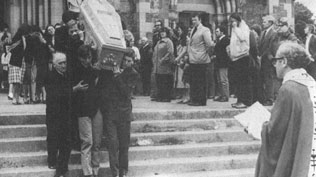 Members of the family had been subjected to continuous harassment by the gardai, being frequently stopped and questioned. Finbar believed that this was a major consideration in Dr. Owen's advice that Michael move to Dublin. Both Finbar and Michael, who were sharing a flat in Dublin since the beginning of this year, had been on two occasions arrested under Section 30 of the Offences Against The State Act. (The arrests were in March and April of this year and the brothers were held for one day and then two days. See the October issue of Magill for details of the intimidation of the Lynagh brothers.)
After the first arrest the two brothers were subjected to increasing harassment. Gardai, Finbar believed, had been watching the house, following the brothers to work, questioning other tenants in the house, following the brothers in the evenings, following and questioning friends who came to the flat, questioning employers and workmates. As a result of this the brothers had been asked to leave their flat. Michael had become a recluse and rarely went out.
Finbar believed that these events had led to the incident which caused Michael's arrest on September 6. He believed Michael had bought a knife that day with the intention of cutting his wrists. The Garda who arrested Michael was named Liam Curtin, from Store Street station. He gave evidence that at around 3pm on Monday September 6 he saw Michael Lynagh outside Dunnes Stores in North Earl Street, hitting his fist against a pillar outside the shop. He was holding a Stanley carpet cutter knife, was drunk and shouting obscenities. Garda Curtin took the knife away from him. Michael was very abusive and began shouting about the RUC.
At this point a passer-by, Patrick Freeman, intervened and told Garda Curtin he had no right to arrest Michael Lynagh. The second man got between Garda Curtin and Michael and Michael broke away. Garda Curtin chased him and arrested him, charing him with drunkenness, carrying an offensive weapon, resisting arrest. Mr. Freeman was also arrested. Garda Curtin said that Michael had been making actions as though to cut his wrists. "He would have if I hadn't stopped him". Michael demanded that the knife be returned to him so he could do away with himself. The Garda arrested him for his own safety and for the safety of others. In the District Court Garda Curtin asked that Michael be remanded in Mountjoy for a week for psychiatric assessment. Michael had given his name as Michael Ferguson.
Solicitor Pat McCartin, who was appointed by the District Court to represent Michael, gave evidence. At 12.30pm on Tuesday September 7 McCartin visited Michael in a cell at the Bridewill. Michael revealed that his correct name was Michael Lynagh and said that he had given an alias because of fear of attracting further attention from the police. He told McCartin he was attending Dr. John Owen and Dr. George Mullet. He was suffering from mood swings, from elation to despondency. He didn't now how to convey his medical history to the prison authorities at Mountjoy without revealing his true identity.
As well as his fear of attracting further Special Branch intimidation he was afraid he might lose his job. McCartin advised him to give his correct name. Michael told McCartin that he had been drinking heavily, had become more depressed, had bought the Stanley knife to take his life. He had a superficial cut on his wrist. He seemed very upset, agitated, disjointed, physically and mentally unwell. McCartin told the coroner that he had subsequently discovered that Michael had called to his office some weeks previously, having been referred by the ICCL, to seek help as he was being hounded by the police. McCartin was not in the office at the time but the office staff had recorded a note of Michael's visit.
Dr. Barry Teeling gave evidence that he examined Michael Lynagh at Mountjoy on Wednesday September 8 and found him physically fit. Had Michael had a scar on his wrist before being admitted? Yes, but it was superficial, like a pin had been drawn across the wrist. Given that Michael had been referred for psychiatric assessment by the District Justice, were there any special regulations that had to be observed? No, not that I'm aware of. It was such a common thing in jail, people slashing their wrists, self mutilation. Michael had told Dr. Teeling that he had been in a psychiatric hospital in Monaghan or Cavan. He didn't remember why he had been put in jail. Many people in jail don't remember why they've been brought in, or don't choose to remember, said the doctor.
Was there any attempt to get further information on Michael? No. Any inquiries to Dr. Owen at St. Davnet's? No.
On the afternoon of Thursday September 9 Michael Lynagh was interviewed at Mountjoy by Dr. Charles
Smith. He told Dr. Smith of his psychiatric history and seemed keen to get back to treatment. He welcomed a suggestion that he be sent to Dundrum mental hospital for examination. Dr. Smith observed a superficial cut on Michael's wrist. Dr. Smith believed that the risk of suicide is reduced when a person is offered help. He had offered to help Michael reorganise his life. If he had believed Michael to be at risk he would have referred him to Dundrum immediately, instead of next day. One makes one's judgement and Dr. Smith hadn't seen any need for special observation. Michael seemed perplexed, confused and uncertain. Dr. Smith was horrified when he heard what happened.
Martin Gannon, prison officer at Mountjoy, gave evidence that he served Michael dinner in his cell at 1.25pm on Friday September 10. At 2.l0pm, while counting the number of prisoners, he had observed that Michael was hanging by the neck from the cell window. He had gone into the cell, pushed the body upwards to take the weight off, received the help of other officers to get Michael down. No, there weren't necessarily any special rules or regulations for dealing with prisoners due for psychiatric assessment. You check them more often, every half an hour, they get plastic utensils instead of metal.
At 2.l5pm that day Dr. Barry Teeling got a call at his Artane surgery to say that Michael Ferguson had
hanged himself in his cell. He went to the prison and at 3.l0pm Certified Michael Ferguson dead. Later, at 3.45pm, he certified Michael Lynagh dead. The coroner ordered that that second certification be stricken from the record. It was confusing. "The man only died once, and he was certified dead."
Sergeant John Leahy of Mountjoy Garda Station testified that at 2 .l5pm he had been called to the prison as
a remand prisoner had been found hanging from a cell window. He accompanied Assistant Governor Quigley to the Governor's office and was joined by Dr. Barry Teeling. A man was brought into the office. Finbar Lynagh, who had been searching for his brother on Monday 6, Tuesday 7 and Wednesday 8, had on Thursday 9 received a letter from a welfare officer at Mountjoy telling him that his brother, Michael Lynagh was in the prison. He had arrived at the prison at around 2.l5pm on Friday 10 and was kept in the waiting room for 45 minutes. A prison officer then told him that Michael was ill and couldn't have any visitors. Then, following a phone call,he was taken to an office.
Finbar was questioned about Michael's health, had he attended St. Davnet's? Finbar refused to discuss Michael's health in front of strangers. He became afraid when he realised they were talking about Michael in the past tense. Then they told him that Michael Ferguson had hanged himself in his cell an hour previously. Sergeant Leahy told how he had accompanied Finbar to the cell and saw him identify his brother's body. The sergeant saw a mark around Michael's neck and under his chin. He had superficial cuts on both wrists.
Dr. Niall Gallagher, a pathologist, told the court that he performed a post mortem on Michael Lynagh on Saturday September 11. There were superficial linear abrasions on both wrists. Also, marks typical of suspension by the neck. The stomach contained a large amount of undigested food. Other organs were normal. Death was from asphyxia due to hanging.
Dudley Potter, solicitor for the Lynagh family, told the Coroner's Court that the case had been very distressing for the family. They had first heard of the death of Michael on the radio. There has been, he said, an unfortunate number of deaths in prison over the past nine years among prisoners held on petty matters. He knew of six such cases in that period and had represented three of the families. He said that the Minister for Justice must now bring in some regulations, instructions or practices to prevent further fatalities. It is provided in the Coroner's Act whereby recommendations of a general character may be appended to a jury's verdict. He asked that this be done.
The coroner, Dr. P.J. Bofin, summarised the evidence and said the jury had to decide if 1) it was Michael Lynagh who died; 2) did he die by hanging?; 3) did he do it himself? The jury, he said, was also entitled to add a rider to the verdict. They could not blame anyone or exonerate, but they could add a broad rider, making some recommendations. Maybe by doing so they would help prevent similar deaths in future. The jury answered yes to the three questions and added the requested rider.
There are unanswered questions about the death of Michael Lynagh. They involve the behaviour of the Special Branch in the months prior to his death. The use and abuse of Section 30 of the Offences Against The State Act. How could the prison authorities still be confused about the identity of Michael Lynagh on Friday 10 - when his brother had received a letter from the prison the previous day indicating that they knew they were holding. Michael Lynagh, not Michael Ferguson? Why was Garda Liam Curtin the only one with the perspicacity to take some measures for the protection of a man who was threatening to kill himself? Finally, what measures will the Minister for Justice take to ensure that such things don't happen again?