Confusion over padded-cell figures


Figures supplied by Minister for Justice Michael McDowell about the use of padded cells in Irish prisons clash significantly with data contained in a Freedom of Information application obtained by Village.
Figures released from the Department of Justice, Equality and Law Reform under the Freedom of Information application show that padded cells were used 306 times in Mountjoy prison in 2004 and 223 times in 2005.
In a reply to a parliamentary question in June 2005, Michael McDowell said that prisoners had been transferred to padded cells in Mountjoy on 401 occasions in 2004.
In March of this year, Michael McDowell said in the Dáil that padded cells were used on 389 occasions in 2005 and 89 times up until March of 2006.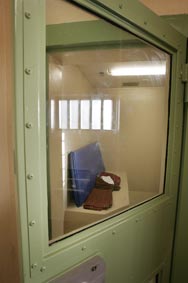 Under the Freedom of Information application, the department refused to release any other information in relation to padded cells as it would cause "substantial and unreasonable interference with the work".
Since 1993, the European Committee on the Prevention of Torture has raised concerns with the government about detaining prisoners in need of psychiatric treatment in padded cells for long periods because of the lack of places in the Central Mental Hospital. They said this could be characterised as inhuman and degrading treatment. A report carried out by the Irish Penal Reform Trust, 'Out of Mind, Out of Sight', found that 78 per cent of all prisoners placed in padded cells were mentally ill. In 2002, Michael McDowell announced that padded cells would be abolished and replaced by observational cells. In October 2005 he said this would be completed by March 2006. This had not happened by that date.
In August of this year, a former Mountjoy Prison inmate, David Murphy, won a court settlement of €20,000 for the way he was treated. For 79 consecutive days, he was locked in a padded cell with sealed windows. He was not given any toilet paper and had to defecate into a bucket.
Emma Browne