Casualties of the Crisis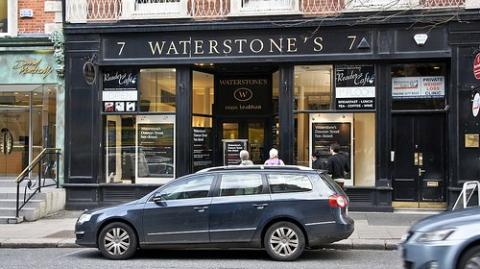 Yesterday, the staff at the Sunday Tribune collected their last pay cheques. The newspaper, which went into receivership at the beginning of the month, failed to find a buyer – its 43 staff will receive redundancy notices next Monday, 28 February.
Known for its quality writing and keen analysis, the Tribune's voice will be missed in a market that is becoming increasingly less diverse.
Sadly, the Tribune is not the only recent casualty of the crisis. CrisisJam takes a look at some of the high profile victims of the recession and laments their passing.
Sunday 6 February saw the closure of Waterstone's Dawson Street and Jervis Centre stores, which employed 46 people. Owned by the HMV Group, it has been reported that HMV Ireland saw a 90 per cent fall in profits last year.
It has been a tough couple of months for music in the capital with the announcement at the end of January that City Discs in Temple Bar was closing its doors. This was followed in early February by the closure of Sin É, a great venue, due to rent difficulties. Owner Ciarán Finnerty put the business into voluntary liquidation, and a notice posted in the venue's window cited the recession and the landlord's refusal to drop the rent on the Ormond Quay premises as the reason behind his decision.
At the same time, rumours began to spread over the fate of another popular venue as Temple Bar's Button Factory went into examinership. Adebisi Shank put on a free show to support the venue on 12 February, and last week it played host to the Re:Public 2011 debate – the venue moved quickly to dispell rumours of its closure, however, and continues to operate as normal.
Earlier this week it was announced that Trout Records in Georges Street Arcade, another independent record store, is set to close at the end of February.
Over Christmas sister restaurants Mermaid Café and Gruel on Dublin's Dame Street ceased trading and their future at the beginning of 2011 was unclear. In a letter to the Irish Times on 14 January owners Mark Harrell and Ben Gorman said they had been forced to lock their doors due primarily to the "intransigence of landords who still demand boom-time rents with their upward-only review mechanisms still in place".
In early November, the Nude café on Suffolk Street became another high profile casualty of the recession.
Unfortunately this is just a snapshot of some of the more recent recession victims. Readers are welcome to send in their contributions to the list, particularly businesses outside the capital.
All will be missed!
Credits: Thanks go to the lads over at comeheretome who've been keeping track of all these sad losses.
[Image top via informatique on Flickr]
Below is footage from yesterday's protest in solidarity with the Tribune staff, courtesy of Paula Geraghty at Trade Union TV