The boys are back in town... for 182 days of the year at most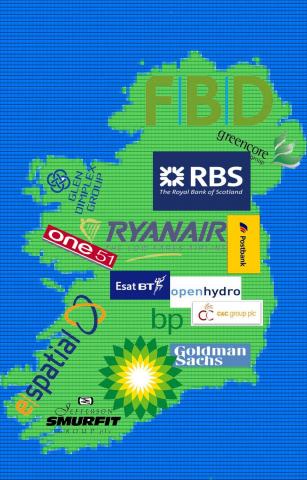 We are constantly reassured that there is immense talent and creativity in the country. What a gift, then, when an elite Brains Trust bands together to put Ireland First, relatively speaking. Mary Gilmartin examines the anatomy of yet another proposal for national management.
Dermot Desmond, an Irish man until he dies, has come to our aid in our hour of need. The Irish Times unveiled his recent plan for transforming the country, a 10,000 word essay on the need for political reform that absolutely has not been copied by Fianna Fáil. But Desmond, it seems, was not working alone. According to the Sunday Business Post, his plan was approved by a stellar cast of Irish luminaries, equally committed to putting Ireland First.
Or are they? Let's have a look at what the public record has to say about Desmond and his supporters. Michael Soden is one. The former chief executive of Bank of Ireland, who resigned because of a slight difficulty in following his own internet usage guidelines, and current member of the Central Bank commission, recently aroused the ire of Terry Prone, when he suggested that we work an extra half day a week. A year earlier, on Vincent Browne's show, he expressed his view that the state should not provide financial support for lone parents.
Seán O'Driscoll, the chief executive of Glen Dimplex, is another. He's no longer a director of AIB, but he was from 2006 to 2009, and received €136,000 in director's fees for his work, at a time when the bank was involved in the kinds of risky lending practices that have led it to being all but nationalised.
Ray MacSharry, or Mac the Knife, has not been an elected representative for over 20 years, but his annual pension from the State far exceeds the average industrial wage. Since retiring as EU Commissioner, he's been busy as a director – for Eircom, Ryanair, Jefferson Smurfit, Coillte Teoranta, London City Airport, as well as Bank of Ireland, where he served as a director from 1993 to 2006. If that wasn't enough, he's also been active as a property developer, most recently in a failed attempt to build 158 houses, 54 apartments and 13 berths at a scenic location on the shores of Lough Gill. And he's also been offering support to his son, Senator Marc MacSharry, as he stands for election in Sligo-North Leitrim.
A fourth is businessman Philip Lynch, chief executive officer of One51 (and also director of FBD Holdings, C&C and OpenHydro). Lynch was paid €1.4 million in 2009, despite One51 making a significant loss, and he is currently involved in a legal dispute with AIB over non-repayment of a development loan to the bank. Other supporters include former Taoiseach John Bruton (currently a director of Ingersoll-Rand and Montpelier Re Holdings), former President of the European Parliament and PD, Pat Cox (director of Tiger Developments Europe, owned by NAMA 10 grandee, Michael O'Flynn), and Angela Kerins, who, as Chief Executive of Rehab, is believed to be the highest-paid executive in the state-funded disability sector. Kerins was Chairperson of the Equality Authority when its former CEO, Niall Crowley, resigned over cuts in its budget, and was also a director of PostBank. And these are the lower profile supporters of Desmond. Let's move up to the top league: to Peter Sutherland (Goldman Sachs, BP, Royal Bank of Scotland, ABB), Denis O'Brien (ESAT, Digicel, but also Deputy Governor of the Bank of Ireland between 2000 and 2006), and their leader Dermot Desmond.
Desmond is a tax exile, who said he left Ireland in 1994 to get away from politicians, the press and small-minded people. He admitted to giving former Taoiseach Charlie Haughey £125,000 between 1994 and 1996, and claimed that Haughey was not corrupt: he just borrowed money from the banks (Irish Independent, 23 October 2004). Desmond has made money through past investments in companies as diverse as NCB Stockbrokers, ESAT, London City Airport, Today FM, Greencore and Vivas Health. He continues his business activities through a range of companies, including Execujet, Daon (a biometric and identity assurance company), Glasgow Celtic Football Club, Intuition (an e-learning company) and eSpatial (a GIS company).
So these are the people putting Ireland First. Given their records, though, we have to ask which Ireland they will put first. Will it be an Ireland of equality and justice, or will it be an Ireland where particular versions of power and privilege are simultaneously obscured and protected? The people who Desmond has recruited to support his particular reform agenda were, in many cases, at the heart of neoliberal, Celtic Tiger Ireland: supporting deregulation, centrally involved in political and economic decision-making, able to use their networks of influence and contacts to support their agendas or their self-improvement projects. They have benefited, and continue to benefit, from their privileged positions in Irish society; and they give no clear indication that their Ireland extends beyond their golden circles. So, when they support Desmond's reform plan for efficient government, they are making no change to how their world works. They will still have access to capital, to power, and to decision-makers. The biggest difference, in Desmond's plan, is that other, less successful, people will be even further removed from power and influence.
Neoliberals always assume that their positions of power are a direct consequence of their own, superior, personal characteristics, rather than a consequence of broader structural and societal processes. The hubris of Ireland First is the assumption, by powerful people, that their privileged position is in some way disconnected from the economic and societal chaos they are commenting on. Dermot Desmond and his supporters are not objective observers. Rather, they are imbricated in the political and economic decision-making that led to the EU-IMF intervention, and they also stand to benefit from the shock doctrine currently being unleashed on Ireland. Next time a national newspaper devotes columns to Ireland First, remember the key question: whose Ireland?
Image top Eadaoin O'Sullivan