Birds: Great Tit (Meantán mór) Parus major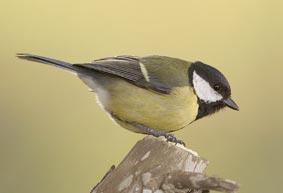 Numerous and widespread, the Great Tit is the largest Irish member of the titmouse family. The common garden species frequently visits bird tables and peanut feeders and will readily use artificial nestboxes; combined with its tame, inquisitive nature and bright colouration, this has served to make it one of our most popular birds.
The same size as a sparrow – 14cm – the Great Tit is easily distinguished from our other tit species by its combination of dark crown, prominent white cheek patches and yellow breast and belly bisected by a black line; this line is wider on males than females. Unlike the Blue Tit, it shows no blue at all on the head or white above the eye and can be separated from the Coal Tit by its lack of a white patch at the rear of the head, its green back and the vivid yellow colour of its underparts.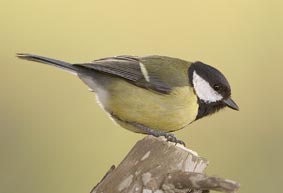 Approximately half a million pairs of Great Tits nest in Ireland and the vast majority of these stay with us year-round (some birds from the continent and northern Scotland also visit us during periods of harsh winter weather). In addition to artificial food provided in gardens, they specialise in feeding on small insects, being particularly fond of caterpillars. They will also eat a wide range of wild seeds and even hazelnuts.
Extremely intelligent, they are also amongst our most vocal bird species, boasting a sometimes bewilderingly varied repertoire of songs and calls. In fact, experienced birders often say that, when faced with a song or call they cannot immediately identify, nine times out of 10 it turns out to be a Great Tit.
Niall Hatch
To receive a free set of wallcharts with tips on identifying and feeding garden birds and constructing your own nestboxes, please write to: Village Garden Bird Chart Offer, BirdWatch Ireland, PO Box 12, Greystones, Co Wicklow, call 01 2819878 or email info@birdwatchireland.ie. Village readers are also encouraged to take part in BirdWatch Ireland's annual Garden Bird Survey, which helps to monitor the fortunes and movements of our garden birds. Participation is free, easy and fun, and the survey also makes a great school project: full details can be found at www.birdwatchireland.ie