Birds: Feed the birds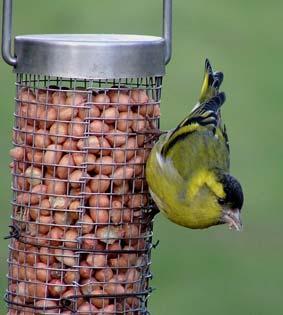 Winter is a tough time for our garden birds. Putting out food for them is one of the best ways to help them survive. It is simple to do and will make it far easier for the birds to keep warm. It is also a fantastic way to observe them at close quarters and learn all about their fascinating behaviour.
The menu is easy. Wild bird seed, peanuts and sunflower seed can found in local supermarkets and garden shops, as can the special wire or plastic feeders that they should be put in. These feeders can be suspended from tree branches or a bird table, where they prove extremely popular with such garden favourites as Blue Tits, Greenfinches and Chaffinches. The Siskin, a charming little finch, has recently learned to use them too, and is becoming an increasingly common sight in gardens.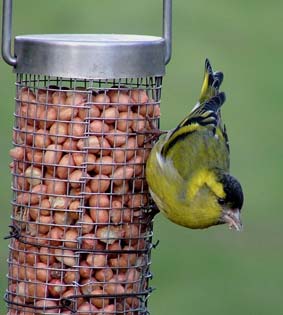 Apples are also a great source of food, particularly for Blackbirds and other members of the thrush family, as well as for Blackcaps. Kitchen scraps such as bacon rinds, cheese (particularly loved by Robins), suet, raisins, moistened bread, melon seeds, fruit, stale cake, cooked potato, oatmeal, fresh coconut and uncooked pastry also make welcome meals. Fat is an important source of energy for birds, so please don't waste it! Lumps of suet may be hung out on strings or in plastic mesh vegetable containers, and meat trimmings, bacon rinds and other scraps will also be eaten. Melted fat may be poured over bread or cake scraps to make "bird cake".
It is vital to ensure that your garden birds have a constant supply of fresh drinking water, something that can be very hard for them to find when ponds and puddles are frozen over. A simple bird-bath can be made from an inverted dustbin lid sunk into the ground; remember to keep the surface ice free.
NIALL HATCH
More: To join BirdWatch Ireland, please write to BirdWatch Ireland, PO Box 12, Greystones, Co Wicklow, email info@birdwatchireland.ie, call 01 2819878 or visit www.birdwatchireland.ie. For a limited time they are offering a free DVD guide to garden birds (worth €25) to all new members, as well as a special garden bird pack, Wings magazine four times a year and details of hundreds of free local branch events taking place across the country