Birds: Black headed gull

(Sléibhín) Larus ridibundus
Ireland's smallest resident gull, the Black-headed gull, is also our most widespread and numerous. By no means confined to coastal areas – which demonstrates the inadequacy of the term "seagull" – it is equally at home on freshwater lakes, moorland, farmland and upland bogs. It is found throughout the country, often far inland.
Easily identified during the breeding season by its chocolate brown (not black) head, in the winter the head turns white, save for a dusky smudge on the feathers over each ear, as shown in the photograph here. Its distinctive thin red bill and legs remain unchanged, however, as do the pale grey back and wings; the wings also show a distinctive narrow white triangle towards the tip when opened.
At just 35cm long, the Black-headed gull is dwarfed by the familiar Herring gull, which is almost twice its size. Its catholic diet, which includes worms, fish, crabs, insects, eggs and carrion, has ensured its success, and it has proven to be a very adaptable species. Though common all year round, numbers can swell dramatically in the winter with the arrival of individuals escaping the cold in northern Europe.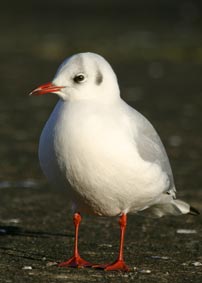 The bird's scientific name translates as "laughing gull", a reference to its harsh, chuckling calls. To confuse matters, there is a separate species from North America known in English as the Laughing gull. In Latin, the term "black-headed gull" would translate as "Larus melanocephalus", which is actually the scientific name for yet another species, the Mediterranean gull.
∏More To join BirdWatch Ireland and support their conservation work, please call 01-2819878, email info@birdwatchireland.ie or visit www.birdwatchireland.ie. All new members receive a special free DVD guide to our common birds and a free garden bird pack, as well as four issues of Wings magazine and free access to BirdWatch Ireland's nationwide events and nature reserves, all for only €35 per year.  Membership also makes an ideal Christmas gift for anyone with an interest in wildlife