Bertie's pal knew about bribes, claims Dunlop

The planning tribunal has heard that a close associate of Bertie Ahern told Frank Dunlop in 1993 he was aware councillors could be bribed for rezoning votes. By Frank Connolly
A close associate of the Taoiseach, Bertie Ahern, told lobbyist Frank Dunlop in January 1993 that he was aware members of Dublin County Council had to be paid for rezoning votes, the Mahon tribunal heard on Tuesday 24 October.
Frank Dunlop told the tribunal that Tim Collins, a land agent, was aware that councillors had to be paid for their votes. This emerged during the present enquiries of the Planning tribunal into allegations of corrupt payments in connection with the rezoning of lands at Cloghran, near Dublin Airport.
According to Frank Dunlop, he was introduced to businessman John Butler by Tim Collins at a meeting in Dublin in January 1993 to discuss the planned rezoning of the 18 acres of land at Cloghran from agricultural to industrial use.
John Butler, the owner of Scafform, Niall Kenny of Customs Software Ltd and Tom Williams, a partner of both men in the Courtyard restaurant in Donnybrook, had purchased the lands for £210,000, or £12,000 an acre, three years earlier.
The tribunal heard that, while the three businessmen, described as the Cloghran consortium, were anxious to conceal their involvement in the lands, they were seeking to have them rezoned during the discussions on the County Development Plan by Dublin Coroporation during the early 1990s.
Tim Collins is a member of the trust that owns Bertie Ahern's constituency office at St Luke's in Drumcondra. He introduced John Butler to Frank Dunlop to discuss the lobbying of members of the corporation.
During her examination of the lobbyist (on 24 October) Patricia Dillon SC read a statement given by Frank Dunlop to the tribunal on 21 October last: "Both he [John Butler] and Mr Collins said that they were aware that councillors had to be lobbied for their support. It was indicated by both men that they were aware that some councillors would require payment for their support."
"Isn't that right?" Patricia Dillon asked. "Yes," Frank Dunlop replied.
Frank Dunlop said Tim Collins was aware councillors would have to be paid.
"I know that you will have to do things with the councillors," Tim Collins told Frank Dunlop.
Asked if Tim Collins stated explicitly that he knew Frank Dunlop would be paying councillors, the lobbyist replied: "We were three grown-up men sitting and talking about the development of land for rezoning purposes. We were not talking about bringing councillors out to lunch."
The tribunal heard that a number of councillors, including GV Wright TD, Sean Gilbride, the late Cyril Gallagher and Tony Fox, were paid sums ranging from £1,000- £2,000 each by Frank Dunlop in relation to the Cloghran rezoning.
The land was successfully rezoned in late 1993 and later sold on by the Cloghran consortium in March 1996 for £1.6m or £89,000 per acre.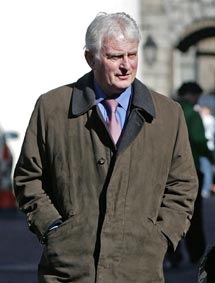 The tribunal said Frank Dunlop had received £68,979 in various payments from the consortium between 1993 and 1996, although the lobbyist had orginally said he received just over £24,000 including VAT.
Collins Consultancy Services, a company owned by Tim Collins, received £29,613 while another company, Pilgrim Architects, in which he was involved with Des Richardson – another long time associate of Bertie Ahern – received £19,700 in relation to the Cloghran rezoning. One of the Cloghran consortium, John Butler, has contributed to fundraisers organised by Des Richardson for Bertie Ahern.
Tim Collins has previously given evidence to the tribunal in relation to his involvement in the controversial sale of land at the site of the Battle of the Boyne in Co Louth from which he received an estimated £600,000.
In 1999, Bertie Ahern told the Dáil that Tim Collins was present on one of the occasions when he met property developer, Tom Gilmartin, at his then constituency offices over Fagan's pub in Drumcondra in 1988.
Tim Collins was also among those who attended functions with Bertie Ahern in Manchester in the late 1980s and early 1990s.
Tim Collins is expected to dispute Frank Dunlop's latest claims at the tribunal and deny that he was aware of, or involved in, corrupt payments to members of Dublin Corporation.