Bertie payments controversy to reopen in January

The resumption of the planning tribunal's investigation into Quarryvale will focus on alleged payments made to Bertie Ahern and to a large number of other politicains. By Frank Connolly
The controversy over alleged payments to the Taoiseach, Bertie Ahern, when he was Minister for Finance in the 1990s will be revived early in the new year when the planning tribunal resumes its hearings into the rezoning of lands at Quarryvale in west Dublin.
Bertie Ahern is among a long list of high-profile witnesses who will be called to give evidence at public hearings, due to begin on 16 January. The hearings have been delayed by protracted High Court proceedings brought by developer Owen O'Callaghan. Owen O'Callaghan has claimed he has been unfairly treated by the tribunal which, he has claimed, is biased in favour of his former partner, Tom Gilmartin.
Last month the High Court rejected Owen O'Callaghan's claims of bias and he has appealed the decision to the Supreme Court, which is due to deliver its judgement in early January 2007.
In its opening statement of the Quarryvale 2 module in November 2005, the tribunal set out details of allegations made by Tom Gilmartin about payments from Owen O'Callaghan to senior politicians.
Among these alleged payments were two of £50,000 and £30,000 to Bertie Ahern by Owen O'Callaghan in relation to Quarryvale. The first payment was allegedly made in 1989 in relation to land acquisition at the west-Dublin site, now the location of the Liffey Valley retail centre.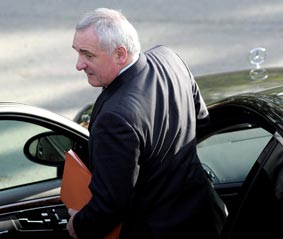 The second alleged payment was made to Bertie Ahern after he agreed not to provide a lucrative tax designation to a rival shopping centre at Blanchardstown while he served as Minister for Finance in the early 1990s.
Tom Gilmartin claims he was informed by Owen O'Callaghan about the alleged payments to Ahern and aspects of his account have been supported in statements provided to the tribunal by a senior official of the Allied Irish Bank, Michael O'Farrell. Michael O'Farrell has also been called to given evidence when hearings resume in January.
The tribunal will also examine a payment of £100,000 by Owen O'Callaghan to Fianna Fáil during 1994 and has called former Taoiseach Albert Reynolds to provide evidence about a fundraising dinner that took place in Cork during that year. Former ministers and EU commissioners Ray MacSharry and Padraig Flynn and the Minister for Enterprise and Employment, Micheál Martin, are also included on a list of prospective witnesses for the Quarryvale hearings. Micheál Martin received two separate donations from Owen O'Callaghan, the Cork-based developer, in the early 1990s.
Former Taoiseach John Bruton is also on the list of witnesses while 14 former members of Dublin County Council who received payments from lobbyist Frank Dunlop, including Labour Party leader Pat Rabbitte, have also been called to give evidence.
Tom Gilmartin is expected to spend several weeks in the witness box outlining his experience of doing business in Dublin in the early 1990s, when he claims he was the victim of a conspiracy by his former partner Owen O'Callaghan, AIB and a number of senior politicians to force him out of control of his company, Barkhill Ltd.
The tribunal has already established that a secret account, in the name of Shefran Ltd, was set up at an AIB branch in Terenure, Dublin from which several hundred thousand pounds were drawn by Frank Dunlop to make payments to councillors. The late Liam Lawlor received up to £100,000 from funds which Tom Gilmartin claims were stolen from his company.
The tribunal will also investigate visits by Bertie Ahern and Albert Reynolds to Los Angeles in 1994 where they were scheduled to meet with a US finance broker to discuss plans by Owen O'Callaghan, Liam Lawlor, Frank Dunlop and architect Ambrose Kelly to develop a football stadium at another site in Balgaddy in Clondalkin. Niall Lawlor, who will also give evidence at the tribunal next year, worked at the brokerage Shilton O'Connor at the time of the visits by the Taoiseach and his predecessor.