Baiba Saulite: her life and awful death


Baiba Saulite, the mother of two who was shot dead at her home in north Dublin, was failed by the Garda, who provided protection for her solicitor but not for her, despite an obvious threat to her life. By Justine McCarthy
Gardaí failed to provide protection for Baiba Saulite, the murdered Latvian mother of two, even though there was reason for them to believe her life was in serious danger.
John Hennessy, Saulite's solicitor, had been severely damaged by a petrol-bomb last spring. He had taken to wearing a bullet-proof vest, having been informed that he was in imminent danger of assassination.
Gardaí, while denying they provided armed protection to the solicitor, acknowledge they provided "running attention" (ie periodic surveillance) for John Hennessy. However, no such protection was provided to Baiba Saulite.
Gardaí also gave the solicitor advice on crime prevention. Again, no such advice was offered to Baiba Saulite, even though gardaí knew there had been a dispute between her and the father of her children over custody and were aware of threats made to her.
While the Gardaí were denying as of 22 November that John Hennessey was under armed Garda protection, the Law Society (the organisation representing solicitors) said: "The society was approached a number of weeks ago by one of its members, a Dublin-based solicitor, and met with him. He made the society aware that he was under armed Garda protection because of death threats which he had received resulting from the legal work he had undertaken on behalf of Baiba Saulite."
It is not apparent how or why the solicitor would inform the Law Society he was under armed Garda protection if he was not.
If the solicitor was not under Garda protection, then the Garda Commissioner must have ignored the Law Society's plea that "Garda security be provided to the solicitor at the highest level possible".
On the face of it, there seemed every reason to suspect that if the solicitor's life was in danger, Baiba Saulite's life was in even greater danger. Gardaí say they had no knowledge of any threat to Baiba Saulite's life.
Reports from friends and from an American-based website for the worldwide Latvian diaspora suggest that 28-year-old Baiba Saulite had, at last, begun to enjoy life. She had moved to a two-bedroom house in Swords, north Dublin, in October and was working two days a week as a cleaner. It promised to be a very special Christmas this year, her first alone with her children and safe from the beatings she had suffered at the hands of their father. Vivacious and extrovert by nature, she had started to go out socially again with her companions. A stranger meeting her would not have suspected the torment she had endured in her short life.
Moving to the house in Holywell Square, Feltrim Road, was not by choice but by necessity, after her car was set on fire outside her old home. Before that, there had been several drive-by incidents in her former neighbourhood with young men shouting jeers and taunts at her from passing cars. She was probably aware, too, of the threats to her solicitor.
On the night of Sunday 19 November, as she stood chatting and smoking with friends at her hall door, her two small children asleep upstairs and her executioner travelling towards her in a BMW car armed with a handgun, Baiba must have felt that her life had turned a corner towards a brighter future.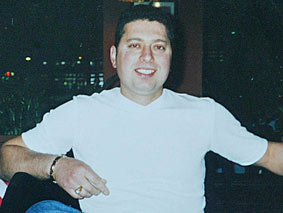 After two years of fighting with all her maternal grit and determination to keep her children with her, she was on the brink of wining a bitter custody battle with their father, Hassan Hassan, 38, a convicted criminal. The power of her love for her sons, five-year-old Ali-Alexandra and three-year-old Mohammed Rami, prompted desperate measures which, in retrospect, were extraordinarily brave. She went on TV3 news and RTÉ's Liveline last January pleading for information from the public about her missing children, after Hassan had abducted them in December 2004 and defied a court order to return them to their mother.
"I don't know how they are... if they're OK. They have always been with me, every day, every minute," she told Joe Duffy in good, heavily-accented English. "They must be very upset. I never hear from them since the day I let them go."
In the spring, she travelled to Lebanon to be reunited with the boys after Hassan had spirited them back to his native country.
Investigating gardaí suspect it was in retribution for this valiant refusal to relinquish her children that Baiba was shot dead at her hall door. Soon afterwards, her solicitor was visited by gardaí who told him to leave his house immediately for his own safety. He, in fact, left the country.
Baiba Saulite came to Ireland about six years ago, among the early Latvians lured to Ireland's economic miracle before their own country's accession to the European Union. Shortly after arriving, she met and fell in love with Hassan Hassan. Ten years older, Hassan had already settled in Ireland after emigrating from Lebanon, along with a brother and a sister who were living in Blanchardstown, Dublin.
Throughout their first year together, he lied to Baiba that he was Greek and Christian because she feared that, being Lutheran, she could not have a successful relationship with a Muslim. The couple started living together in Lucan and their first child was born in 2002. Before the arrival of their second child, however, the love between them had begun to disintegrate. According to Baiba, "He was violent to me." It was only when the children arrived that Hassan told Baiba he was indeed Muslim. "He tell us what to eat and what to wear. He did not let me see my friends." He said he wanted the children brought up in the Islamic tradition. The couple parted ways acrimoniously soon after Mohammed was born.
In February 2004, Hassan Hassan was arrested at Mount Andrew Rise in Lucan where, it was later said in court, he was living with his girlfriend, Baiba. He was charged in Naas district court with four counts of handling stolen goods. The trial last March heard that he had been stealing luxury cars to order in Dublin and its neighbouring counties and exporting them for spare parts from a warehouse in Kilcullen to the Middle East and eastern Europe. His three co-accused were two Syrian men and another Lebanese man. Hassan was found guilty and was sentenced to four years in prison .
By that time, he had already seen the inside of an Irish jail. On 6 December 2004, he had called to Baiba and taken the two boys for an agreed three-day visit, staying with his sister. When he failed to return them, Baiba grew alarmed and phoned him at about 7.30pm. He repeatedly cut off her calls and finally declared: "You will never see them again."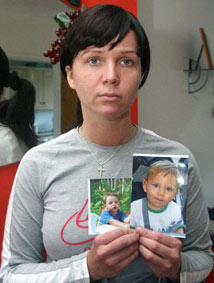 Baiba reported her children missing to the gardaí at Swords station and to her solicitor. On Christmas Eve, Hassan Hassan was sent to jail for contempt of court, having failed to appear in court with the children, as scheduled, on 22 December. He tried to inveigle the judge into releasing him, promising: "If you let me go, I will go and get the children." At first, he said he had arranged for the boys to go to England to stay with some of his relatives but, later, it emerged they were in Lebanon. On 7 November last, he pleaded guilty to two counts of child abduction under the Non-Fatal Offences Against the Person Act and he is due to be sentenced on 15 December. The 'in camera' rule that normally applies to family-law causes was automatically lifted when the children's kidnapping became a matter for the criminal courts.
In her Liveline interview last January, Baiba appealed directly to Hassan's relatives to help return her children. "How would you feel if that happened?" she asked. "I am their mother and my kids need their mother... Stop doing this... give the kids back." She described Ali as "like all other boys" who spoke English with a Dublin accent. Mohammed, she said, had "long curly hair and always he is sucking his finger".
Hassan Hassan is a dangerous man. He is to face trial in the Circuit Criminal Court next April for threatening to cause serious harm to another Middle Eastern man at an address in Castleknock, Co Dublin on 9 August 2005. He is believed to be a main supplier of illegal weapons to criminal gangs in Dublin and Limerick, which he was importing in return for the exported car parts.
Asked if it was feasible for a prisoner in Mountjoy to orchestrate murder on the streets of Dublin from his prison cell, somebody who works in the criminal justice system replied that it would be "quite possible". Though it is against prison rules for inmates to have mobile phones in their possession, they are widely used by prisoners in Mountjoy.
In the last year or so, Baiba Saulite had been an occasional visitor to the Lutheran church on Adelaide Road in Dublin. Baiba and the children would, most likely, have been among the congregation this Christmas, celebrating the changed circumstances of their lives. The day before her sons were abducted on 6 December 2004, she had put up the Christmas tree in their house. Ali, who had asked Santa for toy cars for Christmas, had cried the day his father came to collect them, begging to be allowed stay home.
Dublin's Latvian community is planning to hold a special service for Baiba Saulite and for her two children who are now, in effect, orphans; their father in jail and their mother, who fought so intrepidly to keep them, shot dead in cold blood.
Latvians in Ireland
Official figures say there are around 20,000 Latvians in Ireland but according to Aiga Andrupe of the Latvian Society of Ireland there are between 30,000 and 50,000 here.
Latvia was one of the 10 "accession states" to join the EU in May 2004 and Ireland was one of the few countries to grant accession-state immigrants full access to its workforce (though immigrants were not entitled to welfare benefits). Emigration is a controversial topic in Latvia: between 50,000 and 100,000 have emigrated in the last 18 months (according to the EU Business 2006 report) and workforce emigration has reportedly taken as many people away from Latvia as did deportations under Soviet occupation.
Nestling on the Baltic Sea and bordering Russia, Latvia's strategic location has led to it having a turbulent history.
A liberal constitution and parliament (set up in 1920) were suspended in a coup in 1934, which established a nationalist dictatorship. Latvia was occupied by Russia in 1940, then invaded by Germany in 1941, the "year of horror". Between 80,000 and 100,000 Latvians were killed during the Nazi occupation, including some 70,000 Latvian Jews. The Soviets reoccupied in 1944 and 43,000 people were deported. Mikhail Gorbachev's glasnost led to the USSR ceding sovereignty over Latvia and by 1993 there was again a democratic parliament in place.
Latvia joined both the EU and NATO in 2004. Economic growth rates have been high in recent years (up to 10 per cent) but living standards are amongst the lowest in Europe. Unemployment has fallen to seven per cent, partially due to emigration, mostly to the UK and Ireland.
There is a large Latvian community living in north Co Dublin, with many of them working in the fruit and vegetable farming industry. Skerries has a Latvian shop and another is due to open in the Blanchardstown centre in the new year.
There are two Latvian associations here, the second formed when the Latvian Society of Ireland split. Such politics is very common in Latvia, according to Aiga Andrupe. She says Latvians are not an outgoing people and tend to socialise in each other's homes. A Latvian Lutheran minister (the majority religion in Latvia is Lutheran), based in London, visits a number of times a year for services at the Lutheran church on Adelaide Road, and a Rome-based Latvian Catholic priest also visits the community occasionally.
Colin Murphy
Attacks on immigrants
According to the most recent statistics compiled by the National Consultative Committee on Racism and Interculturalism (NCCRI), there were 25 reported cases of racially motivated assault, abuse or harassment in the first six months of 2006 compared to 38 between July and December 2005 and 81 in the six months before that.
According to the NCCRI, 75 per cent of incidents occurred in the greater Dublin area with the balance in urban centres outside the capital.
The majority of incidents  were targeted at adults, both men and women, while children were also victims of racist assault and abuse in a number of cases.
Refugees and asylum seekers, Irish and EU citizens, as well as tourists, have all reported incidents of racist abuse.
According to Siobhán O'Donoghue, director of the Migrant Centre of Ireland, immigrants working in the so-called 3D sector – "dirty, dangerous and difficult" – are particularly vulnerable to racist attack and abuse.
"We have found that people who are being exploited in the workplace are also exposed to physical threats and assaults from employers, particularly those in unregulated employment and in isolated situations," Siobhán O'Donoghue told Village.
She also heard a very recent complaint from a Pakistani woman that she was afraid to let her five-year-old child play outside her north Dublin home for fear of an attack.
Reporting attacks
The Migrant Centre of Ireland has also found evidence of reluctance among immigrants to report incidents of assault or abuse to the Garda.
"We had a case where a bag was snatched from an undocumented immigrant. When she went to the Garda the first thing they asked was her legal status," said O'Donoghue.
In rural areas this is particularly difficult where the local garda acts as a liaison officer for ethnic minorities but is also the person responsible for policing the immigration laws.
While the figures for racist attacks compiled by NCCRI are relatively small, there is anecdotal evidence, including in regular calls to Village, of a far higher number of assaults.
Children of the Pakistani community in Balbriggan in north Dublin have recently been subjected to vicious assaults by teenagers in the area while the family of Abi Willliams, the Nigerian woman who died in an unexplained car fire in October, believe her death was likely the result of a racist attack.
The family complained that they were frustrated by a lack of communication from gardaí.
There have been other reports of individual gardaí harassing and racially abusing members of the immigrant community, notably in Dublin.
Frank Connolly