Apres sport

Aprés Match took a while to get off the ground. But this year, for the first time, the sketch show is part of the official World Cup coverage and a recent skit of Prime Time shows the three comedians can parody more than just sport. By John Byrne.
The only person to have shown annoyance at appearing in an Aprés Match sketch is RTÉ sports broadcaster Colm Murphy. He had made an innocuous joke at the end of a news report in the run up to a football match against Turkey (something along the lines of, "The Turkish coach has done well, but would you buy a used car from him?") and the boards lit up in RTÉ with complaints.
"The last thing Colm Murphy is is racist," says Risteard Cooper, who plays the Colm Murphy character. "He is a gent. I thought it was hilarious that RTÉ viewers could form such a ridiculous view of him, so I did a sketch featuring him as a completely over the top, racist, right-winger. He didn't like that depiction, and maybe understandably."
Everybody else who features in Aprés Match either doesn't mind or keeps their mouths shut. "I think that people don't really say if they are annoyed. It's not really in their interest to make their disapproval public," says Risteard Cooper.
Apres Match, performed by Cooper, comedian Barry Murphy, and actor Gary Cooke, is now in its 12th year and its fourth World Cup.
In previous years, the sketches have mostly centred around depictions of Bill O'Herlihy, Eamon Dunphy and Frank Stapleton, but this year the focus has moved away from sporting personalities and into new areas – with great success. One of the most successful of the current crop was the satire of Prime Time – both its hosts, Miriam O'Callaghan and Mark Little, and its subject matter.
"Recently, Prime Time, and particularly Prime Time Investigates, have lost the run of themselves altogether," says Risteard Cooper. "There have been a few. There was one on crime and another on the sex trade. The promo for the crime one was extraordinary. It was a little bit like a crime reconstruction from Garda Patrol years ago.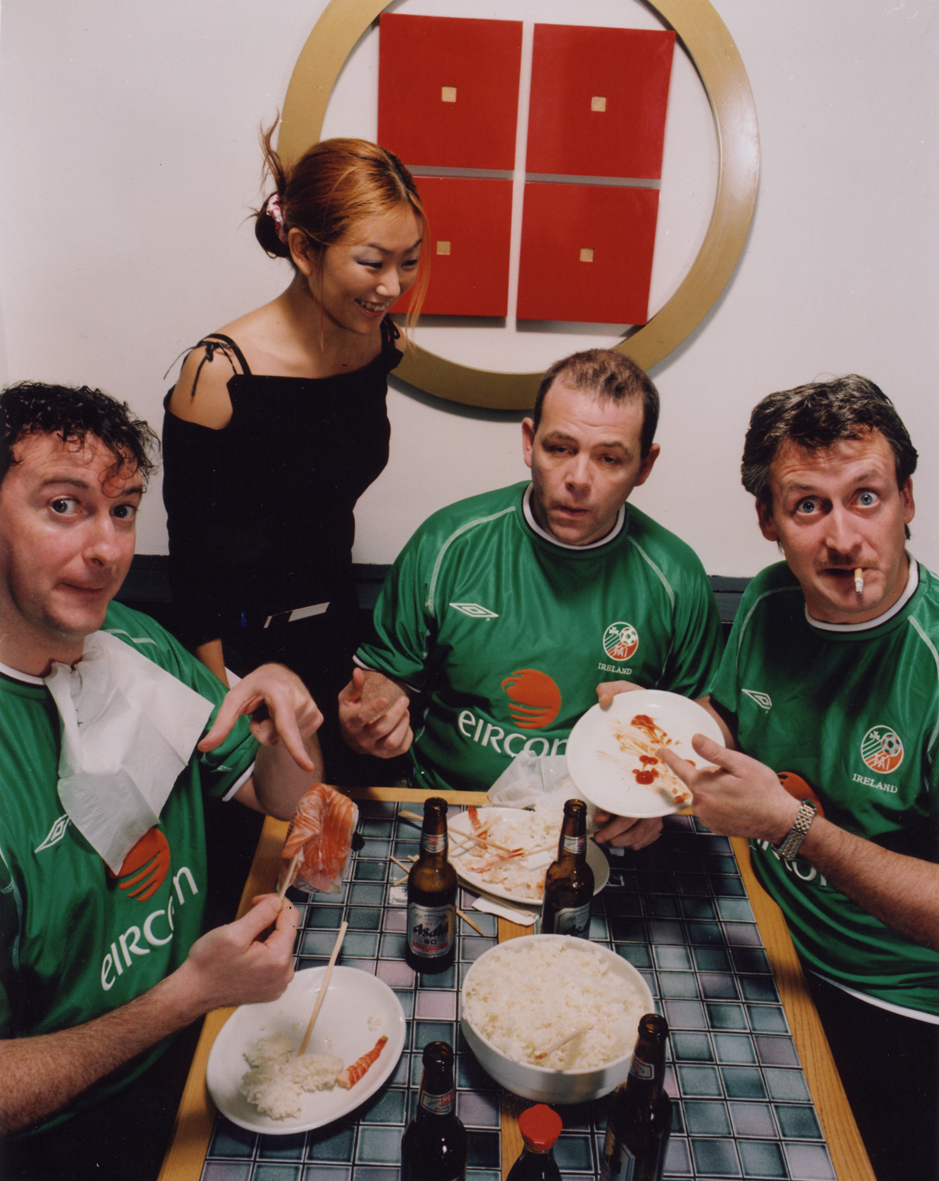 "In terms of what we were doing, it's not about having a go at the individuals involved – it's just that Prime Time is taken more seriously than perhaps they should be."
The success of this year's material is down to a few things: the trio are getting bored of the older but still popular material (Dunphy, O'Herlihy, etc) and the new subject matter has been refreshing for them. There is also the increased support of the RTÉ Sports department. This year is the first time that Aprés Match has officially been part of the coverage of the World Cup.
They have their own producer, they have guaranteed access to sets and their working environment is more structured and more varied (this year they travelled to Germany to work on sketches on-site – and to catch a few football matches).
There is also the fact that Apres Match, although it has been running for over a decade, only appears during major soccer events, keeping the material fresh for the public and for its creators.
"It's a part-time job. We haven't done it too much over the past few years, so it doesn't get overexposed," says Gary Cooke, who performs the Eamon Dunphy and Joe Duffy characters.
Apres Match started out with Risteard Cooper, an actor, and Barry Murphy, a comedian, doing a few sketches to supplement RTÉ's coverage of the 1994 World Cup. The reception was good, but it was not until the 1998 World Cup, by which time Gary Cooke, also an actor, had joined the team with his Eamon Dunphy impression, that it really became a hit. The trio would be recognised around town and the popular reaction was massive.
It got even better four years later, with the McCarthy /Keane /Dunphy fiasco dictating most of the Aprés Match jokes. They branched out into live comedy shows around the country. The massively successful musical I, Keano, co-written by Graham Linehan from Father Ted, took inspiration from Aprés Match and featured Gary Cooke and Risteard Cooper.
The Aprés Match creative process centres around lots of collective brain-storming in relation to scenarios and characters, with individual actors supplying the lines for their own characters. There is no central writer, each one contributes to any scene they appear in.
Outside of Aprés Match, they don't socialise with each other often, and neither are they to be found slapping the backs of the people they take the mick out of. "I meet John Giles the odd time, and Bill the odd time, but nobody else really," says Risteard Cooper. "I don't go out of my way to meet them. Any time I've met them I get on really well. But I'd imagine there'd be a bit of suspicion on their part too."
Now in their forties, the three have families to concentrate on. They all work in the entertainment industry: Barry Murphy is a comedian, Risteard Cooper is an actor (he had a major role in the Gate's critically acclaimed version of Harold Pinter's Betrayal) and Gary Cooke is an actor and writer, and also does voiceovers.
In terms of future sketches for this World Cup, there will be a Prime Time investigation into FAI funding by Miriam O'Callaghan and Mark Little, further attacks on Ger Gilroy's Gatecrasher series and more winding up of the GAA. Aprés Match will also host some of the final games of this World Cup live in Vicar St, with match analysis and sketches on either side of the action.
As for the long-term: "We have no plans to turn it into Riverdance yet," says Gary Cooke. "But if we can keep the quality as high as it has been and can figure out new ways of putting on shows and making it bigger, we will." p
? More: www.apresmatch.ie