The all-Ireland éminence grise
Maurice Hayes has had a major influence on the reform of the two police forces on the island, he has been a major influence on events in the North and as a senator and chairman of the National Forum on Europe he also exerts considerable influence in the South. By Vincent Browne.
A photograph was published in one of the newspapers recently showing Hugh Orde in front of an etching of Maurice Hayes. The assumption was that Orde, a known admirer of Maurice Hayes, had gone beyond admiration to reverence with a representation of Hayes behind his desk at PSNI headquarters. In fact, the photograph was taken of Hugh Orde at the Wellington Park Hotel in Belfast, where, it happens, there is an etching of Hayes on a wall (the owner of the hotel had asked a local artist to do etchings of Ulster writers, of whom Hayes was deemed one at the time).
But there is hardly any doubt that Orde owes his job in part to Maurice Hayes and it is likely that the new head of An Garda Síochána will owe his job in part to Maurice Hayes, for Hayes has had an enormous influence on the shaping of the two police forces.
In Northern Ireland he was a member of the Patten Commission, who wrote the definitive report on the organisation and accountability of a modern police force – it was not just a template for a police force for fractious Northern Ireland, it was a template applicable generally. And through the Senate in the Republic (he has been one of the Taoiseach's nominees since 1997) and now his chairmanship of the advisory body on An Garda Síochána, he is to play a considerable part here too in the shaping of a reformed Garda.
He is the quintessential éminence grise, the powerful advisor operating behind the scenes. His views are sought in Dublin, Belfast and London on a variety of topics, from policing to civil-service reform, to constitutional matters.
He was born nearly 80 years ago years ago (he doesn't look it) in Killough, Co Down. He went to the local primary school there, then to De La Salle Brothers in Downpatrick, and on to Queens where he studied English (he did a PhD). After Queens he taught for seven years in Downpatrick and became town clerk there. After that, it was on to the Community Relations Commission, then into the civil service in the brief heady days of "post-Sunningdale" in 1974. He was the senior Stormont Castle Catholic, working alongside the renowned Northern Ireland mandarin, Ken Bloomfield.
He was around when the power-sharing executive fell in May 1974 – Brian Faulkner came into their office with a bottle of whiskey and they drank it at "the wake of Sunningdale", as John Hume described it.
He was involved in the constitutional convention in 1976, which almost saw the restoration of powersharing at the time when Paddy Devlin of the SDLP almost concluded a deal with Bill Craig, Glen Barr and David Trimble – then all extreme unionists. He kept a diary during that time and is now tempted to publish it.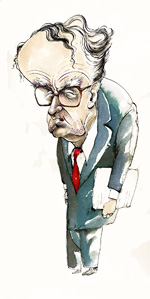 He was ombudsman in Northern Ireland, he was head of the commission that led to the setting up of the police ombudsman in Northern Ireland, he was head of a review body on local government, he served on the Patten commission on policing, he did a review of the hospital services in Northern Ireland, he is chairman of the Forum on Europe in Dublin.
He was astounded, as was almost everyone else, by the revelations of corruption, indiscipline and negligence within An Garda Síochána as revealed in the five Morris tribunal reports published to date. He does not go for the "bad apples" theory about the Garda – he accepts there is a "systemic" problem within the force and it needs a "systemic" response.
In the Senate debate on the Garda bill last year, he said he believed there should be a Garda authority, as there is a police authority in Northern Ireland. Michael McDowell is having none of that.
He thought there should be a commission established on the Garda here, along the lines of the Patten Commission in Northern Ireland, not because he believed there was something uniquely deficient about An Garda Síochána but because all institutions that serve the public should undergo radical examination periodically, especially in radically changing times. His views on that were dismissed by the former Minister for Justice, John O'Donoghue. O'Donoghue was also dismissive of calls for a Garda ombudsman – "We don't need that down here," was the response. O'Donoghue's successor, Michael McDowell, has been forced to back off that one.
But it is the report of the Garda advisory group which Hayes chairs that may prove the most influential of his interventions on the southern police force. That report as good as said that the next Garda Commissioner, along with several other senior officers, including a deputy commissioner and several assistant commissioners, should be recruited from abroad. Hayes is very much an admirer of the police force in Canada. If he has any say on the appointment of the new commissioner – Noel Conroy retires within a year and several other senior officers will go within two years, which gives an opportunity to the government to change the leadership of the force radically – the new leadership will be recruited from the Canadian police force.
He is critical of the British government's failure to implement in full the recommendations of the Patten Commission on policing in Northern Ireland. That failure has caused the delay in Sinn Féin recognising the new PSNI and has stalled progress on a resumption of the Good Friday institutions. The then Northern Ireland Secretary, Peter Mandelson, was trying to throw a life-vest to David Trimble but it didn't work.
He is hopeful now there will be a deal between Sinn Féin and the DUP, although he fears the "elders" in the Free Presbyterian Church and their influence on Ian Paisley. He believes it was they who scuppered a deal in the constitutional convention in 1976 and fears they may do it again. "Paisley is not the pope we thought he was, he is much more constrained by his elders than any pope would be."
As chairman of the National Forum on Europe he thinks it, or something like it, should be maintained to "keep Europe close to the people", although it is doubtful if the Forum has had any significant influence of that kind to date.
He is the author of three books of memoirs, Sweet Killough: Let Go Your Anchor, Black Puddings with Slim: A Downpatrick Boyhood and Minority Verdict: Experiences Of A Catholic Civil Servant. He is a member of the Royal Irish Academy and the Research Ethical Committee of Queen's University Belfast medical school. He is also a governor of the Linenhall Library in Belfast. He is on the board of directors of Independent News & Media plc and is a columnist with the Irish Independent. He refuses to commit himself to a weekly column, in case he has nothing to say.
As well as all that, he is a former county hurler, in the mid-1950s with Down (not a notable hurling area, as Micheál O'Muireachtaigh said once of Fiji, where Sean Óg O'Hailpín was born). This led to his becoming county secretary of Down GAA and while serving in that position he drafted a 10-year plan for Down Gaelic football team to become the first team from Northern Ireland to win an All-Ireland football final. Within five years, Down won their first All-Ireland in 1960 and again in 1961, 1968, 1991 and 1994.
He has had as much influence on events in this island as almost any other living person and his instinctive diffidence belies that.