21st-century Shakepeare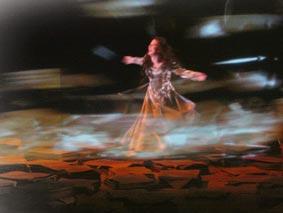 Nicky Gogan on 4D Art's innovative version of Shakespeare's The Tempest, showing as part of Dublin Theatre Festival, in which many of the parts are played by virtual actors
The Dublin Theatre Festival (28 September to 14 October) will present a production of William Shakespeare's The Tempest (La Tempête) in which half of the parts will be played by virtual actors appearing mysteriously onto the stage.
This is the creation of 4D Art, a Canadian-based production company run by Michel Lemieux and Victor Pilon. 4D Art proposes a hybrid show merging reality and virtuality, performing arts and new media. The borders that separate performance, scenography, cinema, video, dance, poetry, visual arts, lighting design, music and sound exploration disappear. The result is the total integration of the various forms of artistic expression.
This type of 4D and live performance interaction was seen earlier this year with performances by the popular band Gorillaz. Created by Damon Albarn from Blur and Jamie Hewlett, the co-creator of the comic book Tank Girl, Gorillaz has four fictional animated band members: 2D, Murdoc, Noodle and Russel. The band pioneered a special effect which enabled them to play live with the animated band members. Visual-effects techniques were used to project 3D animations of the band onto transparent film on the stage, creating the impression that the animated characters are actually onstage.
During the production of La Tempête, flesh-and-blood actors interact seamlessly, surreally, with virtual figures that are life-size one moment, impossibly gigantic the next. Lightning flashes, thunder roars, wind rushes. In 4D's version, the inhabitants of the island are real and played live onstage by actors, while those characters washed ashore are played by pre-recorded actors projected and reflected onto thin air.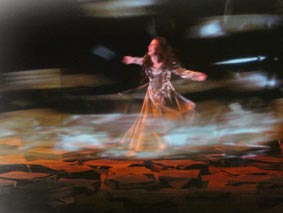 Thanks to the virtual technology at their disposal, spells, visions and poetry create a previously unimaginable storm that appeals not only to the senses, but also to the mind, conveying the dreamy opulence of the work. And through it all, Prospero, assisted by the spirit Ariel, tries to exact his just revenge, an undertaking that yields satisfaction and, along with it, a healing dose of goodness.
Allegedly intrigued by the theatrical potential of lantern light, the cutting-edge technology of his time, Shakespeare would no doubt be fascinated with the digital magic of 4D Art's award-winning La Tempête, a decidedly imaginative and contemporary take on one of the Bard's most hallucinatory works. Robbed of his dukedom and exiled with his daughter Miranda to a mysterious and enchanted island, Prospero conjures a violent storm, wrecking a ship carrying the brother who betrayed him and unleashing a whirlwind of turmoil.
Founded in 1983, 4D Art has presented more than 300 multidisciplinary performances of its various productions. Although they will not reveal exactly how they create this illusion, information about their other productions and a video of La Tempête can be found at www.4dart.com.
? More The Tempest (La Tempête) is showing at the O'Reilly Theatre from 3-7 October. To see the full Dublin Theatre Festival programme and for booking information log onto www.dublintheatrefestival.com
Nicky Gogan