2007 - The Year That Was
It was the year of the metamorphis in Northern Ireland. On 8 May Ian Paisley of loyalist extremism and Martin McGuinness of republican paramilitarism took office together as First Minister and Deputy First Minister in the new power-sharing executive in Northern Ireland. t was the year that Bertie Ahern triumphed at the polls for a third successive time, while his own political destiny was challenged by the Planning Tribunal.....
It was another year of crime-hype with recurrent moral panics over murders attributed almost entirely to gangland feuds (see following analysis of 2007 murders). It was a year of further panics over drug abuse, notably cocaine abuse. 
It was the year of the stamp duty clamour, first identified as an election stunt by Michael McDowell and later championed by the Sunday Independent. And the year of the house price stutter, as alarm spread over an imminent house price collapse.
It was the year of sporting disappointment in football and rugby for the national teams and of joy of the hurlers of Kilkenny and the footballers of Kerry.
It was the year of economic alarm as the growth rate slowed to a mere 4.7 per cent (!). It was the year of further crises in the health service, most recently on cancer breast checks, further disappointments on resources for primary education (the most crucial area of education). And the year of "The Euro-con" (see accompanying panel).
People of 2007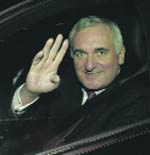 BERTIE'S HISTORY AND HISTRONICS
Although it may have been the year of his political undoing, 2007 was also the year of a very considerable triumph for Bertie Ahern. It represented his tenth continuous year as Taoiseach (only Eamon de Valera accomplished that previously); he was voted into office for the third successive time in a general election (again only Eamon de Valera accomplished that previously); he justifiably was credited with a major part in what was unquestionably the most significant development of the year: the agreement on a power sharing executive in Northern Ireland led by Ian Paisley and Martin McGuinness.
Uncharacteristically, his performance in the general election campaign was lacklustre until the leaders' debate with Enda Kenny, which he won decisively. And then he presided over a succession of political blunders, including the provisional license debacle, the Shannon-Heathrow controversy, the rehabilitation of Beverley Flynn, the ministerial pay hike, the health service chaos, which eroded the stature of the government and his own stature. But that stature was eroded primarily by the relentless erosion of his credibility over his financial dealings in the period 1993-1995, during part of which he was Minister for Finance.
Nevertheless, because of the significance of his election success and his part in the Northern Ireland deal, Bertie Ahern was certainly one of the people of 2007.
ENDA'S TENACITY
It was a good year for Enda Kenny too as he managed to rescue Fine Gael from the near-death trauma of 2002, engineered by Michael Noonan. In the general election Fine Gael won 51 seats, an increase of 17 seats on its performance in the 2002 election. It was an impressive performance although the party failed to return to government. Fine Gael has not won office after an election for 25 years (1982) and in the last 50 years it has won office only on three occasions (1973, 1981 and 1982), during which time there were 15 general elections. The party's prospect of winning power has diminished significantly since Fianna Fáil abandoned its "no coalition" stance in 1989. Now elections seem to be about which party will go into government with Fianna Fáil, rather than which party will lead the government.
Enda Kenny was an unlikely choice as leader in 2002, having served in
ministerial office for only two and a half years and then without notable distinction. Neither had he made any impact in the Dáil in his almost 30 years presence there. But a combination of likeability and tenacity gave him some stature and credibility but there is a perception of a lack of
substance there, which was noticeable especially in the response to the leaders' debate before the general election.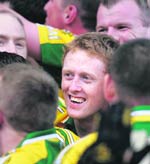 COLM COOPER"S BRILLIANCE
Still only 24, Cooper is already on the way to becoming one of the greatest players of all time. Some people might query that assertion but it's hard to remember a better player at 24. At 19 Cooper was already the main forward on the Kerry team and, apart from a difficult second season in 2003, he's been getting better ever since. Player of the Year in 2004, he nearly collected the same award a year later only Tyrone set up their whole defensive system to counteract him in the 2005 All-Ireland final.
Although he struggled in last year's championship, within two days of his father's death, he came off the bench to kick two points and seal a draw against Dublin to put him in line for another league medal. Marc O'Se was voted Footballer of the Year but Cooper was still immense this season.
He was instrumental in leading Dr Crokes to an All-Ireland club final and in a short spell after half-time of the Munster final, he torpedoed Cork with 1-2. Outstanding in the All-Ireland semi-final against Dublin, he did the damage early in the All-Ireland, just as he has done in three of his last four All-Ireland finals, by scoring a goal. That goal summed up Cooper's bravery and awareness. Goalkeeper Alan Quirke was coming off his line but Cooper "could hear him coming" and he got the flick. Only great players can do that on such a stage.
By Christy O'Connor  
DAN SHANAHAN'S GOALS 
Although Dan Shanahan was voted Hurler of the Year and his goals remain the outstanding memory of a memorable hurling championship, his journey to this point is what makes Shanahan's story such a success. Four years ago, when Waterford lost the Munster final to Cork, Shanahan sat on the Waterford bench for the seventh championship match in succession. They used five subs that day and Shanahan still wasn't used. The half-forwards were cleaned out and it still made no difference to Shanahan's circumstances. In 17 championship appearances, Shanahan had never scored a goal and at that point, imagining his second coming as hurling's first great goalscorer of the 21st century would have been a fantasy on the other side of the abyss.
To fully capture how phenomenal his renaissance has been, he's scored at least one goal in every Munster championship match he's started ever since and he hit his ultimate jackpot with three goals in this year's Munster final against Limerick. He ended this season with eight goals. His transformation to becoming such an assassin is down to a combination of aerial power, athleticism, superb off the ball movement, serious decision making and stickwork and, sheer persistence and heart. Then there are the celebrations; the raised fist, the pointing to the crowd, the clutching of the crest on his jersey, the jumping to the terraces that once mocked him. No other player has had as much fun scoring goals as Shanahan and that novel sense of charisma, allied to his finishing qualities, have turned him into one of hurling biggest names.
By Christy O'Connor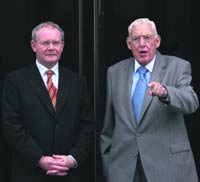 ICONS OF PEACE
Ian Paisley and Martin McGuinness were the stars of 2007. Unexpectedly, Ian Paisley agreed to power-sharing with IRA/Sinn Féin, abandoning decades of antipathy and revulsion for an organisation that had murdered hundreds of Protestants. Expectedly, Sinn Féin had no qualms about doing a deal with the DUP, which it had characterised repeatedly as the hard edge of sectarianism in Northern Ireland.
It is said that during an illness which almost led to his death two years previously, Ian Paisley discovered a new mission, to bring peace and stability to Northern Ireland in the last years of his life. And in pursuit of that he has forsaken his familiar confrontational style for a jovial, affirmative one. Martin McGuinness has said that in the seven months during which they have served as First Minister and Deputy First Minister respectively, there has not been a cross word between them. Their conviviality no doubt assisted by an age and generational gap between and by McGuinness's emollient disposition – if he and Gerry Adams could bring the IRA to accept peace and the constitutional status of Northern Ireland as part of the UK, then placating Ian Paisley must have been relatively unchallenging.  
But the image of them both serving the people of Northern Ireland co-operatively and compatibility is quite the most extraordinary icon of a peaceful and reconciled Ireland.  
VIRTUOSO BARRISTERS
Two senior barristers, Des O'Neill and Henry Murphy have excelled in the examination of witnesses at the Mahon Tribunal. Their mastery of the complex facts surrounding payments to Bertie Ahern, for instance, and his curious accounts, is  impressive; the forensic logic of their questionings, especially of Bertie Ahern himself (by Des O'Neill) and of all others involved in this sub-module has been of virtuoso calibre. While they have to remain aloof from making judgements about the veracity of the evidence presented by witnesses, they have struggled to conceal an incredulity about the "dig-outs" and much else to do with Bertie  Ahern's explanations for the very considerable sums of money that went through his accounts.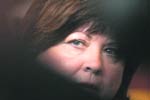 HARNEY'S HAMES
She lost two thirds of her party; she is still leader of the PDs although she stood down as leader in 2006 and does not want to be; and she is still Minister for Health, despite the motion of no confidence in her in November after the cancer care debacle in Portlaoise. When Mary Harney became Minister for Health in September 2004, she said conditions in A&E would be a litmus test of her ministry. In November 2005, there was an average of 262 people waiting on trolleys each day around the country, in November 2006, the average was 212, while in November 2007, it was 215. There have been improvements in A&E, but serious problems still remain. Mary Harney's toughest stand in her role as Minister for Health has been her resolve to reform the consultants contract. Despite advertising for new posts and missing deadlines set, four years into negotiations, no new contract has been agreed.
Susie Long died in October 2007, because she was a public patient. Susie came to national attention when she wrote to Joe Duffy explaining how she had terminal cancer as she had had to wait seven months for her diagnosis because of Ireland's two-tier health system. Mary Harney's reappointment to Health after the election in May ensures that her plan to build private hospitals on the grounds of public hospitals will further institutionalise Ireland's two-tier health system.
By Sara Burke
ANOTHER FINE MESS
Michael McDowell's achievements in 2007 were quite something, meriting him a place among the people of 2007. Single-handedly, he destroyed a political party – his own – he destroyed a political career – his own – he walked out on colleagues without warning, leaving his devastated party in chaos, all after he had dogged the headlines and the agenda for months previously.
Mary Harney had warned repeatedly in private that Michael McDowell would destroy the Progressive Democrats. She could hardly have predicted he would do so, so comprehensively.
His vacillation twice over support for Bertie Ahern did terrible damage to the PDs, first in September 2006 and then in the midst of the general election. Threatening to pull the rug on Fianna Fáil and then backing done ignominiously on both occasions. His pre-election stunt in going up another lamp post, this time to discredit the Green Party, backfired as he was taken on frontally before the TV cameras by John Gormley. The PDs now are on the brink of extinction with the likes of Dun Laoghaire councillor, Mary Mitchell O'Connor fleeing the sinking ship to Fine Gael and nobody offering to relieve Mary Harney of the leadership.
THE TALE OF TWO COACHES
For the respective managers of the Irish football team, Steve Staunton, and of the Irish rugby team, Eddie O'Sullivan, 2007 was a grueling year.
Because of the dismal performances of the Irish football in the qualifying rounds for Euro 2008, Steve Staunton was fired, in spite of private and public categorical assurances by John Delaney of the FAI, that, irrespective of the outcome of the Euro qualifiers the FAI would stand behind him.

The performance of the Irish rugby team in the Rugby World Cup 2007 was even worse than that of the football team. The most talented group of Irish players ever, afforded the most expensive and prolonged preparation for the tournament ever, gave the worst Irish performance ever in this competition. Ireland, rated among the possible victors of the tournament, were among the worst teams of the competition. And yet, the IRFU said they were standing by their man, Eddie O'Sullivan. For now.
The culpability of the coach for the performances was underlined by his own admission that the team was not afforded adequate match time in its preparation, that he had not the opportunity to "blood" alternative players in key positions and that overall the team was stale and lacklustre. It was further underlined by the improved performances of many of the players who had performed so badly, once they returned to their provincial sides under other coaches.
IVE'S IPHONE
Jonathan Ive has made an impact on the lives of millions around the world, even if they don't know his name. The Senior Vice President of Industrial Design at Apple is the man at the head of the team that designed the iPod, iMac and iPhone, three products that have become intimate parts of the daily lives many, such as the 119m iPod users. The 40-year old son of a silversmith grew up in east London. He studied Industrial Design in Newcastle and joined Apple in 1992. The ubiquitous white iPod is seen as his signature design, and an homage to Dieter Rams, Chief Designer at Braun, but Ive and his team have made significant changes with the iPhone, turning away from the clean white look towards using darker colours, glass and aluminium. The gadget has been voted as the Time Magazine Invention of the Year 2007. Ive's design's have been credited with the bringing true design to the masses. Irish members of the Apple cult will be able to do their duty next year when the iPhone finally hits our shores. 
By Tom Rowe  
INTERNATIONAL EVENTS OF 2007 
January 1 - Bulgaria and Romania joined the European Union.
January 9 - War in Somalia: US planes conducted air strikes in Somalia against suspected "terrorists", almost certainly a harbinger of a growing military involvement by the US in Africa (they are opening a major military base in Kenya).
January 10 - US President George W Bush announced a plan to station 21,500 additional troops in Iraq. "The surge" has been claimed since as a major success, in spite of continuing insurgency and persisting civil war.
February 2 - The IPCC publishes its fourth assessment report, having concluded that global climate change is "very likely" to have a predominantly human cause.                      
February 25 - The Departed won the Best Picture award in the 79th Academy Awards ceremony in Hollywood.
April 16 - 32 people were killed in the Virginia Tech massacre on the premises of Virginia Polytechnic Institute and State University in Blacksburg, Virginia.
May 3 - In the Scottish Parliament elections the Scottish National Party became the largest party in Scotland for the first time in its history. May 3 - Madeline McCann disappeared in the resort of Praia da Luz in the Algarve, Portugal, just days short of her fourth birthday.
May 6 - Nicolas Sarkozy elected President of the French Republic.
June 27 - Tony Blair resigned as Prime Minister of the United Kingdom; Gordon Brown succeeded him.
September 26 - First confirmed deaths resulting from the Myanmar military's crackdown on weeks long anti-government protests.
October 18 - After 8 years in exile, Benazir Bhutto returned to Pakistan. The same night, suicide attackers killed 136 in the crowd, including 20 police officers. Bhutto escaped uninjured.
October 19 - A gas explosion rocked Glorietta, a shopping mall in Makati, Philippines which killed 11 and injured more than 100 people.
October 21 - Donald Tusk's Civic Platform became the largest party in Poland following parliamentary elections.
October 28 - Cristina Fernández de Kirchner won presidential elections in Argentina to succeed her husband.
November 1 - London's Metropolitan Police Service was found guilty of endangering the public following the fatal shooting of Jean Charles de Menezes.                                    
November 3 - President Pervez Musharraf declared state of emergency in Pakistan
November 5 - The Writers Guild of America goes on strike.
November 6 - A suicide bomber killed at least 50 people in Mazari Sharif, Afghanistan. Among the dead are six members of the National Assembly.
November 13 - Prime Minister Anders Fogh
Rasmussen's coalition won a third term in Danish elections.
November 16 - Over 3,000 people lost their lives as Cyclone Sidr hit Bangladesh,.
November 24 - Labour leader Kevin Rudd is elected to succeed John Howard as Prime Minister of Australia.
November 27 - The Annapolis Conference, a peace conference trying to end the Arab-Israeli conflict, is held in Annapolis, Maryland in the United States.
December 2 - United Russia of Vladimir Putin won parliamentary elections in Russia.
December 2 - Venezuelan President Hugo Chávez's proposed changes to the Venezuelan constitution were narrowly defeated in a referendum.
December 13 - European heads of government signed the Treaty of Lisbon in Lisbon.