€50m extra needed for upkeep of non-national road network

An additional €50m a year needs to be injected into the non-national road network in order to maintain it, according to Fine Gael.
Environment spokesperson Fergus O'Dowd says that he has seen internal government documents which say an increase of €50m a year is needed in order to carry out remedial work to non-national roads. He says that the government has been aware of this information for over a year since a road condition study was carried out and have failed to make it publicly available.
This year the government increased the amount given to the restoration of non-national roads by €31m, €20m less than is needed according the documents seen by Fine Gael.
Between 2003 and 2005 the Department of the Environment and Local Government carried out a study on the condition of non-national roads called 'Non-national roads pavement condition study'. This report found that a large increase in the volume of traffic and the use of heavy goods vehicles had contributed to the poor condition of some roads. The study found 10,000 potholes, ravelling or surface distress was found 66,000 times. The report did not give any figures on how much money was needed to remedy this damage.
This year the Department of Environment and Local Government increased their spending on the non-national road network by 13 per cent to €557.73m. In their road restoration programme they gave €31m across all counties and increased maintenance grants available to local authorities from €60m to €75m.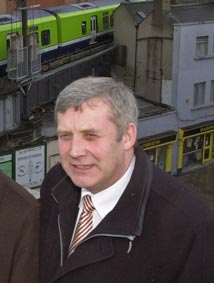 Fergus O'Dowd says this is not enough. "As users of our nation's roads will tell you, our pavements and roads are often in such a terrible state that the number of potholes can turn a regular weekend drive into a slalom event. It now emerges that our roads and pavements need a massive increase of €50m a year every year to just carry out remedial work in a timely fashion." Remedial work would include reconstruction, routine maintenance, skid resistance and surface work.
A 2001 National Roads Authority study on vehicle-kilometres of travel in Ireland indicated that the non-national road network carries 59 per cent of all car travel, 56 per cent of all light goods vehicle travel, and 43 per cent of all heavy goods vehicle travel.
According to the NRA, road conditions contribute to 20 per cent of accidents.
Emma Browne