Israeli navy board lone flotilla vessel Dignité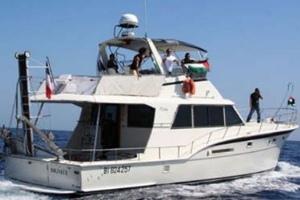 The Israeli Defence Forces (IDF) have boarded the French Vessel Dignité Al-Karam which was attempting to break through the Israeli blockade of Hamas-controlled Palestinian territory.
The Dignité Al-Karam was the only remaining vessel of the Second Freedom Flotilla, which originally consisted of 10 ships, including the Irish vessel MV Saoirse.The Saoirse was prevented from taking part in the flotilla when its propeller was sabotaged, making it extremely dangerous to sail. Another ship due to take part in the flotilla was also allegedly sabotaged, while the rest were prevented from leaving port by the Greek authorities.
According to the IDF, the Dignité Al-Karam was ordered to divert from their destination of Gaza, and dock at the port of Ashdod, about 40 kilometres south of Tel Aviv. The IDF then dispatched the navy to intercept the Dignité Al-Karam. The IDF claims that these soldiers "operated in line with procedures and took every precaution necessary while using all operational tactics determined prior to the operation, and avoid causing harm to the activists on-board while ensuring the safety of the soldiers."
IDF Spokesperson Brigadier General Yoav Mordechai claimed that the boarding of the Al-Karama took place when "dialogue reached a dead-end" and "their actions turned into a provocation."
Brig. Gen. Mordechai accused Yannick Voisin, captain of the Dignité Al-Karam of lying about his destination, by claiming that he was heading for Egypt.
The Dignité Al-Karam is now being towed to Ashdod, where "the relevant security authorities and the Israel Police will begin the process of questioning the passengers, who will then be transferred to the Ministry of Interior and the Immigration authorities."
The Dignité Al-Karam left France 25 June, and was due to arrive in Palestine within the next 24 hours. The passengers on the Dignité Al-Karam managed to escape the Greek naval blockade on 5 July, which had prevented all other ships in the second Freedom Flotilla from taking part.
The Dignité Al-Karam's French crew were joined by an additional team representing the national campaigns of the coalition in the second Freedom Flotilla, and three journalists.
The Freedom Flotilla is opposed to the Blockade which is being placed on Palestine by Israel, which it says "illegal and criminal". However Israel has justified the blockade by claiming that "according to international law, it is lawful for Israel to impose a naval blockade on the Gaza Strip because it is currently in a state of armed conflict with the Hamas terrorist organization, the ruling entity of the Gaza Strip. The Hamas terrorist organization is designated as a terrorist entity by the US, UK, EU and state of Israel."
Footage released by the IDF of Israeli soldiers boarding the Dignité Al-Karam
Image Top: Freedom Flotilla