Whoop it up for liberty!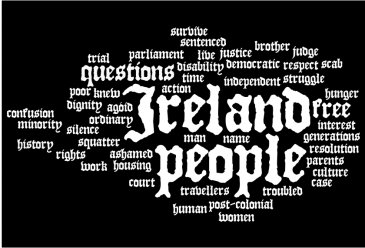 Last Friday, I heard Joe Jones of the Gypsy Council speak about his organisation's history before Dale Farm. In passing – we weren't talking about Ireland at all - he mentioned the names Grattan Puxon and Cherry Orchard and, not having any idea what he was referring to, I made a note to google both. I never knew about the Cherry Orchard Traveller encampment or Puxon's leadership in the 1960s of a movement to build a school there independently of the Department of Education. I didn't know about the school's subsequent demolition by Dublin Corporation. Does it matter that this story is rarely told? What would it mean if we were reminded of these stories more often?
The collective at www.humanrights.ie are interested in stories about how people like the Traveller children whose hard-won school was torn down in Cherry Orchard in 1965 engage in struggles for basic rights and find their demands rejected, often violently. And we are interested in how they are disappeared under the weight of official legalised narrative. And so, in Galway, on 10 December, three of my colleagues at humanrights.ie, together with a group of community actors and director Thomas Conway of Druid Theatre, hope to put on a show called 'Whoop it up for Liberty!' It will be based around dramatic readings of first person narratives – without academic commentary - in which people speak about struggles for human rights in Ireland. A small number of these are well-known, but most have been unearthed from forgotten or marginalised sources. The event promises to be an important intervention into contemporary discourse about human rights and will provide a chance to interrogate our assumptions about their place - or lack of place - in Irish politics and law past and present. It may also tell us something about what it means and has meant to live in this republic.
You can read more about the event here. It is being run on a not-for-profit basis, it is in desperate need of funds, and we are asking readers to help cover its costs by donating to our 'fundit' page here. As little as €5 is enough, and every donation is appreciated.