Three women a day purchase abortion medicines online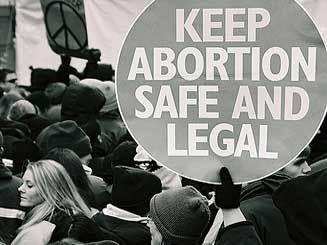 Women in the Republic of Ireland and Northern Ireland don't have the same 'right to choose' an abortion that women in the UK take for granted, reminds the Abortion Support Network (ASN).
Abortion in Ireland is illegal unless it meets with the conditions set down by the Supreme Court in the "X" case, where there was a substantial risk to the life and health of the mother. The Government has yet to legislate for this, however. Last year 4,422 women gave Irish addresses for abortions abroad. Although the number of girls under 16 and women over 35 travelling abroad for abortions increased last year compared to 2008, the overall number of abortions fell last year according to the Crisis Pregnancy Agency.
Figures show that 38 girls under 16 years of age gave Irish addresses, compared to 27 in 2008 and 47 in 2007. The abortion rate of women over 35 seeking abortions in Britain and the Netherlands rose from 720 in 2008 to 781 last year.
The number of over-35s seeking an abortion increased slightly from 2.2 per 1,000 in 2008 to 2.3 last year. Women under 20 seeking abortions dropped from 944 in 2001, to 511 in 2008, to 484 in 2009.
Since the establishment of The Crisis Pregnancy Agency in 2001 the numbers of women seeking abortions abroad has fallen by 2,251.
ASN said that because abortion is almost impossible to access in Northern Ireland, every year thousands of women are forced to travel to England to access the services that they are denied at home. With costs reaching over £2,000, many women faced with this tough decision can not avail of that amount of money in such a short time. 
The London based ASN, launched in 2009, gives financial support and shelter to Irish women travelling to England for an abortion. It has heard from 66 women in need. Grants totaling £7,702.51 have been given to 34 women and 9 women have been provided overnight accommodation in volunteer homes.
Although the figures for women traveling abroad for abortions has dropped there has been increased fears by medical experts that growing numbers of pregnant women who cannot afford to travel abroad, are taking illegal drugs to induce abortions in Ireland.
The Irish Medicines Board has confirmed that 1,216 seizures of abortion drugs were seized by customs authorities last year.
Choice Ireland, a pro-choice campaign group, said the figures indicated at least three women a day were ordering drugs over the internet to terminate pregnancies.
Choice Ireland spokeswoman, Sinéad Ahern said: "It is time to face up to the reality that Irish women will go to desperate lengths and take huge risks to end pregnancies they feel they cannot continue."
In a statement, the Irish Medicines Board said: "Counterfeit and illegal medicines pose a serious threat to public health."
ASN said that the circumstances of the women they helped varied greatly – from a woman with no passport or credit card who became pregnant as a result of rape, to a single mother who found herself pregnant by her abusive ex-partner. ASN said that without their help these Irish women "would not have been able to access an abortion".
"Women in the Republic of Ireland and Northern Ireland don't have the 'right to choose' that women in England, Scotland and Wales are able to take for granted. Abortion Support Network exists to take money out of the decision making process for these women," said ASN founder Mara Clarke.
In July 2010 the Minister for Health Mary Harney said she did not anticipate another abortion referendum for the "foreseeable future".