Smithfield in days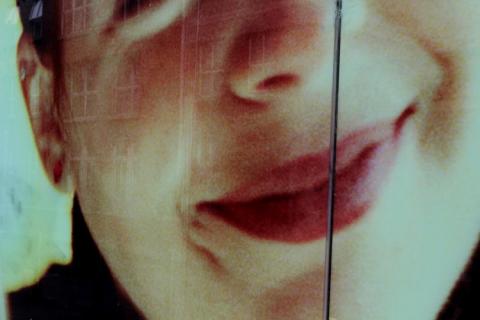 Ad on the window of an abandoned building on North King St. The building was erected during the property boom 
Lying north of the river Liffey and west of the Four Courts, sits an area of Dublin that is at once battered and modernised. This place, Smithfield, is a living, breathing mosaic, an assemblage of colour, disjointed shapes, movement and sound. Both buildings and bodies often times move in and out of this space, passing fixed residents and fixed memory.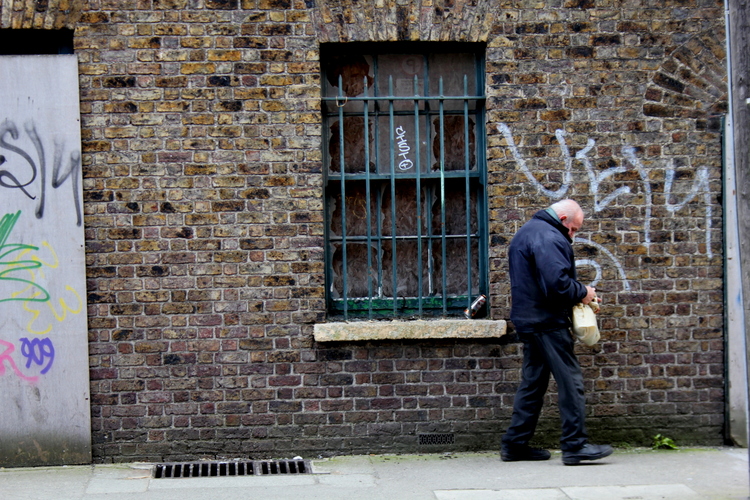 Bow St 
The buildings in Smithfield act as a backdrop to the differing layers of the area.  Architecture, both new and old, is a prominent reminder of things past and things unforeseen. Antiquated buildings, dilapidated yet still standing, serve as a reminder of old days and old ways, of markets and stables; whilst new buildings erected during the Celtic Tiger, like the apartments on Smithfield Square, tower over the landscape like a strongman at the circus, as the murmurings and roars of people pass below.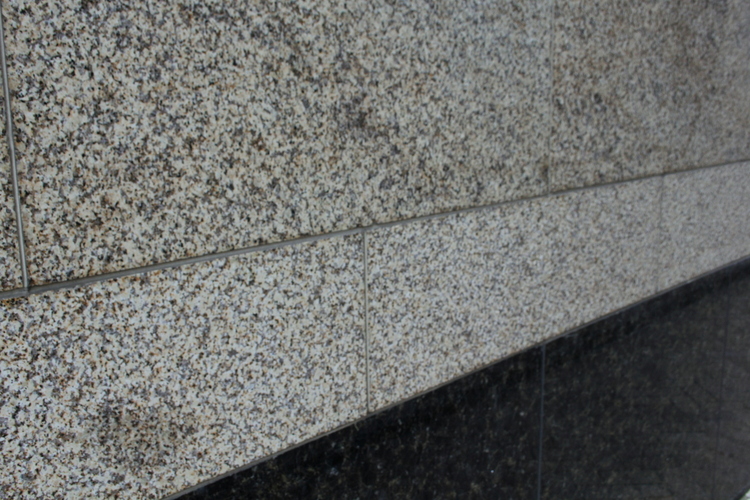 Apartment building on Smithfield Square 
Those who reside, visit and do business in Smithfield are as varied and assorted as the landscape they traverse. Many have been in the area for centuries. Just yards away from the formerly operational Jameson whiskey distillery, that today attracts throngs of tourists, homeless and near homeless pass as ghosts lining up for food, conversation and a warm shower at the Capuchin Day Centre for Homeless People.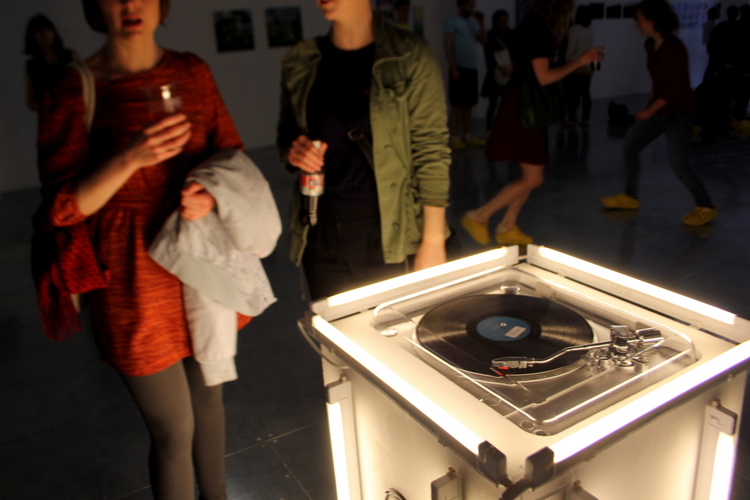 Exhibition for LINK Culturefest, presented by Block T 
The Capuchin monks have been in Dublin since the 17th century and have been a prominent presence in Smithfield, providing services for the poor, including the Day Centre, which opened in 1969. Stories typically familiar only as statistics carry a name and a face here. A middle-aged woman who goes by the name 'Cáit' lost her job but still has a mortgage to pay and John McCarthy comes here for food and bath.
 John McCarthy at the Capuchin Centre for Homeless People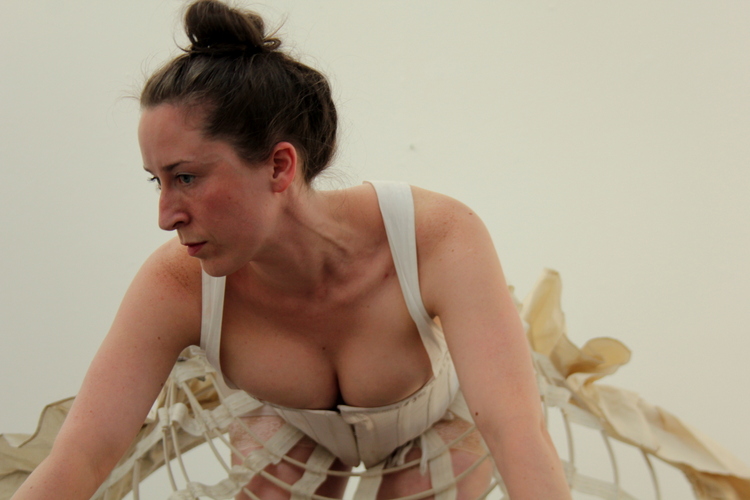 Michelle Browne, performance artist, at Market Studios in Smithfield 
Another long-standing presence in Smithfield is the horse market. Once a month, one can hear the clatter of hooves and men discussing and negotiating the buying and selling of horses. Starting in the 17th century, the horse fair was a flourishing trade in Smithfield, however to come to the fair today the number of both transactions and horses is dwindling. Controversies surrounding a shooting last year at the market and animal abuses, coupled with negative attitudes about hygiene in a modern space, mean the horse fair is a living memory of a thriving marketplace of the past colliding with a shifting present.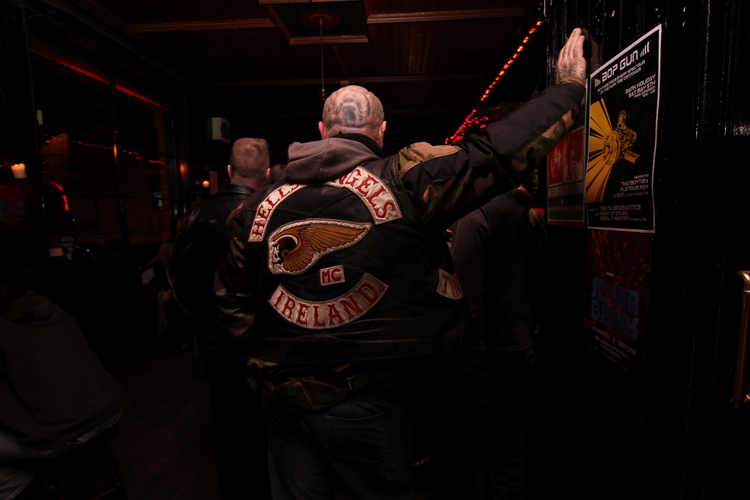 'Brat' at Dice Bar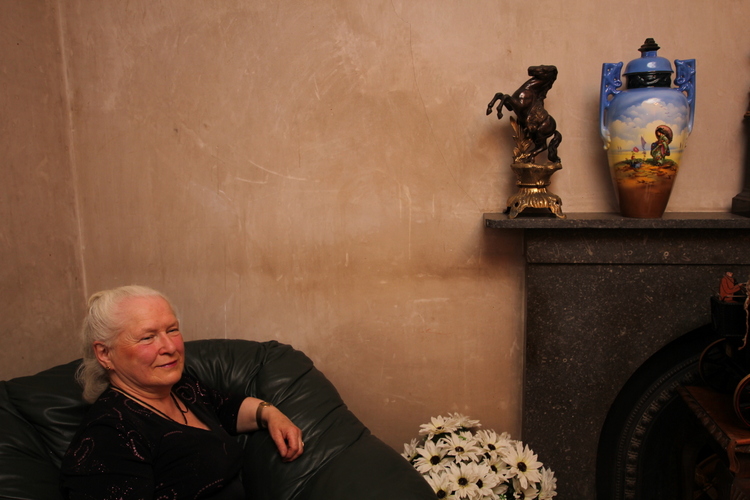 Antoinette Cooper-Healy in her home in Stoneybatter 
'Don't stand in the way of progress,' Brat, a member of the Hell's Angels, says, taking a drag from his cigarette outside of Dice Bar on a mild May evening. To frequent many of the new establishments born since the Celtic Tiger, such as Dice Bar, one can forget there is a recession going on in Ireland. This particular bar on a Sunday night will be packed with bodies enjoying a pint and the sounds of Johnny Cash and Hank Williams, Sr.
Across the road on a Friday night, an art showing presented by Block T, an artist's collective started in 2010 in the Smithfield area, showcases varying artistic mediums as smartly dressed guests sip wine and engage in the rituals of meeting-and-greeting at social functions for the young and hip.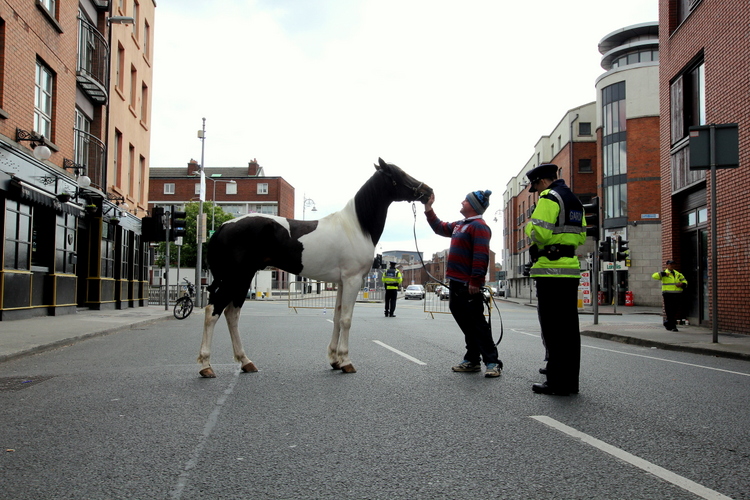 Smithfield horse market. Andrew Killeen from Tallaght with his horse Wicked Chicken. A Garda inspects PPS numbers before allowing sellers to enter the market 
Like the shifting of the cultural and economic make-up of the living, the rites and services of the dead have also changed. Bourke's Funeral Directors has been serving the dead as well as the living in Dublin since the mid nineteenth century and has been at its current Queen St. address in Smithfield since the 1880s. It has witnessed the changing landscape of Dublin hosting not only Catholics, but other faiths such as Buddhism and Islam, among others. Alan Harmon, Funeral Director of Bourke's, notes the shift in attitudes towards death, 'The taboo of death has eased. People are more comfortable with discussing death. They have more options today and they are creating their own grieving process.'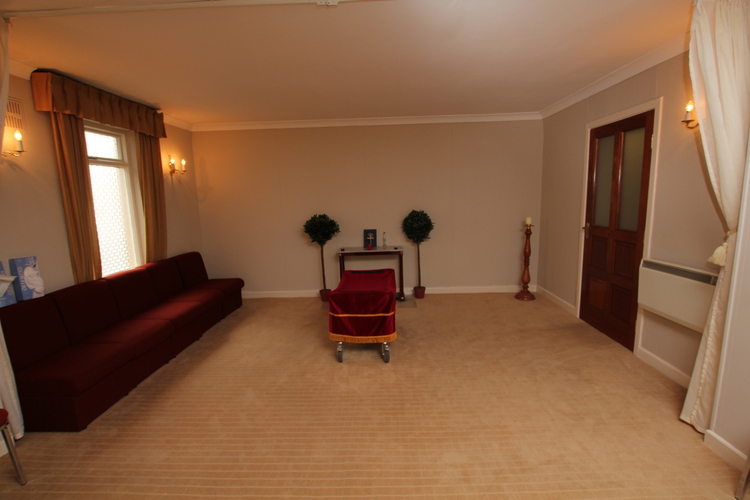 Viewing room, Bourke's Funeral Directors 
To walk the streets of Smithfield is to come in contact with contradiction, old, new, jagged and smooth. But to come in contact does not necessarily connote insight, and one can easily pass by with a glance. For those who stop and see the many differing pieces, one thing is for certain; the past is the past and the future is up to interpretation. 
A native resident who now lives in neighbouring Stoneybatter, 69-year-old Antoinette Cooper Healy's family owned and operated a prosperous horse trading business in the 19th and 20th centuries in Smithfield. Cooper Healy, who has witnessed many decades of both growth and decline in the area, expressed an observation rooted in nostalgia and change: 'The Dublin I grew up in will never be again.' {jathumbnailoff}
 Saturday night in Smithfield