Savita Halappanavar: Ireland, abortion, and the politics of death and grief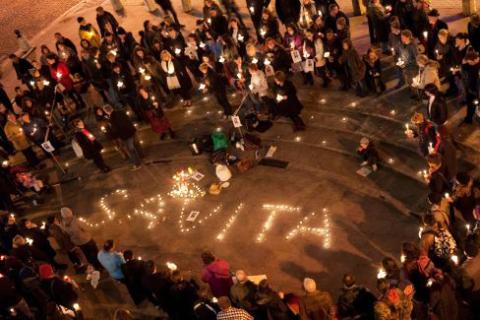 In Ireland, the 'right to choose' only applies where death is on the hori­zon. It is refused, denied, with­held even at the cost of women's lives. By Máiréad Enright
Yesterday, (14 Novem­ber 2012) the Irish Times reported on the case of Savita Halap­panavar, who died last month at Uni­ver­sity Col­lege Gal­way, Ire­land. It was, we are told, a case of "sud­den mater­nal death". The Irish Times sets out the facts of the case as follows:
Savita Halap­panavar (31), a dent­ist, presen­ted with back pain at the hos­pital on 21 Octo­ber, was found to be mis­car­ry­ing, and died of sep­ticaemia a week later.
Her hus­band… says she asked sev­eral times over a three-​day period that the preg­nancy be ter­min­ated. He says that, hav­ing been told she was mis­car­ry­ing, and after one day in severe pain, Ms Halap­panavar asked for a med­ical termination.
This was refused, he says, because the foetal heart­beat was still present and they were told, "this is a Cath­olic country".
She spent a fur­ther two and a half days "in agony" until the foetal heart­beat stopped.
The dead foetus was removed and Savita was taken to the high depend­ency unit and then the intens­ive care unit, where she died of sep­ticaemia on 28 October.
You can also listen to Kitty Holland's report of her inter­view with Savita's wid­ower, Praveen, on Wednesday's Morn­ing Ire­land here. The same edi­tion of the pro­gramme describes the hos­pital and Health Ser­vice Exec­ut­ive invest­ig­a­tions into her death. These are ongoing.
The Irish response to this debate will turn on the X case. Briefly, this is the 20-year-old judg­ment in which the Supreme Court con­firmed that abor­tion is con­sti­tu­tion­ally permissible
"… if it is estab­lished as a mat­ter of prob­ab­il­ity that there is a real and sub­stan­tial risk to the life, as dis­tinct from the health, of the mother, which can only be avoided by the ter­min­a­tion of her pregnancy."
No Irish gov­ern­ment has been will­ing to legis­late for the X case. In con­sequence, women's access to abor­tion — even in cases in which the foetus can­not sur­vive for very long and the woman's life is clearly in jeop­ardy — is a mat­ter of med­ical judg­ment and we don't know how that judg­ment should be exer­cised.
Women can travel abroad for abor­tions, if their cir­cum­stances per­mit. Applic­a­tions to per­mit ter­min­a­tion ("C" in 1998 and "D" in 2007) have been brought to the High Court. But this pos­i­tion — whereby this con­sti­tu­tional right can only be vin­dic­ated through this plen­ary pro­cess and the law of med­ical neg­li­gence — is clearly inad­equate. Two years ago, in A, B & C v. Ire­land, the European Court of Human Rights found that the state's fail­ure to legis­late for con­sti­tu­tion­ally per­mit­ted abor­tions breaches the right to private and fam­ily life:
"… that the uncer­tainty gen­er­ated by the lack of legis­lat­ive imple­ment­a­tion of Art­icle 40.3.3, and more par­tic­u­larly by the lack of effect­ive and access­ible pro­ced­ures to estab­lish a right to an abor­tion under that pro­vi­sion, has res­ul­ted in a strik­ing dis­cord­ance between the the­or­et­ical right to a law­ful abor­tion in Ire­land on grounds of a rel­ev­ant risk to a woman's life and the real­ity of its prac­tical implementation."
In response to the European Court of Human Rights' judgment, the Gov­ern­ment has set up an expert work­ing group. They delivered their report to the Gov­ern­ment last night. Troub­lingly, those who would seek to amend the Con­sti­tu­tion to remove even the exist­ing lim­ited right to abor­tion, have been arguing that refusal of a med­ical ter­min­a­tion never poses a risk to a mother's life. The Gov­ern­ment is under sig­ni­fic­ant polit­ical pres­sure to main­tain the con­sti­tu­tional status quo, or even to row it back.
Here is the point. Irish women's repro­duct­ive autonomy has been sub­ject to the con­trol of minor­ity pro­fes­sion­al­ised reli­gious (in the sense of con­nec­tion to reli­gious insti­tu­tions) interests for gen­er­a­tions. The Irish Times describes the exchange between Savita, her hus­band, and a hos­pital consultant:
"The con­sult­ant said, 'As long as there is a foetal heart­beat we can't do anything'… The con­sult­ant said it was the law, that this is a Cath­olic coun­try. Savita said: 'I am neither Irish nor Cath­olic' but they said there was noth­ing they could do."
Irish people will hear echoes of Brendan Hodgers' testi­mony on the death of his wife Sheila. They will think of Olivia Kear­ney, her hus­band and oth­ers affected by the pecu­li­arly Irish prac­tice of sym­physiotomy. The notion of the "right to choose" in this con­text shocks and jars.
This right, such as it is, only applies where death is on the hori­zon. It is refused, denied, with­held even at the cost of women's lives; think of Sheila Hodgers, Michelle Harte, Anne Lovett. Think of the women whose cases are not repor­ted; who, hav­ing trav­elled abroad for abor­tion, or hav­ing impor­ted some abor­ti­fa­cient, place their health at risk because they can­not receive appro­pri­ate aftercare.
The European Court of Human Rights stressed that repro­duct­ive rights must be bal­anced against pub­lic mor­al­ity. But what a bloodthirsty thing this mor­al­ity is. As Patrick Hanafin has writ­ten, Irish law has, for a long time, sac­ri­ficed liv­ing cit­izens to pro­tect 'vir­tual' ones. Even if this case is the tip­ping point, lib­er­al­isa­tion of the Irish law on repro­duc­tion will main­tain an old, deep and abid­ing con­nec­tion to the polit­ics of death.
I was reminded yesterday of some­thing said recently by Donal Bar­ring­ton, who was the bar­ris­ter for Mary McGee in her Supreme Court case which estab­lished the right to mar­ital pri­vacy — in essence the right of mar­ried couples to use con­tra­cep­tion. Mary McGee argued that a fur­ther preg­nancy would threaten her life. Bar­ring­ton remem­bers that, on the wit­ness stand, her hus­band was asked whether he was happy to think of his wife using con­tra­cep­tion. He said that he would rather have her use it than "put flowers on her grave". Irish law must move bey­ond this old insist­ence on tak­ing host­ages, mar­tyrs for rights.
Originally published on Critical Legal Thinking.