Quinn's charm won't answer the hard questions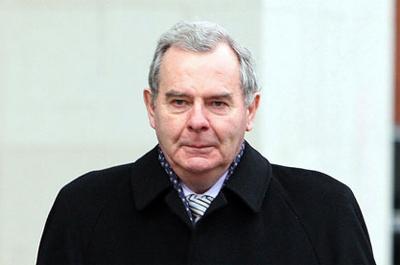 Seán Quinn is an able, personable fellow - and an exasperating interviewee. By Vincent Browne.
There is a charm about Seán Quinn, and a quiet sense of humour. He is very much in control of himself, but there is an anger there too, which seems to be distorting his judgment, giving rise to a strong sense of victimhood and an impulse to strike back.
Even in a private conversation, I found it impossible to get him to focus on how he and his family breached court orders not to put assets out of reach of IBRC (now incorporating the former Anglo Irish Bank) - for his focus is entirely on what he sees was done to him by Matthew Elderfield, the Financial Regulator, and by the management of Anglo Irish Bank that took over from Seán FitzPatrick and David Drumm.
He doesn't come out and say as much, but he appears to feel that he has been unfairly treated because, from his perspective, he was "done in" by the State, via Anglo and the Regulator. They even insisted on making him bankrupt in this jurisdiction to no point at all except to humiliate him, he claims.
He acknowledges that he was wrong to raid the cash reserves of Quinn Direct Insurance for €277 million to meet margin calls on his Anglo contracts for difference (ie, the margin between his deposit on the shares and the price at which he contracted to buy the Anglo shares).
But he remains convinced that if Quinn Direct had remained in his ownership, he would have been able to make such a success of it that he would have been able to repay the full €2.8 billion loans to Anglo - he is dismissive of the suggestion that the black hole that has emerged in the insurance company of €1 billion plus had anything to do with his stewardship.
Quinn is an able, personable fellow - and an exasperating interviewee. The personable side of his personality was, I suspect, central to his success as a businessman and also part of the explanation for the support he enjoys in the border region in his current travails.
The reason why he is an exasperating interviewee is because he just won't focus on the question asked. This might simply be an evasionary tactic, but, I suspect, it is also because his mind is so full of how vindictive the "authorities" and the media have supposedly been towards him.
We first met on 23 July, in Dublin's Red Cow Hotel for an off-the-record briefing. He was accompanied by his son-in-law, Stephen Kelly, and an adviser, John Maguire, who is involved with one of the support organisations.
They were friendly, helpful, open (I thought) and cooperative, offering access to any documents we asked for, repeatedly insisting on how unfairly treated Quinn had been, and how bizarre it was that one of Ireland's most successful businessmen was disbarred from rescuing the enterprise he created and repaying all he owed. Quinn himself said he would not do a television interview, but then did radio interviews and agreed ten days later to do TV.
There were no preconditions, no excluded questions, no demands. He was comfortable throughout, never cross, but relentlessly failed to answer some questions, I felt. Afterwards, he felt he was not given adequate time to answer some questions.
His indignation is sharpest over what he perceives as the injustice done to his family: the jailing of his son, the pursuit of his nephew, the identification of his new daughter-in-law as a special media target, the attempt to take what he sees as his children's lawful property from them because of something he may have done.
He is confident that his family's challenge to the order freezing their assets will be successful because the assets were backing loans that he says were illegal and, anyway, they did not give fully informed authorisation to the guarantee.
The issue of whether the sale of part of the bank to the so-called Maple 10 was legal, devised in the summer of 2008 to rescue Anglo from the debacle caused by Seán Quinn, will also be played out in the criminal trial involving Seán FitzPatrick and others in the autumn. And if - then or on another occasion - the deal is found to have been illegal, then assets of the Quinn family may revert to them: assets worth in the region of €500 million.
A curiosity of that arrangement is whether it had the authorisation of the Financial Regulator, the Central Bank, the Department of Finance and the Minister for Finance. If any or all of these entities gave approval, even encouragement, then what? Or even if they knew in advance about it and didn't try to stop it? Or knew about it afterwards and didn't tell the Gardaí?
And what is it about that scheme that we all knew about at least two years ago that has taken so long to bring to trial? Or will take so long to bring to trial, for with further procrastinations this trial might not happen until 2013.  {jathumbnailoff}