A political showdown on universal health care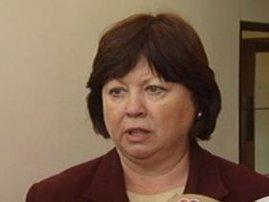 The idea of universal healthcare is gaining public and political momentum in Ireland. But the current government is unwilling to make strides in this direction. By Sara Burke.
Last week the Irish Medical Organisation launched a document on universal healthcare coverage and the Adelaide Hospital Society held a conference on financing and organising social health insurance in Ireland. What did the respective bodies have to say and where do our political health leaders stand on these proposals?
(Picture: Minister for Health, Mary Harney)
Obama's White House special advisor on health Dr Ezekiel Emanuel was the opening speaker. Dr Emanuel spoke in detail about the amount of change currently being introduced in the US healthcare system and about the struggle it has been to introduce that change, which he described as "a monumental event of world-historical proportions".
It was positive to hear the detail of the changes in healthcare that are happening in the USA, although Dr Emanuel managed to avoid explaining the importance of dropping the public option for insurance coverage, which ultimately may be the reason behind the government's failure to bring down insurance and healthcare costs.
What was most interesting was Emanuel's insight into how politics can bring about significant and positive change on how health services are provided - and if they can do it in the USA, then surely change is possible here.
Each of the three main opposition political parties were asked to respond to the Trinity Social Health Insurance (SHI) and Adelaide Society proposals. Instead they laid out their vision of what type of health system they would introduce if they were (and when they are) in government.
Enda Kenny, Eamon Gilmore and Caoimhghín Ó Caoláin each spoke for about 15 minutes.
Enda Kenny's speech presented his party's healthcare proposals in a far more polished and well-thought out way than his previous speeches have. Fine Gael's proposed FairCare policy would take the form of universal access to all health services withadditional compulsory private health insurance, which the government would provide for those on low incomes.
Considering that the Labour party were the first to propose a social health insurance model in 2001, Eamon Gilmore is naturally very supportive of such a model. But Labour's proposals differ from the proposals outlined by the Trinity SHI in that they include competition between private providers and a public option.
Caoimhghín Ó Caoláin advocated Sinn Fein's policy of a universal, tax funded system where access is based on need, not ability to pay.
Each supported a universal system of healthcare, despite differences in detail of how they would do this.
The upbeat nature of the event was palpable, where political and health service change seemed a possibility.
However, the mood changed when Minister Harney spoke.
Ms. Harney gave a wide-ranging speech, over 5,000 words in length, where she made her position on healthcare provision clear. She welcomed the opportunity for honest debate and then very quickly dismissed any proposal of social health insurance or universal healthcare. Her body language was telling as she stood behind the podium with her arms firmly crossed.
Ms. Harney repeatedly spoke of the limitations of health budgets despite the fact that throughout the conference there was a focus on how best to raise and spend money on health in a environment of limited resources.
The Trinity SHI proposals include a range of options, most of which do not involve additional expenditure. What is most interesting aboutall the proposed social health insurance models is that they ensure quality health services with universal access where efficiencies are possible and incentivised, with payments coming out of an ear-marked, social health insurance fund.
The Minister clearly outlined how she believed co-payments are good things, saying "I am a big fan of co-payments" and defended the recent introduction of prescription charges for medical cards holders – despite a raft of international evidence (which I have written about recently) indicating that this inhibits people who need the medication from taking it.
Mary Harney failed to address a serious concern of all the previous speakers - Ireland's unequal system of care which continues to privilege private over public patients within the public hospital system. She also did not address how the current, tax-funded system could address issues of inequality and transparency.
Most interestingly, the Minister repeatedly emphasised how 'a pure one-tier health system' is not on offer. By this she meant there will always be voluntary and private, including for-profit, healthcare providers.
Nobody speaking at the conference contended this issue, but all the other speakers stressed the inequality and unfairness in providing private (often for-profit) care within the public hospital system. Mary Harney's speech showed quite clearly that she believes thatuniversal health care financed through social health insurance is not an option for the current government.
The absence of Fianna Fail and the Greens at the conference was notable. I rang the Fianna Fail press office the day after the conference asking for their health spokesperson and their response to the SHI proposals and was told that 'government policy is Fianna Fail policy' and to put my query in writing (which I did, more on this anon).
I spoke to Niall Ó Brolacháin, the newly appointed Greens spokesperson on health (since Deirdre de Búrca's dramatic resignation), and he said the Greens fully supported 'universal access to a one tiered health system, funded by social health insurance'. When I pointed out that this was completely contradictory to government health policy he said it was inconsistent in the short term but not in the long term.