The optics are not looking good for Fine Gael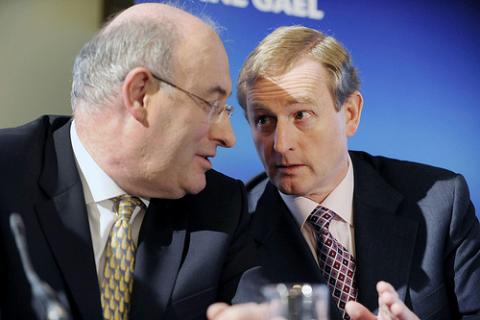 The optics are looking bad for a government that is desperately trying to distance itself from the malfeasance of its predecessors. By David Johnson.
The timing of the publication of the Mahon Tribunal gave us one of the best photo-ops in recent years, coming as it did just three days after An Taoiseach Enda Kenny stood proudly in the New York Stock Exchange ringing the opening bell shortly after Paddy's Day, following in the footsteps of such notables as the Smurfs and SpongeBob Squarepants. There on the podium beside him (but with another body or two placed strategically between them) stood one of Ireland Inc's greatest tax-exiles, Denis O'Brien.
This modern day Earl, who despite his flight has still been courted by successive governments for his profound business insight, was the subject of a number of findings in the Moriarty Report, which stated that it was beyond doubt that then Minister for Communications Michael Lowry "imparted substantive information to Mr. O'Brien, of significant value and assistance to him in securing the license [for ESAT Digifone]", and simultaneously Mr. O'Brien made or facilitated payments to Mr. Lowry of £447,000 and support for a loan of £420,000. Standing next to someone who seems to have been pretty explicitly implicated in such a massive scandal is probably not the best move to assure the citizenry of the current Government's break with the corrupt practices of previous administrations.
Around three weeks after this photo-op, it emerged that O'Brien - through an Isle of Man based company called Millington - had bought a company called Siteserv, for €45m. At the time it was reported that Siteserv had the contracts to install Sky TV boxes, and had a few service contracts with the ESB. The purchase raised a number of eyebrows because Siteserv owed Anglo Irish Bank around €150m, so Anglo (now IBRC) had to approve the sale, and in doing so wrote off over €100m of debt. After the sale it was reported that at least two other bidders had submitted higher offers for Siteserv, one for €52m and the other for €60m. As a State-owned enterprise, Anglo's remit is to get as much money back for the State as possible. Remember that it is largely as a result of Fianna Fáil bailing out Anglo with loans and promissory notes tied to the public purse that our economy has collapsed and we have had to hand over economic sovereignty to the ECB and IMF. Overseeing the sale of Siteserv on behalf of Anglo was Arthur Cox. Overseeing the purchase of Siteserv on behalf of Denis O'Brien was, um, Arthur Cox.
Last week Minister for the Environment Big Phil Hogan rolled out the latest in a long line of ill-conceived austerity measures, when he announced details of how the IMF-mandated water metering system would work. Let me state for the record here that I am in favour of water metering - water is a precious resource and too much is wasted on fripperies like car-washing, lawn-watering and the like, and while free access to potable water should be a basic human right, anything above a certain level should be metered and charged for. However Big Phil made a mess of the announcement, with mixed messages about how the costs of meter installation would be borne. But after all the concern over a possible upfront payment died down public disquiet rose again when it was suggested that the cost of each meter installation would be up to €800 per household, spread over a number of years as a standing charge on the monthly water bill, similar to line rental on a phone bill.
Big Phil announced the estimated charges a week after he awarded the contract to run the new national Water Board to Bord Gáis, the semi-state body responsible for managing Ireland's natural gas network. Interestingly enough the award of the contract to Bord Gáis came less than two weeks after Denis O'Brien bought Siteserv, and a month after O'Brien and An Taoiseach shared a balcony at the NYSE. Why is this interesting? Well because SiteServ (through its subsidiary Sierra) is a large contractor for Bord Gáis, responsible for installing and maintaining their domestic boilers in a deal worth up to €100m since 2010, and as an existing contractor for Bord Gáis that already has an interest in water-metering it now stands in a prime position to be awarded the contract to install government-mandated domestic water meters into almost every household in the country.
If you're wondering why you haven't heard too much about all this it is because in the last week a major reshuffle has been taking place in the Irish media landscape, with Gavin O'Reilly, son of Ireland's other great flown Earl, Sir Tony O'Reilly, being forced to stand down as head of Independent News Media, owner of the Irish Independent, Sunday Independent and Evening Herald newspapers, in a coup orchestrated by one of the largest shareholders in the INM group, Denis O'Brien, as part of his bid to gain full control of the group and its titles. When combined with his existing radio empire (O'Brien owns Today FM, 98FM, Newstalk and Spin 103) it would place a substantial portion of Irish private media into the hands of single person.
A single person implicated by the Moriarty Tribunal in a major corruption scandal involving government ministers and the securing of a lucrative mobile phone license. A single person who shared a platform with An Taoiseach and met with the Minister for The Environment as he was buying a company with the approval of a Government body for below cost and as the lowest of three bids, two weeks before the Minister for the Environment announced the awarding of the contract to run the national water service to a body with which this company had a substantial relationship.
Given the fondness that Mr O'Brien has for legal action against his critics, I am certainly not suggesting any impropriety on his part here. What I will say is that, at the very least, the optics of this all look very bad for a government that is desperately trying to distance itself from the malfeasance of its predecessors. {jathumbnailoff}