Looking back at a tortured century

Penguin recently launched a series of books entitled Central European Classics, which highlight the tragedy of the twentieth century. By Shane Creevy.
The books are designed to showcase writing from the region and include novels, short stories, dystopian satire, short fables, memoirs and essays.
Cynicism and despair are recurring themes in the series. This is most notable in E.M. Cioran's A Short History of Decay, a collection of essays depicting the fractured nature of civilisation in mid-twentieth century continental Europe. After the destruction of the second world war, Cioran rails against systems of belief that humans might conceive as worthy of fighting for.
(Picture: E.M. Cioran)
These aphoristic essays are often witty, perplexing, indulgent and nihilistic with observations such as "a civilization begins to decline the moment Life becomes its sole obsession", "the merest illiterate and Aristotle are equally irrefutable – and fragile" and "our truths are worth no more than those of our ancestors".
Cioran seeks doubt. If everything is valid, he says, nothing has any importance. Knowledge is therefore arbitrary. We must embrace uncertainty. We propose ourselves to be superior to the ancients, says Cioran, but the question remains whether we really are more enlightened than those who came before us.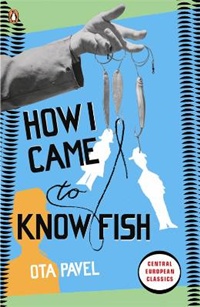 Slawomir Mrozek's The Elephant is a collection of short stories satirising life in Poland under a totalitarian regime. His stories delightfully poke fun at bureaucracy. Absurd and bizarre, these are worth reading if you want to know what happens to a schoolchild obsessed with snails, a wife who realises her husband is made of plasticine, a narrator who wants to be a horse and a man who takes a swan to dinner.
There is also, of course, the story from which the collection takes its name, a brilliant parody of officialdom (and elephants). Mrozek clearly had sparkling wit and a vivid imagination.
How I Came To Know Fish by Ota Pavel is a memoir of the author's childhood in Czechoslovakia during the second world war. Published in 1974, the author traces the past through the hook of a fishing line, remembering the events surrounding not only how he came to know fish, but also how his father used this knowledge to feed the family when he was sent to a concentration camp.
The book is a collection of short stories, though each is combined by recurring family members and the time span of the second world war.
Pavel's father is a particularly interesting character. Through various short stories we see that he began as a fisherman but became a salesman for Elektrolux, selling refrigerators and hoovers very successfully. He was their number one salesman.
Pavel's short story In The Service of Sweden recounts his love for the boss's wife, Mrs Irma, and his attempts to have the most brilliant painter in Czechozlavia immortalise her.
The Central European Classics are presented in bright covers and offer a refreshing glance over a dangerous century.
Series editor Simon Winder told Politico: "I came up with the idea for the series after a visit to Krakow last summer when I talked to a publisher who had known Milosz who berated us for publishing Milosz so badly, as his essays [which are viewed as one of his great legacies in Poland] are hardly known. After reading lots of the essays I realized that he was right and started constructing the series around this."
Winder said that he hoped the series would "open people's eyes to the amazing writing from Central Europe and allow them to go on reading and reading".
Other titles in the series include Life Is A Dream by Gyula Krudy; The Snows of Yesteryear by Gregor von Rezzori; War with the Newts by Karel Capek; The Cowards by Josef Skvorecky; Proud To Be a Mammal by Czeslaw Milosz; My Happy Days in Hell by Gyorgy Faludy and Old Master by Thomas Bernhardt. Politico will review more of the Central European Classics series in the weeks to come.