Life-saving mobile phone app to avert road crashes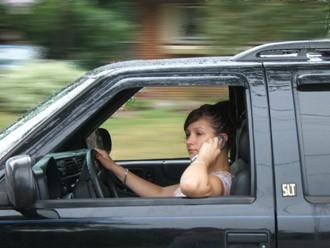 A mobile phone application has been developed which could reduce road crashes worldwide. The technology, named iZUP, uses GPS tracking in smartphones to detect the speed at which the phone is moving in a vehicle. At speeds of over 5 miles per hour, calls are automatically routed to voicemail, text messages are held and only outgoing certain emergency numbers may be used. The app can be temporarily disabled for public transport trips, and Illume Software, who developed the app, told Politico that "a seamless solution in which the phone can automatically detect if you are on public transport is being developed".
The phone app was tested by LA Times who report that there is a slight delay before iZUP recognises an increase in speed, but that by and large, it serves its purpose.
A 2008 Road Safety Authority (RSA) document says that we are four times more likely to have a crash when holding a mobile phone (this statistic is provided to the RSA by the Deparment of Transport UK). The number of driving charges issued for mobile phone offences was 32,454 in 2007, 41,243 in 2008 and 12,109 to July of 2009, lower than previous years for the same period.
Irish law on the use of mobile phones while driving is as follows, according to the RSA:
"You can only use your mobile when you're driving if you are phoning 999 or 112, or it is another type of emergency. It is an offence to hold a mobile phone in your hand or support it with another part of your body, for example between your head and shoulder, when you are driving.
"If the Gardaí charge you for this offence you will get a fixed charge notice of €60. If you pay the fixed charge you will get two penalty points. If you choose not to pay the fixed charge and are then convicted in court you will get four penalty points and a fine of up to €2,000.
"Using a hands-free kit with your phone is not illegal, but it will stop you concentrating for a short time when you use your mobile phone and this puts other people using the road at risk. You could be prosecuted for dangerous driving, careless driving or driving without due care and attention because of this. And you could also have your licence endorsed or even lose your licence."
iZUP costs approximately €50 per year from www.getizup.com, though it could be subsidised by the Department of Transport in Ireland, or the Road Safety Authority. Illume Software said that iZUP will work on phone networks outside the US, and that they are "in discussions with several channels that will deliver our solution outside the US".
iZUP is available on Blackberry phones, and handsets operating on Google Android and Windows Mobile.  For more: getizup.com.
Article Updated on 16 December 2009, 16:50 with responses from Illume Software