Inquiries but no clarity on missing €2.35m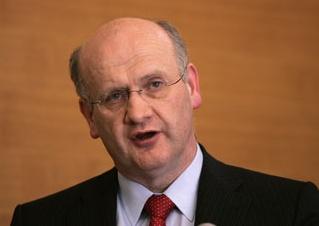 HSE and Dept of Health are ultimately responsible for unaccounted €2.35m. By Sara Burke.
So what has happened to the €2.35m of public money that was channelled through the HSE to the Siptu union?
HSE chief Brendan Drumm says he has no idea.
Siptu say they never received that money.
What was this fund for, how was it spent and why on earth did no state agency take responsibility for the annual €250,000 fund over eight years?
(Picture: Brendan Drumm, Chief Executive Officer of the Health Service Executive)
The unaccounted and ungoverned €2.35m was part of a €60m fund (€12m over five years) agreed between government and the unions to upskill non-clinical staff in the health service such as porters, caters etc. The vast majority of the €60m was spent on training these low earning health service personnel.
This specific fund was, according to reports in the Irish Times, used for 'human resources and personnel development schemes and the development of union management partnerships of best practice in health enterprises'. Some of this fund was used for a series of 'study trips' to foreign countries to learn about their health systems.
No one is denying that these 'study visits' took place and some of them were to faraway places - Canada, USA (New York, Boston, Savannah, New York in 2006/7/8/9), Australia (2005), via Hong Kong, the UK and Sweden.
However an internal HSE audit into this specific fund has found that there were
• weaknesses in governance, control and accountability of the funds
• poor or no records of travel, hotel and other spending on the trips
• no compliance with HSE policy on foreign travel.
The Department of Health has confirmed that a small number of its officials took part in these study trips. The Department of Finance said one of its mid-level officials also took part. The HSE have confirmed that some of their its took part and there were the union reps on these trips.
It is my understanding that it is not just Siptu reps but other health service unions that participated in these trips and this programme.
This story is hard to pin down as there is very little official information apart from a mention in the HSE annual report. A central question is – if this money was allocated since 2002 why are we only finding out about it now? The HSE say that this fund came on to their radar in 2008 and that an audit began in April 2009 because of concerns about the fund. This audit has been completed in the last three weeks and was mentioned in the HSE Annual Report (which was published on Wednesday, 16 June).
The audit clearly shows that there was no proper governance or accounting for this fund between 2005 and 2008. The HSE was responsible for paying it since 2005. Prior to this it was the Midland Health Board's responsibility.
In advance of the HSE annual reports publication, the story was leaked to the media and first appeared in the Sunday Times on June 12. Since then there has been daily coverage based on leaks but the story largely went under the radar last week with the Fine Gael leadership antics.
The annual grant of €250,000 went into a bank account called the 'Siptu National Health and Local Authority fund'. However Siptu say they never received the money, that it is not their account and that the money is not in their audited accounts. They are carrying out their own internal enquiry but say they are awaiting the HSE audit before they can complete it.
Siptu are also investigating one of their officials.
The HSE is continuing its own internal investigation and has referred it to the Garda and the Controller and Auditor General. And both the Departments of Finance and Health have set up their own enquiries.
So there are lots of enquiries but no clarity on this issue.
Siptu's Jack O'Conner was quoted in one of the Sunday papers saying that it was 'extremely damaging' to the union and questioned the timing of the story breaking.
This is public money allocated by the Department of Health through the HSE to a union on the back of an agreement with government. Those State agencies are responsible for the correct governance and accounting of any public funds.
Last week Brendan Drumm was distancing himself from it saying he could 'give no good answer' as to what the money was used for and why it was channelled through the HSE. The Departments of Health and Finance are also trying to distance themselves from it. The union is saying they never received the money.
This is one pot of money that no one wants to be responsible for. Quite clearly there is a stand off between the HSE and the Departments of Health and Finance on this – all of whom were involved, along with the unions.
On June 22, the Chair of the Public Accounts Committee Bernard Allen said: "From what has emerged over the past week, it raises very serious issues over governance and control of State funds relating to the Department of Health and Finance and the Health Service Executive – who apparently allowed the money to pass through their accounts without adequate controls."
He said the Comptroller and Auditor General will address aspects of how the fund was spent in his annual report. Once this is completed, the PAC will address outstanding issues. This is significant as all other investigators have a vested interest in the fund.
It does seem extraordinary that in such recent times, such large of amounts of money can go from State institutions with little or no governance or accountability. There is more to come from this story.