IMPACT and HSE stand off critical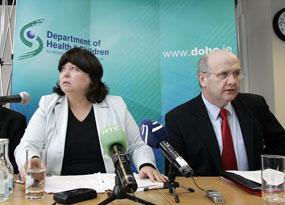 The show down between HSE management and IMPACT members has the potential to cause mayhem in the health system, as well as increasing the likelihood of union rejection of the Croke Park deal. By Sara Burke.
Public sector workers have been limiting their activities on a work-to-rule since the end of January, engaging in various kinds of action including non-cooperation with reconfiguration, redeployment, and not answering phones.
This action was a direct response by the unions to the pay cuts introduced in December on top of levies already imposed. These measures have hit low income public sector workers particularly hard.
(Picture: Mary Harney and Professor Brendan Drumm, CEO of the HSE)
As part of this action, IMPACT members in the HSE are not reporting on financial and activity information. Three months on, this is now having a significant effect, principally for HSE management. It is a very clever form of action as frontline services are continuing as usual and patient care is not being affected.
The HSE say they can live with most of the work-to-rule. However the non-collection or non-reporting of financial and performance information is critical for HSE management for a few reasons.
This year the HSE needs to make €400m in savings in order to live within its budget. And the CEO of the HSE Brendan Drumm is personally responsible for the HSE to live within their budget allocation. Without the detailed information, the HSE have no idea if their target savings of €400m is on track.
As a HSE senior director said to me yesterday, it's like signing checks without knowing your bank balance. They just do not have the information on what has been spent where.
Although their executive have already rejected the deal, IMPACT members are in the process of considering the Croke Park deal and are considering it again next Thursday.
There are two reasons this is coming to a head now.
Firstly, the HSE board met to discuss this matter on Friday 23 April where they put in place their National Crisis Management Team and leaked a comprehensive 12 page memo on what their options are for dealing with the current action.
Secondly, the HSE and IMPACT were back in the Labour Relations Commission (LRC) this week and perhaps the HSE were hoping to get a result from that. The LRC talks broke down at 1am on Wednesday morning and at the time of writing the two sides had not been in touch.
There are many things within the Croke Park deal (redeployment of staff, longer working days, cooperation with transformation) that IMPACT say they are ready to sign up to if agreed. But there is also a clause in the Croke Park deal in relation to ongoing discussions between the HSE and IMPACT on a 2004 Framework Agreement.
In December 2004, just days before Christmas and before the HSE came into existence, the acting HSE CEO Kevin Kelly did a last minute deal with IMPACT. This Framework Agreement was brought about due to the absence of adequate planning and clarity on the new structures of the HSE. The 2004 agreement guaranteed all previous health board staff security of employment, permanent and pensionable status, terms and conditions no less favourable than they already had, and no relocation unless agreed.
IMPACT wants clarification on the job security of their members under the new agreement. The HSE say they are happy to clarify but that they cannot renegotiate a side deal with IMPACT while the Croke Park deal is being voted on.
The HSE plan is to cut money from overall budget now so as to have a contingency if overspend emerges later in the year – this will directly affect patient care sooner later than later.
The other HSE option is to discipline staff which will cause an escalation of action across the HSE and perhaps the public sector which in turn could sabotage Croke Park deal.
There are no easy options here…