Hundreds show their support for carers at Dublin protest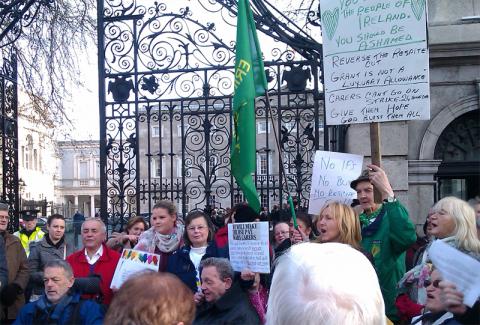 Hundreds attended a lunchtime protest outside the Dáil yesterday in support of carers who will be affected by cuts announced in last week's Budget. The protest was organised by The Carers Association.
Protesters were demanding the reversal of the 19% cut in the Respite Care Grant announced in the Budget. The cut amounts to a loss of €375 per year for an individual carer.
One of the attendees at the protest, Niall Murphy from Co Offaly explained the hardship his family face and how this cut will affect them: "My son Ryan is 12 years of age and has autism. He is severely autistic and non-verbal. My wife is a full-time carer and she can't do anything else. If you break down the carer's allowance and what she actually receives she probably gets less than €2 an hour. It's very difficult and to cut this grant is absolutely terrible. We use it for buying services for Ryan, buying materials for Ryan and to try and get a break for my wife because she is there full-time. To take €375 from us is an absolute disgrace and the Government is showing how much they don't care. It really is an appalling situation we are in. We know the country is in dire straits but this is not one they should have cut."
Tracey Holsrove a carer from Oldtown, Co Meath, said the cut would make life harder for carers.
"I am a full-time carer from my daughter who has complex physical and intellectual disabilities, who is in nappies, who only has a few words and is wheelchair bound but is also the light of my life. I am her full-time carer; I am on call 24 hours a day, 7 days a week and 365 days a year. I get €61 a week carer's allowance, now if you break that down at an hourly rate, I think I am working for minus, minus, minus the minimum wage. I do it out of love, all of us here do. Everyone who is here today is representing at least a thousand other people whom they know and are carers. We are exhausted and worn out. This cut to the Respite Care Grant is going to make it so much harder for so many people. We use it for a family holiday because my daughter is too young to go into respite. It's the only break we get every year and a cut of €325 will hugely impact on this because when you are dealing with a person who is wheelchair bound, you have to get a wheelchair adapted car, which is harder on fuel, so to go anywhere it costs more money. Also, you can't book into any hotel or B&B because it has to be wheelchair accessible, which can be more expensive. This government is saying they are here to protect the most vulnerable. Well I am going to use a slightly impolite word here, but what a crock of shit. Find someone that is more vulnerable than the people campaigning here today or my own child and then come back to me."
Many at the protest were critical of the Government's role in the situation. Sinn Féin TD Aengus Ó Snodaigh was one such.  "This cut needs to be reversed. It's against everything the Government said they stood for when they put their Programme for Government together. They said they would protect the most vulnerable but these people are the most vulnerable and there are alternatives."
Ó Snodaigh suggested alternative actions the Government could take, saying, "One of the proposals I have put is a social welfare amnesty bill and this would raise €55m in a given year, but there are other options. We put in a number of proposals as did the trade unions and the Government needs to look at these and find another way to save the money."
The Social Welfare Bill, which includes the Respite Care Grant cut, went before the Dáil last night and the vote is expected to take place on the legislation tomorrow.
Image top: Paul Walsh.