Health workers' strike set to proceed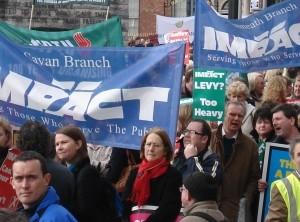 Despite a day of protracted talks on 28 October, health sector unions emerged ready for 24 hour strike action, due to take place on 24 November. Very little of the detail has been worked out in terms of duration or services affected but it is safe to predict that if it goes ahead:
* it will, in effect, be like Christmas day with minimal services available
* Nurses will continue to staff wards with emergency cover
* The Irish Nurses Organisation are at the talks but have no plans to ballot yet - but their members will provide emergency cover if on strike
* Planned procedures, out patient and day services will be closed or postponed
* it's unclear what will happen in community and continuing care, e.g. intellectual disability, nursing home care
* nominal levels of care and will have knock in implications for the health services and will cause disruptions to patients
It is complicated by the fact that different unions are balloting on different demands even in the health sector
Unions say:
* action will go ahead unless the government withdraws the threat of a second public service pay cut in less than a year
* they are being forced into strike action by the Government's refusal to consider alternatives to pay cuts
* With the pension levy imposed in March, every public servant believes they have already suffered a 7.5% pay cut this year
* There is very high union support in favour of strike action
The nature of negotiations seemed to take a political shift this week when goverment met with the public sector unions on 28 October. Usually health sector unions negotiate with the HSE's Human Resources department or its CEO (although in Social Partnership talks, the Department of the Taoiseach takes the lead). Not so this week - the Department of Health and the Department of Finance were involved in negotiations.
The main issue is how a further €500 million can be cut from the health sector so that €4 billion in 'savings' can be achieved by the state. On Thursday last, the government outlined how €500 million of €1.3 billion had to come from the health service pay bill. And the government said that this 'saving' is additional to savings already made from the jobs moratorium – 3,000 a year for 2 years (amounting to  €175 million), and €900 million less in next year's health budget.
So we are back to Mary Harney's figure of €1.4 billion in cuts in the health sector. Unions say this is not possible without dismantling the public health and social care system. Government are saying it has to be done.
So is there any way of putting off or stopping this action on November 24th?
Before it goes ahead, unions have to ballot their members. Under legalisation, unions must talk to HSE and agree how and what care is provided on the day. Also, it is not agreed that strike action will be for one day only; Union people I spoke to say that there will be a series of strike action between 24 November and budget day.
So what's needed to stop a strike? IMPACT demand that the pay cut be abandoned. Liam Doran of the INO says that the tax base must be broadened to tax those who gained most during the boom. He also wants government to eliminate the tax breaks. SIPTU say the state must invest more to improve the quality of public services, arguing that Ireland still spends less than all of it's EU neighbours on public services. HSE management and government say that the non-core tax bill must be cut (presumably, what is meant by this is that certain health services are "non-core").
Currently all sides are far from agreement.