Gormley vows to levy incinerator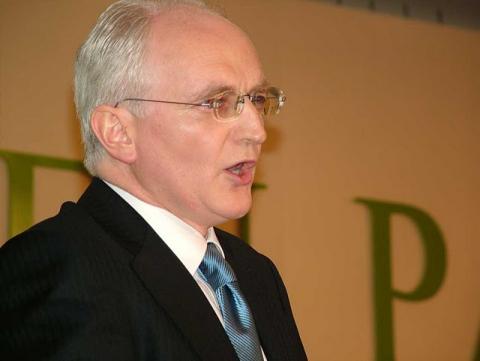 Levies will be placed on the operation of the proposed Ringsend incinerator "regardless of threats by Covanta to sue" Minister John Gormley told a local meeting in October. By Sandy Hazel
John Gormley assured residents that figures quoted in recent media reports "are wrong" regarding the costs of stopping the controversial incinerator project at Poolbeg. "The figures just don't stack up," said Gormley at a meeting of the Sandymount and Merrion Residents' Association (SAMRA). "The cost of going ahead with this project far outweighs the cost of ceasing it," he said.
Gormley said the Waste Miscellaneous Bill will provide for levies despite claims by Covanta that this would contravene EU law. "I will pursue this vigorously, it is not a contravention," said Gormley. While he reaffirmed his opposition to the incinerator by saying that the method was not really energy recovery but "just a little above landfill, it is disposal" Gormley went on to say that he "wouldn't say no to thermal treatment, but not where everything is burned".
Gormley's powers as minister for environment were questioned at the meeting. A Minister for the Environment cannot get directly involved in planning or environmental laws. Asked by the floor why this couldn't be changed by a single line bill the minister replied that he "could set policy but not laws". A contradiction seemed evident at this stage: would the promised 'vigorous pursuit' of levies as part of any waste management bill be a policy or law? Despite assurances residents are as unclear as ever on the status of the incinerator.
Full version of this article will appear in News Four December issue