Gormley under pressure to deliver Climate Bill
Pressure mounted this week on Green Party leader and Minister of the Environment John Gormley to publish the Climate Bill promised in December 2009. Then, John Gormley said the bill would be delivered by the end of 2010. By Malachy Browne. Photo (left) and protest video (below) by Paula Geraghty.
On 11 December 2009, John Gormley unveiled the Framework for the Climate Change Bill 2010 which he described as "the cornerstone of our efforts in meeting ever more demanding national and international obligations post-Kyoto". (Details below)
Deputy Gormley said: "If we don't prepare properly for the climate change impacts that are already occurring and which will intensify over the next number of decades the long-term costs to the exchequer and to society in general will be immense."
The Framework document (embedded below and downloadable here) has yet to be delivered as a Climate Change Bill. The Green Party will leave government in early 2011 when the Dail is dissolved and with an approval rating of 3% the party is highly unlikely to be returned to government. Indeed, it is possible that not a single Green party TD will be elected in election 2011.
Given this prospect, and with relations already frayed between the Green Party and Fianna Fail, climate groups fear that the Bill will not be enacted. Two organisations, Stop Climate Chaos and Friends of the Earth, mounted a campaign this week to deliver the Bill.
Stop Climate Chaos says "a majority of TDs support a strong climate law for Ireland". According to its website, 85 TDs signed the Stop Climate Chaos "Climate Commitment" – a pledge supporting "a strong climate law for Ireland and new climate finance for developing countries".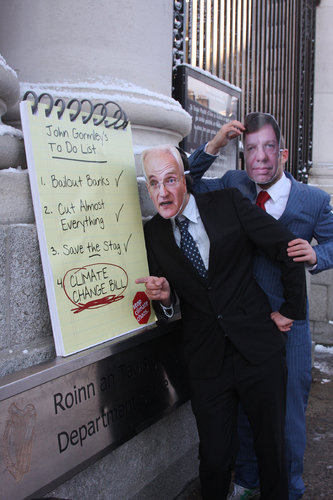 The group staged a protest outside Leinster House where characters dressed as John Gormley and Brian Cowen displayed Gormey's 'to do' list. Stop Climate Chaos launched an online email campaign asking supporters to tell John Gormley he has "one more thing to do" before leaving office.
Friends of the Earth took advantage of the sub-zero temperatures on Friday to stage a fitting demonstration outside the Customs House offices of the Department of the Environment. Activists built snowmen to protest that the Climate Bill has not yet been published. The snowmen held placards reading "No Climate Bill, sNOw Thanks" and "Hey John, Where's Your Climate Bill?"
In a press release, Policy Officer with Friends of the Earth, Molly Walsh said:
"The Greens absolutely must keep their promise and publish the Climate Bill before Christmas. They still have a chance to end a year of delay on a successful note. All that these snowmen want for Christmas is a Climate Bill."
The press release continued:
"Cabinet finally agreed a Climate Bill two weeks ago - almost a year after the Government agreed and published a Framework Document for climate legislation. A draft Bill had been promised for the first quarter of 2010. In his Carbon Budget speech to the Dáil last December Minister Gormley said the Climate Change Bill was "sending out a message to people here and beyond our shores of our intent, our determination, our sense of purpose in tackling climate change. It is a message that I am proud to take to Copenhagen." One year on Gormley still has nothing to show for his determination and has nothing to take to the UN talks this year."
Oisin Coghlan Director of Friends of the Earth said:
"Minister Gormley is running out of road. It was interesting when he announced the Greens' intention to leave Government last week the media assessments (Irish Independent and RTE News) of their time in Government all mentioned their failure to deliver the Climate Change Bill. There is still time to put that right, but only just."
At the Copenhagen conference in December 2009, John Gormley expressed a genuine frustration at procrastination in delivering Climate Law. Ironically he now finds this charge laid at his door.  
Friends of the Earth Snowmen Demand Action on Climate Change Bill from Paula Geraghty on Vimeo

John Gormley speaking last year about responsibilities on climate change. He expressed genuine frustration at procrastination on climate law, ironically a charge he finds laid against him.
Liz McManus speaking about introducing Climate Law.
Summary of Climate Change Bill, announced on Dec 11 2009 by John Gormley (full document below)
This legislation marks a key milestone in the battle against climate change and the legislative proposals contained in the document will shape and drive our efforts in tackling this core national priority. These provisions are a mark of our intent and ambition in this area and include:-
enshrining, for the first time, in national primary legislation key policies and principles which will guide and drive our climate change agenda into the future;
setting, also for the first time, ambitious statutory targets which include
a 3 per cent average annual reduction in net greenhouse gas emissions as outlined in the Programme for Government, but extended out to 2020, and
an eighty per cent reduction on 1990 levels of greenhouse gas emissions by 2050;
Enabling provisions will be included to allow these targets to be amended following the advice of the Climate Change Committee and in line with the evolution of scientific knowledge and international commitments;
Placing the National Climate Change Strategy on a statutory basis on the basis of a five year cycle with the first two strategies to run from 2011-2015 and 2016 to 2020
Placing the carbon budget process on a statutory basis based on a multi-annual approach as outlined in the NCCS
Placing the National Climate Change Adaptation Strategy on a statutory basis, following its publication next year.
Establishing a high level group of experts under a Climate Change Committee which will be supported by a new Office of Climate Change to be located in the EPA; and
Developing a system of monitoring and reporting which will impose statutory obligations on Government Departments and public bodies.
Framework for Climate Change Bill 2010
VIDEO: John Gormley interviewed on TV3 about the Green Party's decision to leave government in early 2011.