Giving the media some Gyp for a change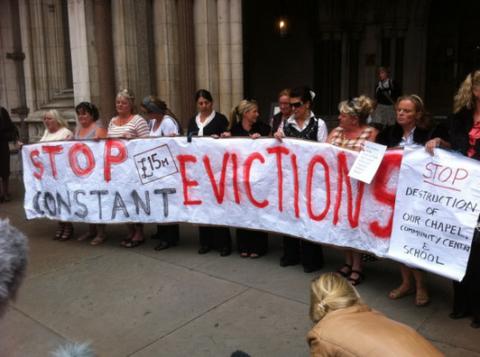 2011 was a big year for Gypsies in the media. From the ratings success of the controversial Big Fat Gypsy Weddings series in February, to the 24 hour international news coverage of the eviction of Britain's largest illegal Travellers site at Dale Farm in September, my community has never got so much attention. As a Romany journalist and a campaigner for better representation for my community in the media, 2011 has provided an enormous number of threats and some great opportunities. But have we become any better understood as a result of it? By Jake Bowers, a Romany journalist and broadcaster.
[This article was first published in the National Union of Journalists publication, The Journalist]
The year started badly in February when Channel 4 cashed in the access it had got to Irish Traveller weddings to make the Big Fat Gypsy Weddings series. By producing a series which was regarded as more of an insult than an insight by the Gypsy community, I felt as if 10 years of campaigning for a more balanced representation had been a complete waste of time. Its enormous ratings were matched only by the size of its televisual porky pies to produce a mockumentary series most Gypsies believe created more stereotypes than it challenged.
In March, a front page in another unlikely ally the Star proclaimed that a new TV show "Gypsies Got Talent" was the subject of a bidding war that would give Simon Cowell a run for his money. It wasn't true at the time, but it soon became so when Sky's Bio Channel commissioned an 8 part series based around an annual talent contest for the Gypsy and Traveller community. The resulting series, the enormously positive and entertaining A Gypsy Life for Me, will be broadcast for 8 weeks from November 15th . See www.thebiographychannel.co.uk/shows/a-gypsy-life-for-me.htmlBut this time the community was outraged and thousands of Romany Gypsies and Irish Travellers complained to OFCOM, Channel 4 and the tabloids they read on a daily basis. I was amazed when the Sun, who recently campaigned for Britain to "Stamp on the Camps", asked for a prominent comment piece on the series. Primetime TV shows from the One Show to This Morning were quick to give community representatives a balancing right to reply, proving that the biggest threats can always been turned into great opportunities. Channel 4 to its shame, denied it had done anything wrong and commissioned another series of Big Fat Gypsy Weddings for early 2012.
In August, Irish Traveller Paddy Doherty struck another blow for his community by winning celebrity Big Brother, forcing even the Daily Express to write something nice about an Irish Traveller for once. Using his new found popularity he urged people to actively resist the eviction of Dale Farm in Essex adding to the size of the media scrum at Britain's biggest illegal travellers site. After weeks of legal wrangling the riot police went charging in tasering and battering residents and protestors. In a Panorama programme I worked on in October, we were able to show what those Romany Gypsies and Irish Travellers who refuse to abandon their way of life regularly experience.
But if 2011 brought unprecedented threats and opportunities to provide a real voice for Britain's 300,000 Gypsies and Travellers there's little evidence as yet that it has produced much more sympathy. But the good news is that thanks to our own media www.travellerstimes.org.uk , which I edited until September, our community is more vocal and eloquent than ever before. So if there's a Gypsy story on your patch, now there's no longer an excuse not to give the Gypsy side of the story.
Image: Sean Rillo Raczka on Twitter