Delving into Ireland's mythic past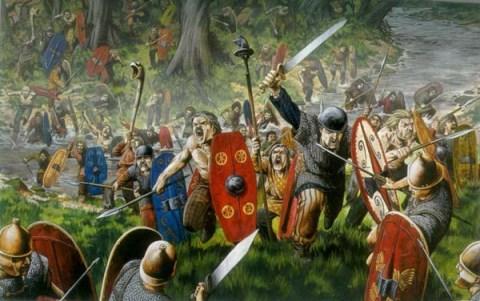 Stories are supposed to enchant us, to whisk us away to new or foreign worlds. Both Irish Tales and Vertue Rewarded, recently republished, accomplish this task.
The Early Irish Fiction project is a series of annotated, scholarly editions of Irish fiction from the long eighteenth century (about 1680 to 1820). The principal investigator is Professor Ian Campbell Ross. (Politico conducted an interview with him here.)
(Picture: Painting of the Battle of Clontarf, 1014)
His co-investigators are Dr. Aileen Douglas, School of English, Trinity College Dublin, and Dr. Moyra Haslett, School of English, Queen's University Belfast. The series, published by Four Courts Press and funded by the Irish Research Council for the Humanities and Social Sciences (IRCHSS), seeks to give light to lesser known works written about or in Ireland in the long eighteenth century. Each title in the series contains the main text itself with an introduction, a select bibliography, and substantial notes.
Vertue Rewarded is one of the earliest examples of Irish prose fiction. Published in 1693 in London, the main plot tells of the beautiful Marinda and her attempts to protect her chastity from the Prince of S_____g, who eventually yields and offers her marriage; her virtue thereby rewarded.
In a letter to the Prince Marinda writes, "these ways will not render your Highness Master of this Fort, which will never yield, but upon Honourable Terms".
The plot in itself is typical of other early modern novels – indeed, Samuel Richardson's Pamela (published 47 years later in 1740) follows much the same outline – but might not sound particularly fascinating for the modern reader.
At the beginning the (anonymous) author informs his readers that the following tale "makes Love triumphant at once over two of these his greatest enemies, the Noise of War, and the Vanity of Ambition; and shows you a Prince of great Valour, guarded equally in both of these, could not defend himself from the Powerful Eyes of a Forreigner, and one as far beneath him in Quality, as Love afterwards placed her above him, when he lay at her Feet imploring her Mercy".
What is interesting for the modern reader, however, is the joy of experiencing a foreign clime, except that this just happens to be set in Ireland. The reader must force himself to acknowledge that aspects of the tale are history (the author stresses that the tale is based on people he or she knew) while also recognising the work as fictional.
The experience of reading the novel is somewhat disconcerting: it is set in Ireland and recounts wars that actually took place, and yet it is difficult to know where the line between truth and fabrication lies. The reader is thrown into a world that is at once strange and familiar, an Ireland of the past that we might recognise from our history books, but that is nevertheless imagined.
The novel becomes particularly captivating with its variety of secondary tales which offer a commentary on the main plot. The most startling of these is the tale of Faniaca.
Faniaca recounts how she came to live in Clonmel. She was from Antisuyu in South America. When the Inca tribe came, together with the Spanish conqueistadores to despoil and terrorise her homeland, her father was saved by a noble Spanish warrior Astolfo. The pair fall in love but are separated and their attempts to find one another are a highpoint of the novel.
This interpolated tale shows that Irish writing, even the earliest Irish writing, engaged with the outside world. We were far from insular, as is illustrated by Marinda's fluency in French, but not in English.
All in all, things work out nicely for the Prince of S_____g and Marinda, although there are questions to be raised.
The author is not the only one of his time to focus on chastity as virtuous.
But the notion of a slightly errant, albeit beautiful, young Irish woman eventually marrying the sweet chivalrous English man, and thereby protecting her from the drunken slothful Irish man, supports notions of early colonial ideology. The narrator tells us that Marinda and Faniaca "submitted themselves to the power of their Youthful Conquerours [sic]".
The other work republished is Irish Tales. In the original introduction the publisher of Irish Tales, Charles Gildon, told his readers that the novel's "Foundation is laid on true History, and the Lady has so artfully Grafted the Fiction upon it, that the whole bears the pleasing Appearance of Truth and Reality".
Yet in her introduction, Sarah Butler tells us that she would have liked to tinker with the truth: she found no historical source that proved her two lovers ended up together but "I should indeed have been very willing to have embrac'd the Opportunity [...] of making them, after so many Misfortunes, to have ended their Trouble in the Marriage Bed".
So once again the reader is thrust into a historical novel which overtly accepts its wish to change the history with which it has been supplied.
Irish Tales was published in 1715 but is set far back in Ireland's past (the final sequence is the Battle of Clontarf in 1014). Brian Boru's son, Prince Murchoe, falls in love with the daughter of Maolseachelvin (King of Meath), Princess Dooneflaith. However the Danish tyrant Turgeius also has his eye set on her.
Butler describes Princess Dooneflaith as one "whom Nature had lavishly bestow'd all the Graces and Ornaments which could be, to make Humanity adorable; she was so nobly endow'd, and so incomparably Beautiful, that to see her, and not admire her, was impossible".
Read together, Vertue Rewarded and Irish Tales appear quite distinctive. Whereas Marinda is happy to fall for the foreign lord, Dooneflaith rejects the advances of the Danish Turgesius: "What, Wed a Tyrant! one whose wicked Hands have ransack'd all our Holy Temples, demolish'd all our Altars! burnt all our Churches, and raz'd our Monasteries, Ravish'd our Nuns, slain our Pious Priests".
However, Dooneflaith's cry for a sense of individualism is accompanied by the knowledge that she really has only one other option: Murchoe. Her choices are limited. It is up to the men here to act. Maolseachelvin has promised to deliver 15 virgins to the lecherous Turgesius. Even the somewhat rebellious Dooneflaith tells her father "send me to his Arms, where you will only lose a Woman's Life".
The role of women is compliant, subjugated and therefore, once again, might be said to foster notions of early colonial ideology. In an earlier time, when sex and control were intermingled, it was vital that chastity and virtue were taught to women who might otherwise have escaped the bondage of sexual repression.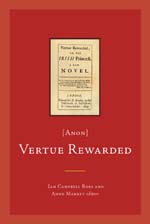 Vertue Rewarded by Anonymous
Edited by Ian Campbell Ross and Anne Markey
176pp; paperback
15 EURO
Four Courts Press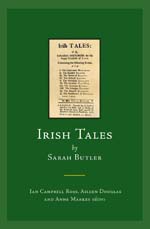 Irish Tales by Sarah Butler
Edited by Ian Campbell Ross, Aileen Douglas and Anne Markey
128pp; paperback
15 EURO
Four Courts Press