Davenport Hotel staff in battle to defend minimum wage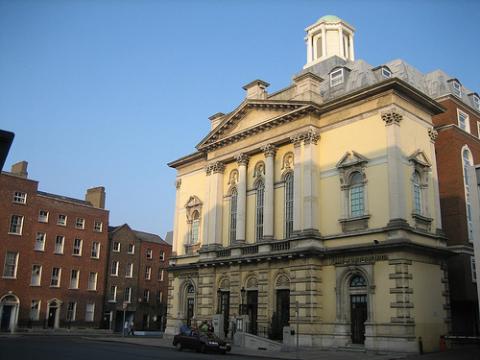 The O'Callaghan Hotel Group came under severe criticism today following allegations that it attempted to force five migrant workers to sign new employment contracts at the reduced national minimum wage. The women, who are all from Eastern Europe and who have worked for the Davenport Hotel in Dublin's city centre for four to six years, refused to sign the contracts and were taken off the hotel roster. By Christina Finn
Legislation which was introduced under the Finance Minister Brian Lenihan came into affect on 1 February 2011 and gave assurances that existing employees of companies on €8.65 an hour could not have their wage reduced without their consent. On the introduction of the new minimum wage, Minister Mr Lenihan said: "Anyone already working under a contract of employment that sets wages at or above the national minimum wage is entitled to continue to be paid those wages unless otherwise agreed between both the employer and the employee concerned."
SIPTU members at the Davenport Hotel mounted pickets this morning in support of the workers whose wages are to be reduced from €8.65 to €7.80 per hour. Staff at the hotel attended three meetings in the past three weeks where they were repeatedly told they must sign new contracts or face being taken off the roster and the payroll. They were not given a copy of the new contract, either in English or in their native languages. Some staff signed a new contract, however five workers at the hotel did not. According to RTE News, O'Callaghan Hotels has written to the five women giving them seven days to confirm that they will work for €7.80 per hour. 
SIPTU served strike notice on the hotel on 9 February over the hotel's decision which it regards as an effective lockout.
Speaking to Politico, Bill Abom the Deputy Director of the Migrants Rights Centre Ireland said they "congratulated and supported these great women for standing up against this attack on their wages". He said that they were not just standing up for themselves but they were also standing up for the "many other migrant workers who have faced similar attacks on their wages".
SIPTU Vice President Patricia King said: "The other workers, the vast majority of whom are migrant workers, signed the new contracts. Like the five women they were not given translations of the document or copies."
Mr Abom said that women were "very brave" and said "hopefully this will encourage other workers who have had huge amounts of pressure placed on them to reduce their wages or face punishment to do the same". Patricia King said the women had showed incredible courage stating: "As far as I am aware, this is the first occasion on which the new law has been tested in the industrial relations arena. The stakes are very high. Every employer in low wage sectors of the economy will be watching this dispute." She said if this sort of treatment continues "it will signal a new race to the bottom".
Mr Abom said the treatment of these workers was "absolutely illegal" but that it was "not just at the Davenport [Hotel] that migrant workers were being treated like this... it is happening all across the country". He added that hopefully today's action will discourage employers from taking advantage of their workers.
SIPTU sectoral organiser Pat Ward said: "This is bad for workers, bad for decent employers, including many hoteliers who treat their workers decently."
Mr Abom emphasised that the MRCI is a supporter of the Fair Hotels Campaign, a campaign which encourages hotels to sign up and promise to provide decent and fair conditions for their workers. He said the MRCI only supported and used these hotels and encouraged the public to only be patrons to these hotels. The Davenport Hotel is not one of the hotels, he said.
Mr Ward added that this case highlights that the assurances given by Brian Lenihan last November that existing employees would not be forced to sign new low pay contracts were meaningless, something SIPTU predicted he said.
Read the statement by SIPTU here.
Additional reporting by Malachy Browne.