Budget 2010: Government alcohol policy remains disjointed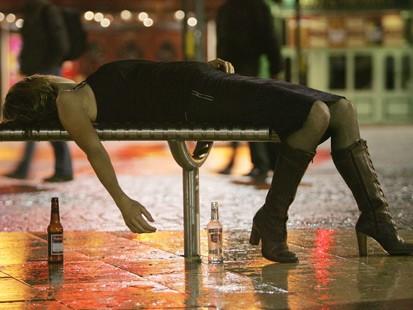 The reduction in excise duty on alcohol in Budget 2010 caused genuine astonishment –why, given our many alcohol-related social problems, would the government entice us to drink more? The shock at this measure is itself surprising, because never has this government demonstrated coherent policy around alcohol. By Malachy Browne and Deirdra O'Regan
In January 2008, Brian Lenihan, then Minister for Justice said: "We have a problem with binge drinking in this country and it is clear that this problem is adding to public disorder. I am determined to tackle, as a matter of urgency, the public order aspects of the sale and consumption of alcohol." An advisory report to his department recommended, among other things, that alcohol be sold in shops and suparmarkets only "in a specified area structurally separated from the rest of the premises (where separation is not possible, alcohol products must be displayed and sold from behind a counter". Normal 0 MicrosoftInternetExplorer4
Later in 2008, the government introduced the Intoxicating Liquor Bill, Section 3 of which enabled the new Minister for Justice, Dermot Ahern to enforce the structural segregation. This could be done by a wall or similar obstruction, and behind a door or a gate. The Act also allowed a ban on drink promotions at reduced prices. Alcohol advertising could also be restricted, as it is in other European countries. However, instead of enforcing these powers, Dermot Ahern acceded to a far less prohibitive code of conduct on alcohol sales which could be voluntarily observed by retailers.
Speaking on RTE Radio One today, Dr Joe Barry, Professor of Population and Medicine in Trinity College Dublin said that government had failed to implement the recommendations set out by the advisory group. He said there was a "need to restrict advertising" of alcohol and to limit the ability of supermarket chains to "give out cheap alcohol to get [people] into the shops". Indeed, supermarkets have gradually normalised alcohol as a staple product in their adverts; special offers on drink often appear beside fruit, veg and poultry, and often in the most prominent position within an advert.
In 2009, government sought to reduce the blood alcohol limit from 80mg to 50mg for drink-driving offences. A host of evidence was presented detailing the link between trace alcohol and road crashes, including alcohol traces of less than 80mg. The debate on Primetime was particularly memorable. Doctors and statisticians presented unambiguous proof that any alcohol seriously impeded the ability to drive; the debate then descended to Killinascully-type farce as Kerry South councillor, Michael Healy-Rae (his family owns a pub) ludicrously defended drink-driving (no TD would attend the programme). In the end, government acquiesced to the pro-drink-driving lobbyists; Minister for Transport Noel Dempsey admitted to "watering down" the new legislation to three penalty points and a fine instead for alcohol levels between 50mg and 80mg. In November it emerged that the new limits will not be implemented until mid-2011.
In 2002, one of the more successful decisions on alcohol involved a 20 cent increase the excise duty on spirits, including alcopops. This was in response to statistics showing teh negative effects of increased consumption of spirits by young and under-age drinkers. The price hike reduced the consumption of spirits by seven per cent nationally, and the HSE reported an attendant decrease in the alcohol-related harms.
The minor gains made in reducing alcohol consumption will be reversed by today's decision to cut 12 cent on a pint of beer and cider, 14 cent per half glass of spirits and 60 cent per bottle of wine. Dr Joe Barry said today that "the people who will suffer are heavy drinkers and young drinkers", and that the excise decrease "will store up health and social problems".
An examination of further alcohol-related statistics demonstrates why the measure is counter-intuitive:
Rape Crisis Network Ireland:

The excise reduction comes two days after a shocking report by Rape Crisis Network Ireland (RCNI) showing that alcohol was a factor in almost half of all sexual assaults on adults. This report also found that in such cases, where only one party was drinking, the perpetrator was the person drinking in the majority of cases (84% of female and 70% of male sexual assault cases).
Fiona Neary of the RCNI says: "our society has failed to tackle the binge-drinking culture. The justice system is failing to provide redress for victims who had been drinking. Not only are they more vulnerable to being targeted for sexual assault, they are less likely to be considered useful and reliable witnesses if they report to the Gardaí and their case is more likely to fall out of the system." The RCNI reported:
76 per cent of rape suspects had consumed alcohol on the date of the offence. There is a very strong indication that alcohol consumption is implicated in rape.
In almost 20pc of cases, rape suspects had consumed more than 10 pints of beer at the time of the offence.
Violence
There are several indicators which suggest that alcohol related violence is a problem in Ireland.
The rate of physical assaults (excluding domestic violence or sexual assault) had increased by 71% between 1998 and 2003.*
Of those presenting with alcohol related injuries accident and emergency departments, over one-third had injuries inflicted intentionally by someone else. Three-quarters of the perpetrators were under the influence of alcohol.*
Violence against women

It is also know that heavy drinking contributes to violence in some people under some circumstances. Heavy drinking can involve more acts of violence and more severe violence. The extent of the problem of domestic violence in Ireland was reported in the national study on domestic abuse.
In one-third (34 per cent) of cases, alcohol is identified as a potential trigger for domestic abuse.*
In one-quarter of severe abuse cases, alcohol is always involved.*
Accessibility and Affordability
Today the Organisation for Economic Co-operation and Development (OECD) reported in Health at a Glance 2009 that Ireland has the second-highest alcohol consumption per capita of its 30 member states. At 13.4 litres of "pure alcohol" consumed per person in a year, Ireland drinks almost 40 per cent more than the OECD average of 9.7 litres. The report noted that while alcohol consumption is decreased in most countries over the period examined, it rose by as much as 40 per cent or more since 1980 in Ireland and two other countries.
Alcohol Action Ireland has said that the real price of drink in Ireland has decreased dramatically in recent years, with alcohol now 50 per cent more affordable than it was in 1996; excise duty has been increased just three times in the past 15 years.
A major European study has revealed that trade in alcohol contributed approximately €9 billion to the EU economy in 2003; it was estimated that the costs of alcohol misuse in the EU exceeded €125 billion.
Crime
Almost half (46 per cent) of the perpetrators of homicide were intoxicated when the crime was committed.
An ECAS study estimated that a one-litre increase in per capita alcohol consumption in Ireland leads to a significant increase of 21 per cent in homicide rates for men in Ireland.
A national study conducted by the HSE, involving 2,500 patients in six major hospitals across the country, found that over one quarter (28 per cent) of all injury attendances in accident and emergency departments were alcohol related.
In a general population survey, over half of all respondents (57 per cent) reported that they were concerned about someone else's alcohol use.
Four out of every ten (44 per cent) people have experienced harm (injury, harassment or intimidation) by their own or someone else's abuse of alcohol
Business

Alcohol and alcohol related problems are perceived by 4 per cent of companies as a cause of long-term absence for males and 2 per cent for females. IBEC has said, "it is not unreasonable to suggest that alcohol and related problems are likely to be a significant cost to business".*
The cost the state and employers was more than €1 billion every year through alcohol-related absenteeism, illnesses, accidents, poor performance at work, lost profits, sick pay and lost revenue.*
Family

The Family Support Agency identified the use and abuse of alcohol and drugs as an overarching theme in a number of research studies on the family.
In a study on unhappy marriages, a significant minority of participants (38% of men and 21% of women) drank too much.*
21% of men and 4% of women identified alcohol abuse as a problem in marriage/partner relationships.*
A study conducted by the Coombe Women's Hospital found that 63% of women reported alcohol use during pregnancy, of which 7% drank 6 or more drinks per week.*
An EU report on alcohol problems in the family, estimated that between 61,000 and 104,600 children under 15 in Ireland are living in families adversely affected by an alcohol.*
Fatal and serious road crashes
A study published in the 'Irish Medical Journal', notes that alcohol is a "significant factor" in all road deaths and that further targeted action at reducing deaths is needed.
One-in-four pedestrians killed in road accidents are drunk at the time.
Alcohol is a factor in 24.4 per cent of accidents involving pedestrians
This level of alcohol consumption is high compared with Britain, where just 4 per cent of pedestrians killed were impaired by alcohol
Suicides
Alcohol plays a significant role in suicide amongst  young people.
In a study conducted by the HSE North East Area found that, among those who had committed suicide, 55% had alcohol in their blood. The average blood alcohol concentration was 157mg/100mls. Those under the age of 30 were "significantly more likely" to have alcohol in their blood and to be above the 80mg/100mls limit, compared to those over the age of 30.
"This study has highlighted the huge contribution alcohol makes to accidental deaths and to suicides...Without political leadership at the highest level, similar to that shown in the fight against tobacco-related illness, alcohol will continue to be responsible for the unnecessary deaths of many more people in the years to come", the study said.
Underage Drinking

Research studies over the last decade have shown that alcohol affects an adolescent brain differently from an adult brain.* According to YouthID:
Underage drinking is common in Ireland as one in four 16 – 17 year olds claim to drink alcohol at least once a week.
Despite the recession, the majority of 18 – 29 year olds drink at least once a week
Between 1996 and 2005, alcohol related offences among juveniles increased from 784 in 1996 to 4,217 offences in 2005, a 438% increase.
In a study which reported the link between alcohol and poor school performance, relationship difficulties and delinquency among 16 year olds in European countries, a greater number of Irish adolescents reported experiencing a range of problems as a result of their own alcohol use in comparison to the European average
Damage from alcohol use during adolescence can be long term and irreversible. Therefore, it is critically important to delay the age of onset of drinking by young people, as recommended by the World Health Organisation.
Health

The International Agency for Research on Cancer (IARC) reassessed the has concluded that alcohol beverages are "carcinogenic to humans"
In Ireland, trends in age standardised incidence rates for cancers between 1994 and 2003, reported by the National Cancer Registry, showed that cancer of the liver had the highest increase in cancer rates with a 10.7% increase for females and 7.4% for males
The projected number of new alcohol related cancers is estimated to more than double for females(from 2,953 to 6,445 new cases) and increase by 81% for males (from 1,445 to 2,613cases) up to 2020.
Drinkaware.co.uk reported a sharp increase in liver disease in the 25-34 age group over the last 10 years. This is thought to be a consequence of increased drinking starting at an earlier age.
HSE Report Recommendations:

"The burden of alcohol harm to the drinker can be seen in hospitals, on the streets, on the roads, in families and in lost and damaged lives in every community. The HSE has endorsed the public health approach and recommendations of the STFA. However, there is no national structure in place to implement the Strategic Task Force on Alcohol recommendations, unlike drugs and tobacco. There is no implementation plan with measurable targets and time-lines.
Alcohol related harm is complex and multifaceted. Alcohol related harm will not be reduced unless action is taken. Delaying the necessary action increases the growing burden of harm for everyone in society."