Almost half of Irish adults have disposable income of less than €100 a month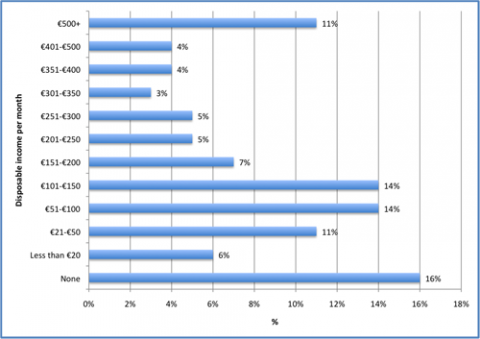 Results from the first Irish League of Credit Unions What's Left tracker index for 2012, released today, show that almost half (47%) of Irish adults have less than €100 per month left over after all essential bills have been paid. 61% have less than €150. A quarter of working adults have a disposable income of less than €50 per month.
Half of those surveyed said they have experienced a fall in disposable income compared to six months ago.
Money left at month's end
All adults
Population equivalent
Working adults
Population equivalent
None
16%
560,000
12%
216,000
Less than €20
6%
210,000
4%
72,000
€21-€50
11%
385,000
9%
162,000
€51-€100
14%
490,000
15%
270,000
€101-€150
14%
490,000
14%
252,000
€151-€200
7%
245,000
8%
144,000
€201-€250
5%
175,000
6%
108,000
€251-€300
5%
175,000
5%
90,000
€301-€350
3%
105,000
3%
54,000
€351-€400
4%
140,000
6%
108,000
€401-€500
4%
140,000
4%
72,000
€500+
11%
385,000
14%
252,000
84% of those with less than 5% left after essential bills are paid worry about how they will cope if unforeseen expenses arise - this shows an increase on the December figure of 82%. These people show slightly greater concerns over their ability to continue coping financially if further changes are made to social welfare or income tax, showing a slight increase from December 2011. 57% agreed that they were living to work as opposed to working to live.
Essential bills
As in previous surveys, mortgage and rent are the most expensive bills for the majority of Irish adults (74%). Groceries remain the second most expensive bill (groceries moved ahead of utility bills in the ranking in December and have remained there). The improvement in the weather may be putting less pressure on heating etc and utility bills remain in third position. Transport and fuel costs have increased as a result of the increased motor tax fee and the continuous increase in fuel costs.
Delayed bill payments
47% of people struggle to pay all of their bills on time. This figure has dropped from the 55% recorded in the December 2011 tracker figures. TV license, bin charges and TV/telecoms remain the bills that are most likely to be put off by consumers. 69% are really worried about falling behind with their bill payments with 24% of that number finding it very stressful indeed.
Saving
Almost half of those surveyed (46%) said they are unable to save money; this shows a slight improvement on the December figures (48%). Only one third said they are able to save in the current climate.  
About the Tracker Survey
The survey was conducted by Market Research Company iReach during March 2012 using the iReach Consumer Decisions Research Panel, which delivered 1,000 responses from adults in Ireland aged 18+ to 65+. They survey is nationally representative by age, region, gender and social class. The survey results have a confidence level of 95% and confidence interval of 4%. {jathumbnailoff}