Achievements in cancer care in 2009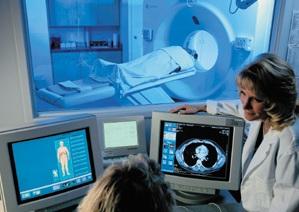 Virtually all Irish families are touched by cancer. A year ago the country was still reeling from a series of cancer misdiagnosis scandals. The developments in cancer care in 2009 have been remarkable.
The cancer strategy was published in 2006. It recommended cancer services be centralised in eight designated centres. Up to 2007/8, cancer services were provided in 35 hospitals around the country. 
Now they are provided in these eight specialist centres.
Because of the specialised nature of cancer and the small size of Ireland's population, in order to provide quality cancer care, it is necessary for services and professionals to have a significant volume of patients. 
In late December, the last of the eight centres in Cork was opened which means that the transition from 35 to eight hospitals is now more or less complete.
Does this mean we now have state of the art cancer services?
No. Not all of cancer services are state of the art, however they are much, much better than they were and some of them are really excellent. I spoke to Professor Tom Keane. Tom Keane is an Irish doctor living in Canada who came home to be the acting head of the Cancer Control Programme for two years. He arrived in November 2008, when we were still in the middle of the misdiagnosis scandals. Speaking today, he said Ireland is pretty close to being the best in the world in breast cancer diagnosis and care.
Interestingly, Professor Keane does not view the transfer of services from 35 hospitals to eight within the timeframe (although he obviously is pleased with the progress), Professor Keane believes the biggest achievement has been convincing the public that this is the right thing to do.
And while we are aware of the public distrust of services and the objections to closing down cancer services, particularly in Sligo, Prof Keane feels now that it is done, everyone is behind it, or almost everyone. He believes there is a very strong consensus that the National Cancer Control Programme is the way to go.
I asked Professor Keane what he believed were the critical factors in achieving this change in mindset. He identified a number of factors:
• Good communications. Tom Keane is a consummate communicator – calm, convincing, very straight, political. He is a very impressive man.
• Persistence, both of the cancer control programme and also the political persistence behind. Mary Harney is due credit in this regard. In other instances where there has been an attempt to centralise hospital services, politicians have buckled but she held firm.
The cancer misdiagnosis scandals also had an impact. When they were exposed in 2008, they were used to rationalise how specialised centres were needed and how that centralisation is vital in order to achieve quality care and patient safety and better patient outcomes.
So the change was allowed to happen by strong consistent messages, the support of the medical profession and political support, which all contributed to a shift in public opinion.
Most doctors were in support of the cancer plan, knowing what was in the interest of patient safety.
What happened in cancer services was the redeployment of staff to new centres or different roles, another area where Tom Keane has had great success. Professor Keane managed to implement the redeployment of staff and more flexible working hours in Cancer services. Keane told me that the new eight specialist centres could not have worked without the cooperation of the relevant unions.
There has also been progress in community cancer services in 2009. Traditionally in Ireland, cancer services were very hospital oriented. Currently there is a very quiet but important programme of community oncology, of educating GPs and nurses so that much of the patient's care can be managed in the community – this results in earlier detection and better outcomes for patients.
However, there are some areas where progress still needs to be made and these are top of the NCCP priority list for 2010.
•            The top four killers are colorectal, lung, prostate and breast cancers.
•            The plan is to have all of these as comprehensive as breast cancer services.
•            Mary Harney announced a colorectal screening programme in the budget.
•            The NCCP are busy getting rapid access clinics for lung and prostate cancer up and running in the eight specialist centres.
•            All will be in place by middle of 2010, which means all public patients referred by a GP will be seen within 2 weeks.
Also Tom Keane has been very effective in getting cancer care money ring fenced, in addition an additional €20 million has been allocated to the cancer control programme in 2010, including money for two new radiotherapy in St James and Beaumont hospitals. 
However, although there have been vast improvements, there are still differences in how public and private cancer patients are treated. It is hard to quantify these because we don't have good data or information on it.
What we do know is that public cancer services have been significantly invested in and developed, they are centralised to eight specialist centres and much better than before.
While 50 per cent of the population has private health insurance, many people with private insurance are treated as public patients or in public facilities as private patients. For example, 100 per cent of pancreatic cancer patients are treated publicly, about 80 per cent of breast and bowel are.
When I put this to Professor Tom Keane today, he made the point that if public patients have good access and good quality services then people won't need to opt for private care.
In breast cancer care, over 90 per cent of both public and private patients are seen within two weeks, meaning virtually equal treatment. 
The rapid access clinics are being put in place to insure similar standards for lung and prostate cancer.  But some public patients will still have to wait longer for access to some aspects of cancer care than private patients.